*
Tony and Oliver Award-winning actor Mark Rylance earned acclaim for his Broadway debut as the disheveled Robert in the 2008 revival of the sex comedy Boeing-Boeing under the direction of Matthew Warchus. Reuniting with Warchus for a revised revival of David Hirson's 1991 verse comedy La Bête, first in London and currently on Broadway, Rylance again plays a clown — the earthy street actor Valere, who spews food, gas and an endless strain of self-aggrandizing iambic pentameter. The turn, which includes a 40-minute speech that dazzles audiences with quirky rhymes and sight gags, is being hailed as one of Broadway's most exciting performances of the season — partly for the sheer stamina of it all. An hour after the curtain came down on opening night, Rylance shared thoughts about his work, his director and his wish list of roles.
What you do with the play is incredible, holding court for the first half an hour, in a rhyming-verse monologue that takes you all over the stage. As an audience member, it seems like it must be terrifying. What is it like for you?
Mark Rylance: It's not terrifying at all, no. It's like if I was a surfer, surfing in Hawaii or somewhere. There's such great waves of laughter that come from the audience, and riding those, knowing when to get up on them and come down and when to move into the next one — each night's very different. No, I don't feel frightened about it at all. It just feels like a lot of fun, to go out and play like that.
Your co-star Joanna Lumley said you wring so much out of a few words and one couplet.
MR: I think it's called "milking." Is it called "milking" in America? "Milking the cow"? Yeah, I'm afraid that's what I do.
But you're clearly relishing the moment.
MR: Oh, I love making people laugh! It's an amazing feeling, yeah. I'm not a very funny person in reality. I can never remember jokes and I don't make people laugh very often. I'm a quite serious character, really. But I have a certain fool that I can play, and going out in front of people and having people laugh a lot — it's a great job, huh? A great job. There seems to be a great collaboration, a safety net between you and your fellow actors onstage.
MR: Oh, yeah. It's like being in a jazz band. We're able to expand phrases. Like James Brown would say to someone, "You play now! Play along! Go on, play that!" And then you can take it back and then you can hand it on. Even tonight, a couple of things happened that had never happened before, so inside, you have also a sense of humor and a sense of enjoying, "Oh, that's incredible what someone does," and passing the ball around it. It's a wonderful cast, very good.
Had Valere been a role on a wish list for you?
MR: No, I don't have a wish list of roles. I'd like to be able to play myself some day. I don't have a list of roles, no. No, [Matthew Warchus] came to me with it and said, "Would you be interested?" and — yeah, certainly, I'd be interested in that role.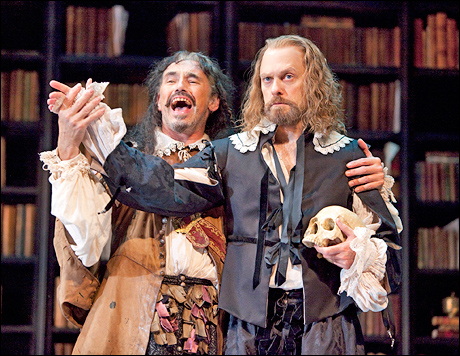 photo by Joan Marcus



photo by Joan Marcus
Your collaboration with Matthew Warchus has been so fruitful. Could you imagine having tackled this part without him at the helm?
MR: No. No. There are about three directors I work with primarily now, who I really like to work with. I like the theatre 'cause it's live, you know, and so I do like quite a bit of freedom — not freedom to pervert the story or just draw attention to yourself, but freedom to respond to the moment, that each audience is new, and they don't want to see last night's performance. They want to have it tonight, and it's live. It's not recorded or set. So I anchor myself more in internal things rather than external things, and Matthew's very understanding and appreciative of that, so that each night is a discovery and each night is a dance with the audience who are there. Sometimes, in matinees, they're quieter, and then we go into other areas; and sometimes, like tonight, they're very wild and laugh a lot, and then we go into other areas. But the main thing is to be present in the theatre, and I like working with directors [who have that] objective, too, that we're "live and direct," as Bob Marley would say, that we're there and present. He's terrific that way. We must have done about seven plays together now. Shakespeare and Sam Shepherd and Boeing-Boeing and this. Even my first play that I wrote, he directed. There's such a sense of magic in the play, with the language and also with what Matthew's put into the staging itself.
MR: Yeah, he's very, very good at the staging, and he's very good at bringing something down to the essential ingredients. He's a very thoughtful person. He's a classical musician, you know. He's a very good guitarist, and so he has a great sense of the music, of the rhythm of the piece and has a marvelous team who work with him always on the technical side, so his lighting and his sound and his conception of the design [are always honored]. He doesn't say a lot. He's a lovely director; he doesn't come in with any plan, really. He sees what unfolds with the cast that he's chosen and then shapes it very late on, so I'm able to be completely chaotic. And I must have thrown out just as many ideas as I use. … So that's a very nice way to work. He's a proper gardener, you know. He doesn't just impose a scheme on the landscape. He really looks at the landscape and sees what's there and then brings out and shapes it so that the audience can [appreciate it]. That's what he does. He really keeps an innocence, which is what you need from a director. You need them to be really thinking about the audience — what do they need to understand the story or the joke or what's moving about it here.
You're doing this in iambic pentameter, so if anyone drops a line…how do you cover?
MR: Oh, you can't, really. No, you can't cover. I have had to make up Shakespeare. I used to forget my lines in Shakespeare, and all the other actors — after a while, they would turn to me and think, "Oh, now what's he going to say?" and I'd have to make something up. But my memory's got a bit better lately. I've been taking supplements … Memory's an important thing for me. When that goes, then I'm done.
(Adam Hetrick is staff writer of Playbill.com. Write him at ahetrick@playbill.com.)
Watch highlights from La Bete: