*
Two-time Tony Award-winning actress Patti LuPone launched to Broadway stardom as the fiery Latin political figure Eva Peron. This season she's portraying another well-dressed Latina in the world-premiere Lincoln Center Theater musical Women on the Verge of a Nervous Breakdown based on the Oscar-nominated 1988 film by Pedro Almodóvar.
Though she stands at only 5-feet-2-inches, LuPone has made a career out of larger than life roles from Evita to Sunset Boulevard to Gypsy. She has twice earned the Tony Award for her performances in Broadway musicals and critics have characterized her interpretations as "volcanic," "definitive" and "breathtakingly one-of-a-kind." LuPone documented the highs and lows of her lengthy stage career in her self-titled memoir, which was released in September. While the memoir's final chapter marks the closing night of Gypsy on Broadway in early 2009, LuPone's story is far from over. In Women on the Verge, she has returned to Broadway as Lucia, a scorned ex-wife determined to reclaim the best years of her life by any means possible. We caught up with the acclaimed actress during the opening night party for Women on the Verge and chatted about guns, turbans and costumes — and crafting a new musical in front of New York audiences with director Bartlett Sher, composer David Yazbek and book writer Jeffrey Lane.
It's been 30 years since you've done a new musical on Broadway. I believe this is the first new musical that you've done in New York since Evita.
Patti LuPone: But that wasn't even a new musical. I was reprising what they did in London. I [originated] Sunset Boulevard in London, Les Miz in London. I don't think I've ever done [an original musical] in New York. I've done two in London. It was The Robber Bridegroom in 1976 that I originated something in New York. The other two were in London. … I mean, I must say that I do get [new] scripts [Laughs], but I don't get anything quite of this caliber. And Philip Rinaldi was the one who — actually, there [were] two workshops that went by without me involved in them — and Philip was the one who said to David and Jeffrey and Bart, "This is something up Patti's alley." So, I'm very grateful to Phillip for including me.
In your memoir, you discussed your grandmother and your mother. They were both strong women. You've also suggested that your grandmother was a bootlegger, and knew her way around a gun.
PL: Yeah, we find out now that [my grandfather's] brother spent time in prison. I come from class. [Laughs.] I come from a lot of class! Is that family history useful to you? Does it inform Lucia at all?
PL: No, the script. It's the script that informs me. Nothing else.
I couldn't help but notice that, seeing you in this role, you're in a turban again. You're toting a gun. It's a bit reminiscent of Norma Desmond.
PL: I finally get to make the entrance down a staircase in New York! I said that to Bart when he had me up there and I was walking down the set. "I finally get to descend the stairs in New York!"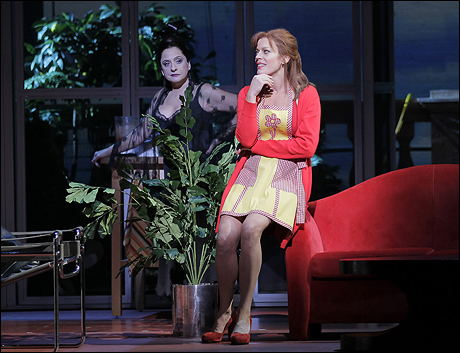 photo by Paul Kolnik
photo by Paul Kolnik
Both Lucia and Norma are in some ways similar. They are two women sort of fighting against this invisibility as they age.
PL: Yeah. But it wasn't just those two women. I mean, I think of the women on Madison Avenue … those women with those headbands and those little flips going into those designer stores, having lunch, getting their facials, getting their nails done, and I just imagine they have no lives, and they go home to husbands that don't see them and kids that don't look anymore. Do you know what I mean? That's how I related to that song "Invisible." I have a great husband and a great son and I have great friends and we are very present in each other's lives, but there are women out there that exist, and I don't know how they exist, with nothing to hold onto, and I think that's what that song says.
Lucia gets a bigger piece of the action in the stage production, which she doesn't get in the film.
PL: Right. Well, I wouldn't have played the part if it was any smaller! [Laughs.] I think they knew that if they had me, they had to do something to build up the part, and Bart did.
People would kill to be in an Almodóvar film and here you are starring in the world-premiere musical adaptation.
PL: Oh, I can't wait to be hangin' out with Pedro in a bar in Spain. I mean, this man is incredible, [an] incredible creative influence on our time, and he's here and I'm thrilled to death. I mean, I'm like a school kid, I'm such a fan. And I mean, I'm an Italian. I'm over there. My temperament's over there, so finally to have something that answers to oversized emotions and oversized emotions, it's like, finally, after all of these years, I make sense in a piece.
Had you been a fan of the film prior to doing the show?
PL: No, not prior to. I hadn't seen it before, but I know it now!
photo by Joseph Marzullo/WENN
I understand Almodóvar approached you to come on board.
PL: Well, he saw [me in] the last workshop, and we sort of stayed in touch. There's a simpatico between us, I think, because we're from over there and when the casting came around, he sent me a very subtle email saying he would want me to be involved with it and he understood if I didn't do it because the part was too small. And I was very moved by it. Of course, I deleted it. I'm the delete queen, and I should have saved it and put it in my scrapbook. But that meant a lot to me. And I didn't do it just because he sent that, but I did it, as well, [for] the fact that he wanted me to do it but I did do it because it was him. It was him. It was Pedro, Bart, David and Jeffrey. Musicals require stamina, as you have said in the past. After Gypsy, were you a little hesitant about coming back in another musical? Was it a draw to you to not have to carry this production as the central role?
PL: No, are you kidding? I love carrying shows. [Laughs.] But I wanted to be back with Lincoln Center, I wanted to work with Bart, I wanted to work with David and Jeffrey, I wanted to meet Pedro. Those are the reasons I wanted to do it, and then they assembled this ridiculous cast. I was like, "This is like the icing on the cake!"
You've talked about your love of costumes in your solo shows. Women on the Verge is a costume cavalcade.
PL: God bless Cathy Zuber. She brought ten years back on my career. Yeah, it's extraordinary. [I said to] my brilliant dresser, Pat White, "I haven't been dressed this well since Anything Goes or Sunset Boulevard. Anything Goes [was designed by] Tony Walton, and Anthony Powell [designed the costumes for] Sunset Boulevard. I haven't been dressed this well, where I feel sexy and I feel beautiful and the costumes are extraordinary statements.
You're opening a new musical cold in New York, and you've been doing so much work on it in front of audiences. Is that exhilarating or nerve-wracking as an actor?
PL: It's nothing. It's work. But I don't mean to denigrate it. It's all about the work, and I'm really, really happy that it's always been about the work and is still about the work. I'm not nervous about it. And I'm not carrying it. Sherie [Rene Scott's] carrying it, and it may be a different story for Sherie. But for me, when you do the work correctly, it should only deepen, and whatever they throw at you should only help. And all of this has been a great creative process — the reason I'm in the business. I want to create; I want to perform. So I loved it all, all of it.
Highlights from Women on the Verge of a Nervous Breakdown: