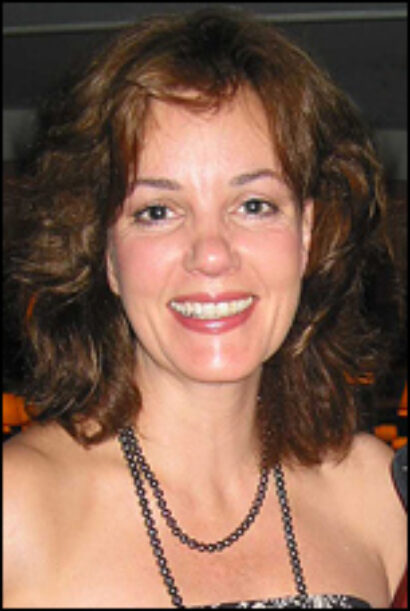 Reviewers regularly single out her work playing forthright, effortlessly charismatic women in Broadway and Off-Broadway plays like Jackie, in which she played none other than Jackie Bouvier Kennedy Onassis, John Patrick Shanley's Defiance, and Princess Kosmonopolis in Tennessee Williams' Sweet Bird of Youth, a role she took on at the Williamstown Theatre Festival last summer. Those critics regularly complain that her talents are underutilized. Well, they can't say that this time around; Colin has one of the two leads in the Roundabout Theatre Company's revival of John Van Druten's rarely seen comic drama Old Acquaintance. The 1940 play, about the love-hate relationship between old friends and fellow novelists Kit Markham (Colin) and Mildred Watson Drake (Harriet Harris) is best known today for its film version, which starred Bette Davis and Miriam Hopkins, and the 1981 remake, titled "Rich and Famous," starring Jacqueline Bisset and Candice Bergen. The tall, statuesque Colin is on stage most of the time, and, once again, she plays a character who holds the rest in thrall.
Playbill.com: You're often cast as strong, independent women who are fascinating to others, just as you are in Old Acquaintance. Why do you think that is?
Margaret Colin: (Laughs) I don't know. I guess I just can take those characters apart. It's a good way to be cast. There's a lot to play. I guess the parts that call out to me, sometimes they're rather dependent on another person, but they're very secure of their opinion. They're very sure of their right to be listened to. I guess I share that quality with them. I think I've always been outspoken.
Playbill.com: Have you ever had a friendship like the one depicted in the play, a friend you knew so well that you sometimes almost hated them?
MC: I think I have. I have a dear friend that I've had since kindergarten. We grew up together. We don't see nearly as much of each other as we used to, living in two different states, but there's certainly been times we had to take a break from the friendship — or a "time out," as we say with the kids — and then return to it really happy, because there's such history there, and such ease. It's really such a pleasure to be known by someone else, warts and all. To me, it's almost the definition of love.
Playbill.com: When you were asked to do Old Acquaintance, were you familiar with the play at all?
MC: Absolutely not. A million years ago when we were all on a television show together, Meg Ryan had just made her film debut in [the 1981 remake "Rich and Famous"], so perhaps I've seen that, but I didn't know it was based on such an interesting play. And I think the play is so much better than either of the movies. The writing is just more crisp and the pressure's on; it's kept to this six-week period. It puts terrific constraints on the friendship and gives the audience the energy from that, which neither of the movies do.
Playbill.com: So you're not a fan of the Bette Davis movie.
MC: No, I'm not. There are some moments that are just hysterical and so of the time. But I much prefer the play. Playbill.com: Is it hard to put yourself in a world that seems so distant from ours, to depict the way people lived then and the way women conducted friendships?
MC: The challenge for me is to keep my head in that single woman's perspective, because the material relates so strongly to today. It's all the things that women still are concerned about. Both these women work. They make their own money, which is very unusual for the 1940s. Harriet [Harris]'s character is divorced and a single mother. That's huge! That was shocking then. And I play a woman who lives outside the moral code, not just for the thrill of it, but just because that's how it worked out in the pursuit of her art. The language is pretty dense. [Van Druten] gets pretty fancy and artsy, so you're kind of tongue-tied until you get a bunch of performances under your belt.
Playbill.com: Your husband, Justin Deas, is an actor as well. Is it difficult running a household headed by two actors?
MC: (Laughs.) I think to some degree it has unique challenges. We both tend to lean toward that side of the brain, whichever side that is artistic. We're not as organized as we might be. But in terms of us getting to do what we love to do for a living, I think our kids are pretty lucky.
Playbill.com: Are you kids interested in joining the profession?
MC: They don't seem to be. They would be naturally brilliant at it, but they don't seem to be. They're very comfortable in front of people, they're very articulate. They can play strong, opinionated people in their own lives. They're not afraid to be around actors. And they sure know the hard work that goes into getting a play up; they know that what people sit down and take in for one evening of their lives is years out of their parents' lives. They get that, and I'm very glad we can show them that work ethic.
Playbill.com: You work a lot in the theatre lately. Are you happy doing that?
MC: I'm happiest having my version of "it all." I'm happy being pretty much a full-time parent and wife, and really suburban gardener, and pretty good cook, and still get to follow my art. That's a blessing. It's a lot of work, though, and there's not a lot of money in it. But I'm not going to find a woman as well drawn as this [character I'm playing]. I'm not seeing those roles on television or in the movies. And the short-term aspect of theatre really interests me. It's not the seven-year contract, which is terrifying.