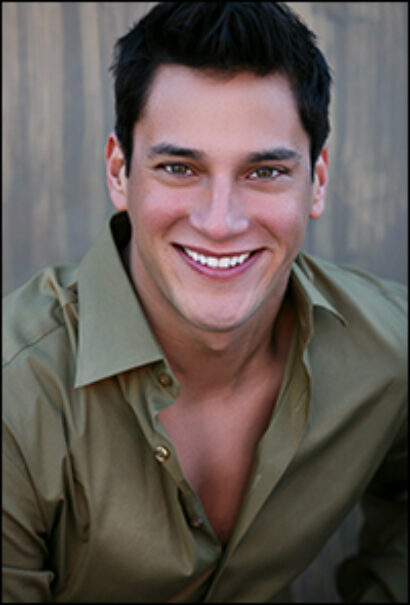 Rodriguez has appeared on Broadway in Tarzan. He has performed at Arena Stage as Freddy in My Fair Lady, Fabrizio Nacarelli in The Light in the Piazza and Curly in Oklahoma! (Helen Hayes Award, Outstanding Lead Actor in a Musical).
Other theatre work includes The Toxic Avenger, Almost Heaven, Bajour, Collete Collage, Jesus Christ Superstar (Jesus), Evita (Che), Hair (Claude), The Ten Commandments, Beauty and the Beast, Damn Yankees, Cinderella, South Pacific, Master Class and The King and I.
He was in the film "Sex and the City 2" and featured on the film's soundtrack. He is perhaps best known for his portrayal of Nick Chavez on ABC's "One Life to Live" (GLAAD Media Award).
Full given name:
Nicholas Tereso Rodriguez
Where you were born/where you were raised:
Austin, TX
Zodiac Sign:
Aries
What your parents did/do for a living:
Mom: X-ray Tech/Clinic Manager
Dad: High school football and baseball coach

Current Audition Song:
Oh… it varies. Current "go-to's" are "I Have Dreamed" from The King and I and "Rocket Man" by Elton John

First Broadway show you ever saw:
Sunset Boulevard with Betty Buckley

If you could go back in time and catch any show, what would it be?
The original company of Hair
The original production of Dreamgirls
Carousel at Lincoln Center with Audra and co.
Current show other than your own you have been recommending to friends:
Kinky Boots —if they can get tickets! It's such an incredible show, and I am so proud of all my friends that are in it and helped create it. It's such an exciting celebration of life and friendship.
Favorite showtune(s) of all time:
"Not A Day Goes By" from Merrily We Roll Along "What Would I Do" from Falsettos
"You'll Never Walk Alone" from Carousel "Sunday" from Sunday in the Park with George
"Oh, What a Beautiful Morning" from Oklahoma!
"Human Heart" from Once on This Island
I could go on and on…

Some favorite modern musicals:
The Light in the Piazza, Evita, Jesus Christ Superstar, Hairspray, Once, Dreamgirls, The Last Five Years, Floyd Collins, Sunday in the Park With George, Falsettos

Some favorite classic musicals:
Oklahoma!, Carousel, The King and I, The Fantasticks, Kiss Me Kate, South Pacific

Broadway or screen stars of the past you would most have loved to perform with: Cary
Grant, Gene Kelly, Deborah Kerr

Your personal vocal idols, living or dead:
Audra McDonald, Brian Stokes Mitchell, Maria Callas, Frank Sinatra, Elton John, Nina Simone

The one performance – attended - that you will never forget:
The Light in the Piazza at Lincoln Center. From the very beginning, the orchestra was incredible under Ted Sperling, the lights by Christopher Akerlind, the leaves blowing through the piazza, the hat flying in the air. I was swept away before anyone even opened their mouths. Then, once they did, I was completely rapt.

Music that makes you cry, any genre:
"La mamma morta" (Andrea Chenier)— Maria Callas "You Can Have Him"— Nina Simone "Strange Fruit"— Billie Holiday "Adieu, notre petit table" (Manon)— Renee Fleming

MAC or PC?
MAC

Most played song on your iPod:
I mostly listen to my iPod at the gym or when I'm running. The current go-to songs in my running mix are: "Absolutely Not" (Deborah Cox), "Feel it to Heal It" (Billy Porter) and "Trouble" (Lizz Wright).

Last book you read:
"50 Shades of Grey"
Favorite Tweeters:
@AudraEqualityMc, @AndersonCooper, @morganajames, @mybroadwaytweet

Must-see TV show(s):
"Scandal," "Homeland," "Dexter," "White Collar," "Game of Thrones," "Breaking Bad"

Last good movie you saw:
"Dallas Buyer's Club"

Some films you consider classics:
"An Affair to Remember," "An American in Paris," "North By Northwest," "The King and I," "Cat on a Hot Tin Roof," "All About Eve"

Performer you would drop everything to go see:
Maria Callas

Pop culture guilty pleasure:
"Top Chef," "Project Runway" and the occasional Real Housewife

Three favorite cities:
New York, Austin, Paris
First CD/Tape/LP you owned:
LP: "Annie" soundtrack (the film version)…I should've known then Tape: Culture Club's "Colour by Numbers." Yes, Karma Chameleon...
CD: George Strait's "Merry Christmas Strait to You"
First stage kiss:
Beth Jenniges in Carousel my senior year of high school. One of my dearest childhood friends.
Favorite or most memorable onstage role as a child/teenager:
Benedick in Much Ado About Nothing, also my senior year of high school. Loved challenging myself even then, and had an amazing HS drama teacher who lit the spark. Thanks Betsy!
Moment you knew you wanted to perform for a living:
In 1989, when I saw the national tour of Ain't Misbehavin' at the Paramount Theatre in Austin, TX. My mom took me and we sat in the first row. It looked like they were having so much fun and they made the audience jump out of their seats!
How you got your Equity card:
Playing Ren in Footloose at North Carolina Theatre
Favorite pre-/post- show meal: (note where)
Ketel Martini, extra dry, straight up with olives, and a good cheese plate at Sosa Borella
Favorite liquid refreshment:
Ketel Martini, extra dry, straight up with olives
Pre-show rituals or warm-ups:
I like to work out before a show, or at least hop on the treadmill to get the blood flowing.
Most challenging role you have ever played:
They all seem like the most challenging in the moment, but the two that gave me the biggest workout were Che in Evita and Jesus in Jesus Christ Superstar. I'd tackle either one again in a heartbeat!
What drew you to Mother Courage?
The challenge of tackling Brecht and the opportunity to work with Molly Smith again.
Biggest challenge about this current project:
Did I mention it's Brecht? Also, all the songs in the show are written for this production and the instruments are played by the company. So we're creating a lot of it in the room, and everyone is wearing multiple hats. We are all being pushed WAY outside of our comfort zone. It's thrilling.
Most fulfilling or fun aspect about the project:
I'm doing a lot of things that I've never done before, including playing guitar on stage. Plus, I'm surrounded by some dear friends, new and old. We challenge and push each other daily, and find ourselves brainstorming with a bottle or two of wine hours after rehearsal is over.
You've worked frequently with Arena Stage in recent seasons. What do you enjoy most about this company, and what brings you back show after show?
Arena Stage and Molly Smith, who both allow artists to flourish. They truly believe in not-for-profit-theater as an educational experience. Actors, designers, writers are never troubled with "the bottom line," instead we are given a nurturing environment to create, with plenty of rehearsal time to see a vision come to fruition. The programming is such that it gives audiences familiar favorites alongside new works, but always challenges them to think of things in a new way while entertaining them. Working at Arena is always a collaborative experience that includes everyone in the process.
Worst flubbed line/missed cue/onstage mishap:
Once during Evita, after the Casa Rosada scene, I went to the restroom and was listening through the monitors. I heard a silence where my line was supposed to be, and just started singing from there hoping the sound guy had my mic up. He did, and I ran out of there as quickly as possible for the next entrance.
Worst costume ever:
Does it get worse than having to wear a loincloth?
Worst job you ever had:
I was a telemarketer for two days in college.
Craziest audition story:
Final callback for Tarzan at Telsey's office. The entire creative team was in the room. We were asked to change into running shorts and go shirtless and bare foot while doing the scenes. As I was "aping" around I turned quickly on the ball of my foot and ripped the skin off the pad. There was blood EVERYWHERE! Poor Rachel Hoffman (who had just started) sprung into action, bandaged my foot, disinfected the floor, cleaned everything up and we continued.
But I couldn't put any weight on my foot. As if that wasn't bad enough, I had to go straight to the Richard Rodgers Theatre to get into a harness so they could fly me around the set. I had to wear a sock over my foot so I didn't get blood on the set.
Some favorite screen or commercial roles:
I loved playing Nick Chavez on "One Life to Live." I learned a lot, and I was so proud of our storyline.

If you could trade roles/tracks with anyone in the show for a week, who would it be? Erin Weaver plays my sister, Kattrin. She's a mute and onstage the entire time. I can't imagine what that challenge is like.

Leading man role you've been dying to play:
Billy in Carousel, Bobby in Company, George in Sunday in the Park with George, Chance Wayne in Sweet Bird of Youth, Lola in Kinky Boots

Leading lady role you'd like a shot at:
Annie

Something about you that surprises people:
I taught junior high before moving to NYC.

Something you are incredibly proud of:
All of my students at the Broadway Dreams Foundation: www.mybroadwaydreams.com

Something you're embarrassed to admit:
The last book I read (see above)

Career you would want if not a performer:
Teacher

Three things you can't live without:
My partner, my dog, music

"I'll never understand why…"
… people use social media to spread negativity

Words of advice for aspiring performers:
Never stop learning. Keep taking classes, soaking up culture, and celebrate life. There's so much to learn from the people around you.