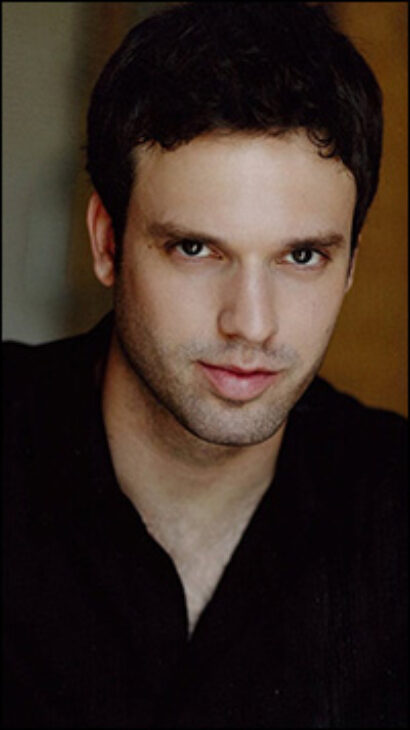 He has previously appeared onstage in Spider-Man Turn Off the Dark (Peter Parker/Spider-Man), American Idiot (Will), Billy Elliot (Tony), Spring Awakening (Melchior), Dog Sees God (Canadian premiere), Dani Girl (world premiere), Dangerous Liaisons and Oliver!
Epstein is a Gemini Award winner for his performance as Craig in "Degrassi: The Next Generation." Other screen work includes "Charlie Bartlett," "Blood Pressure," "Being Erica" and "My Babysitter's a Vampire."
Full given name:
Jacob Lee Epstein
Where you were born/where you were raised:
Toronto
Zodiac Sign:
Capricorn
What your parents did/do for a living:
My mom is an author and my dad is a lawyer.
Siblings:
My sis, Gabi, is also an actor and singer.
Current Audition Song:
"Something In The Way She Moves" by James Taylor. The last monologue I had prepared was from a Canadian play called Monster by Daniel McIvor.
How did you first get into performing and at what age?
When I was 9, I auditioned for an arts school in Toronto with a few of my friends. The sole reason we auditioned was that we found out you got to miss a couple days of school to do the audition. Without actually wanting to go to arts school, I accidentally got in. My parents encouraged me to try it and I ended falling in love with performing.
First Broadway show you ever saw:
Big: The Musical. And then I listened to that CASSETTE TAPE until it broke… I probably know the words to every song.
If you could go back in time and catch any show, what would it be?
I would love to see the original Cabaret.
Favorite showtune(s) of all time:
I love the entire score to Titanic The Musical. I adore Cabaret. And I'm just gonna go ahead and say all the Zulu songs in The Lion King.
Some favorite modern musicals:
Spring Awakening, Drowsy Chaperone, In the Heights
Some favorite classic musicals:
The Music Man, Oliver, South Pacific
Broadway or screen stars of the past you would most have loved to perform with:
Marlon Brando, Charles Laughton, Al Jolson
Your personal vocal idols, living or dead:
Paul McCartney, Paul Simon, James Taylor, Hawksley Workman (check him out)
The one performance – attended - that you will never forget:
Seeing Spring Awakening on Broadway. I didn't know that theatre could be like a rock concert. Years later, when I was cast as Melchior in the touring production, I always remembered the experience of seeing that show on Broadway for the first time.
MAC or PC?
MAC.
Most played song on your iPod:
I just checked, it's "Sweet Adeline" by Elliot Smith
Last book you read:
"The Body" by Stephen King
Must-see TV show(s):
"Breaking Bad," "Mad Men," "Six Feet Under," "Friday Night Lights"
Last good movie you saw:
"Captain Phillips"
Some films you consider classics:
"The Princess Bride," "Hook," "Big," "Karate Kid," "Aladdin"… pretty much explains my childhood. And what I do when I'm sick.
Performer you would drop everything to go see:
Norbert Leo Butz
Pop culture guilty pleasure:
Entertainment Weekly
Three favorite cities:
Montreal, Tel Aviv, New York
Favorite sport/team/player:
Soccer/The Toronto Maple Leafs (not soccer, hockey)/ Rafael Nadal (not hockey, tennis)
First CD/Tape/LP you owned:
Here we go for embarrassing: My first CD was Chumbawumba's "Tubthumper" (you know… "I get knocked down… but I get up again…"). Don't give me that face! My first tape was Adam Sandler's "What The Hell Happened To Me?" First LP was "Sgt. Pepper's"
First stage kiss:
11th grade, playing Harold Hill in The Music Man in high school
Favorite or most memorable onstage role as a child/teenager:
When I was 12, I played the Artful Dodger in Cameron McKintosh's production of Oliver! when it came to Toronto. Just getting the role shocked my whole family, and I don't think I realized until then just how much I loved getting up in front of people and performing.
How you got your Equity card:
I played Joe Crowell when I was 11 in Our Town with Soulpepper Theatre Co. in Toronto
Favorite liquid refreshment:
Coffee
Pre-show rituals or warm-ups:
I am definitely someone who needs to take a second by myself and stretch and breathe before a show.
Most challenging role you have ever played:
Will in the first national tour of American Idiot. I sat on a couch and never left the stage for the majority of the show. That experience was a whole lesson in pacing, in creating a whole world for yourself on stage, and in letting the experience you are having that night dictate your arc for the show.
What drew you to Beautiful?
My dad is a huge fan of folk music and was responsible for getting me into that music as a kid. He is a massive Carole King fan and made me realize just how important her music is to so many people.
Biggest challenge about this current project:
In the show I play Gerry Goffin, who did some troubling things to Carole during this time. My challenge is to make his struggles clear enough so the audience will understand why he had to do the things he did
Most fulfilling or fun aspect about the project:
Performing the incredible repertoire of songs every night for people.
Worst flubbed line/missed cue/onstage mishap:
When I was on tour with Spring Awakening, I played Melchior opposite Taylor Trensch as Moritz. During the "Touch Me" scene, Melchior explains an essay he wrote about sexuality to Moritz, his best friend. Moritz has trouble pronouncing the word "genitalia" and Taylor used to say, with a hard G, "geni… geni…" and I would correct him, (with the soft G), "genitalia." One show, Taylor tried something new and said with a soft G, "geni… geni.." and I proudly corrected him, with a HARD G: "genitalia!"
He looked at me… and you know when you're looking at a friend, and you have to be serious, and yet you're holding in the biggest laugh in the world? We were scrunching our faces, our shoulders started dancing up and down, and Taylor (the bastard) got to run off and I was left alone on stage, with more to say. And I just broke down laughing.
This was terrible and so unprofessional! The worst worst worst part of this is that somehow it was videotaped, and it's on YouTube!
Worst costume ever:
In Dangerous Liaisons in Montreal, I had to wear underwear with a prosthetic penis…
Craziest audition story:
I have two crazy audition stories: 1) When I auditioned for the brother in Billy Elliot in Toronto I was shooting a film at the time and told my agent I didn't have enough time to prepare. This was Billy Elliot- there were a lot of lines to learn, the Geordie accent, and all the music. She called me back and said that they didn't care and still wanted to see me.
So I went in the room and they asked me to sing "He Could Be a Star." I told them that I didn't know it and didn't have time to learn it. They said to go and learn it at the piano. So I did with the music director. After learning it I went up to sing it but still didn't know it very well (not to mention the fact that I was butchering the accent.) They told me to stop, sing it again, but not to worry about the accent, the notes, or the words. And I thought: huh?? No words, no notes, no accent? What does that leave you with?
So I half made up the melody, half made up the words, and acted the intention of the song.
I got a callback. When I went back for the callback I was extremely prepared and got the part.
2) For my final callback for Spider-Man on Broadway, after I did the scenes and sang, I was told that they needed to see me fly at the Foxwoods Theatre. (????????!!!!!) They strapped me in the harness and told me to land on the first balcony, spin around, and then land on the second balcony. The flight they had me do was very safe, however I had never been in a harness in my life. I completely missed each landing.
They told me after that they needed to see if anyone was scared. Even though I probably looked like the farthest thing from Spider-Man in my audition, I was never scared. And I got the part.
Some favorite screen or commercial roles:
Craig Manning on "Degrassi"
Are you still in touch with a lot of the "Degrassi" family?
The question I usually get is, "Are you still in touch with Aubrey (Drake) Graham?" I haven't spoken to Aubrey in a long time, but I'm still in touch with a lot of those guys. It was like my second high school.
If you could trade roles/tracks with anyone in the show for a week, who would it be?
I realize the gender thing might be an issue, but I would kill for the chance to sit down at a piano and perform the "Tapestry" songs for an audience.
Leading man role you've been dying to play:
Guy in Once
Leading lady role you'd like a shot at:
Girl in Once
Something about you that surprises people:
I'm unstoppable at ping pong.
Something you are incredibly proud of:
A few years ago I co-wrote a play with my mom. It was based on a true story of a Holocaust survivor who lost his wife in the camps. He moved to Toronto, remarried and had a son. Twenty-five years later, he received a letter from his first wife who had miraculously survived the war by hiding in Russia, but was unable to contact him because of the Iron Curtain. She tells him she is alive and that she is coming to Toronto to start her life again with him. The play, Therefore Choose Life, tells the story of the man, his family, and how they deal with the news of her arrival.
Something you're embarrassed to admit:
I'm not a very good dresser.
Career you would want if not a performer:
Social worker