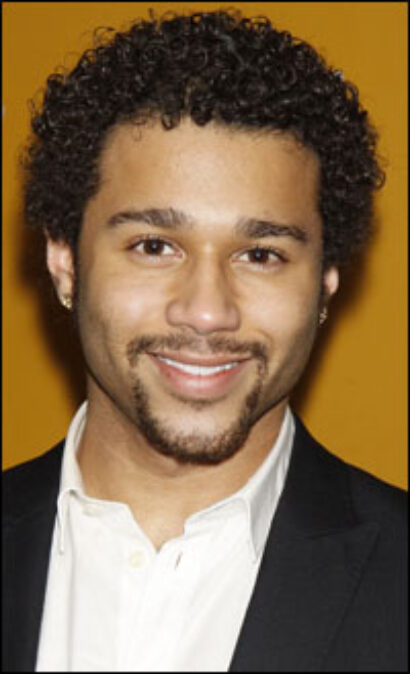 Bleu first rose to prominence as Chad Danforth in Disney's "High School Musical" movies. Other screen work includes "Free Style," "Catch That Kid," "Soldier," "Galaxy Quest" and "Mystery Men."
He made his Broadway debut as Usnavi in In the Heights at the Richard Rodgers Theatre. Bleu has recorded two solo albums, "Speed of Light" and "Another Side."
Full given name:
Corbin Bleu Reivers
Where you were born/where you were raised:
Born in Brooklyn, NY. Majority of my life spent in LA, but based on how my parents are and raised me, and how I am, I consider NY my home in my heart.
Zodiac Sign:
Pisces
What your parents did/do for a living:
Father is an actor/producer, has been for a while, but he had dabbled in many trades growing up. Same with my mom, who is now simply (although it's not so simple) Mom.
Current audition song/monologue:
Depends on the project, but I'm rather partial to "What Is It About Her?" from Andrew Lippa's The Wild Party.
Special skills:
I love to cook and have found that I'm actually very good at it. I'm studying a lot of French-style cooking right now.
Something you're REALLY bad at:
Basketball! Yes, I know I played a b-ball jock in the project I'm most know for, but when it comes to actually playing and shooting I'm mediocre at best. I'm good when it comes to moving around with the ball and doing silly tricks that don't really have to do with the game itself.

First Broadway show you ever saw:
Phantom of the Opera with Davis Gaines
If you could go back in time and catch any Broadway show, what would it be?
I would have loved to see an original production of Hair in the 60's in the middle of the revolution it was fighting for. Plus I would get to see Ben Vereen, or Tim Curry on the West End, or get to see Kenny Ortega do his thing as Berger in San Fran.
Current show you have been recommending to friends:
Fuerzabruta is still playing in Union Square, and it isn't a show, it's an experience. I tell people to see it all the time.
Favorite showtune(s) of all time:
It's common to hear, but anything from Rent is very hard for me not to start singing along to.
Some favorite musicals:
Too hard a question! I'm just gonna give love to my alma mater In the Heights.
Broadway or screen stars of the past you would most have loved to perform with:
Gene Kelly, Fred Astaire, Sammy Davis Jr. and MJ
Your personal vocal idols, living or dead
MJ, Bob Marley, Prince, Lenny Kravitz, Pavarotti
One performance - attended - that you will never forget:
I saw Prince perform during his Musicology tour. I don't care whether you know his music or not, you cannot sit down at a Prince concert!
Music that makes you cry, any genre:
I'm not trying to be a typical guy by saying I don't cry listening to music, I'm just more of a visually stimulated person. If you pair music with a fantastic stage performance, then you can get some waterworks.
MAC or PC?
MAC
Most played song on your iPod:
Haha, since I live in LA where you pretty much live in your car, and I'm constantly driving over hills or canyons, I often play the Indiana Jones theme song to pass the time. It makes me feel like I'm on the ride at Disneyland.
Most-visited websites:
IMDB and Netflix
Last book you read:
I am actually a big Harry Potter fan but not a very good one. I read the first 5 books. Right before the 6th movie came out I read the 6th book. And now that we're on the precipice of the final movie installment, I am reading the 7th book.
Must-see TV shows:
"Family Guy," "Family Guy" and "Family Guy!" Oh, and recently I've become hooked on "True Blood." Damn this moving picture box that stops the episode right at the cusp of a suspenseful moment, making me always come back for more.
Last good movie you saw:
Saw a film at the LA Film Festival called "Mamitas." Don't remember the last time I left a movie that made me feel so hopeful for love. I've always believed in love, but film can easily distort its image. This movie was just a great and very real depiction. Not sappy and not too dry.
Some films you consider classics:
"Beetlejuice"
"Rocky Horror Picture Show"
"Beauty and the Beast"
"Hook"
Performer you would drop everything to go see:
If we're talking theatre, Hugh Jackman!
Pop culture guilty pleasure:
Planking
Three favorite cities:
New York, Rome and TBD
Favorite sport/team/player:
Basketball/ Lakers/ Kobe (Yes, I'm on the bandwagon)
First CD/Tape/LP you owned:
That's a hard one. My first several CDs were obtained by raiding my parents' collection, mainly my mom's. Lot's of 80's pop music. Duran Duran, Oingo Boingo, Pat Benatar...
When you first realized you could sing:
Realizing I could sing again is actually what happened. I used to sing all through elementary school and when I went through that thing called puberty I stopped. In high school I got the lead of Ren in Footloose and had to put the pipes back to work.
Favorite or most memorable onstage role as a child/teenager:
A film I worked on called "Free Style." My opposite was a beautiful Latina named Sandra Echeverria.
Favorite pre-/post- show meal:
Oh man, I was just transported back to the Richard Rodgers Theatre again. It's awesome how food, no matter how simple, can do that. I used to have this grilled ham and cheese sandwich from this place Patzeria right across the street almost three times a week. Other people from the theatre started going there and saying "I'll have the Corbin," and the guys knew exactly what to make them.
Favorite liquid refreshment:
Water all day long baby!
Pre-show rituals or warm-ups:
I end up forming pre-show rituals with different people in the cast. It grows and grows until, by the time I'm ready to do the show, I'm already exhausted from running back and forth to get in all the rituals.
Most vocally challenging role you have ever played:
Myself. I have two albums that I have put out, the first of which was recorded when I was about 17. Well, at 20 when I was touring with the second album, I was singing songs from the first one that had become too dang high for me to sing anymore!
Worst flubbed line/missed cue/onstage mishap:
During the finale of In the Heights Usnavi sums up his thoughts as he believes he is about to leave his home. Earlier that day my grandmother and great-grandmother had come to see the matinee. I hadn't seen my great-grandmother in years, and something about that moment held a lot of weight to it.

During the finale of the evening performance, I somehow got lost in thought about Usnavi's journey and my own and completely forgot the lyrics for about 8 bars.

In the end it looked like I was pretty lost in character but, from the moment I lost that lyric to the moment it magically jumped back into my head, all I was thinking was "Oh shit."

Leading man role you've been dying to play:
Sweeney Todd or Frank-N-Furter
Leading lady role you wish you could play:
Elphaba
Any particularly memorable In the Heights stage door moments?
I love my fans. It really was a treat to have adults come up and say how much they enjoyed the performance and what fans they are, and when would ask if they had kids their response was "no."
Something you are incredibly proud of:
Honestly, having taken on Broadway. I grew up in theatre, but it is still a feat many film and television actors would not venture towards.
Career you would want if not a performer:
Pediatrician
Three things you can't live without:
My family, music and God
"I'll never understand why..."
... we can't all feel free to sing whether good, bad, trained voice or not. When it comes to a profession, yes we should want the best of the best voices. But our society has made us feel as though if you don't sing well, you shouldn't. I recently visited Fiji and I experienced one of the most incredible things. Every person in the country will sing to you. They have native songs that everyone knows.

For example there is a goodbye song, and every place I left in Fiji everybody sang this song to see us off. Music and singing are such inspirational and freeing tools. Everyone should use them!

Words of wisdom for aspiring performers?
Til the day we die, we are always learning. Who we become depends on how we apply what we've learned to better our lives. As performers, our position is to know and portray the lives of others. So the amount we can learn is multiplied.