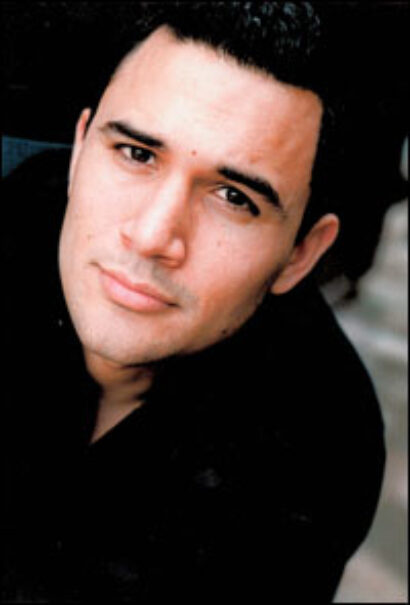 He has appeared Off-Broadway in The Fantasticks (El Gallo), The Most Happy Fella (Joey/New York City Opera) and Yank! (Mitch/NYMTF).
Regional work includes the title role in Zhivago (La Jolla Playhouse), Sweeney Todd (Anthony/5th Ave. Theatre), Two Gentlemen of Verona (Proteus/Baltimore CenterStage), Señor Discretion Himself (Martin/Arena Stage) and Carousel (Billy/PCPA).
Film/TV: "Lipstick Jungle," "Chapelle's Show," "As the World Turns," "One Life to Live," "Guiding Light," "Watching and Waiting."

Full given name:
Ivan Rafael Hernandez
Where you were born/where you were raised:
San Francisco, CA
Zodiac Sign:
Scorpio
What your parents did/do for a living:
Both San Francisco City bus drivers. Dad's retired now though.
Siblings:
2 younger brothers, Francisco and David
Current audition song/monologue:
Usually "Marta" from Kiss of the Spider Woman or "With or Without" You by U2
Special skills:
I'm a pretty damn good soccer player.
Something you're REALLY bad at:
Dancing! Takes me forever to learn steps.
First Broadway show you ever saw:
Death of a Salesman with Brian Dennehy. I was in the back row and I was still bawling.
Did you have any particular mentors or inspirations when first starting out?
Two of my professors at San Diego State, Rick Simas and Paula Kalustian. They ran the MFA program for musical theatre there and they also taught some undergrad and directed the musicals. Paula was very kind and encouraging to me and Rick would yell at me if I didn't work hard enough. I was lucky to have both of them!
If you could go back in time and catch any show, what would it be?
The original Sweeney Todd to see Len Cariou and A Streetcar Named Desire to see Brando.
Current or recent show you recommended to friends:
Well I have 4-year-old and 1-year-old girls so I haven't see anything in awhile. But I myself would like to see One Man, Two Guvnors and Porgy and Bess.
Favorite showtune(s) of all time:
"You Got Trouble" from Music Man, "Epiphany" from Sweeney Todd, "And I Am Telling You" from Dreamgirls, "Measure the Valley" from Raison, "All the Wasted Time" from Parade, "Who Am I?" from Les Miz
Some favorite modern musicals:
Floyd Collins, Spring Awakening, Hello Again, Passing Strange
Some favorite classic musicals:
Almost all Sondheim but especially Sweeney Todd, Sunday in the Park With George and Assassins. Also West Side Story which has probably the prettiest score ever.
Your personal vocal idols, living or dead:
Pavarotti, Bernadette Peters, Sinatra, Chris Cornel, Eddie Vedder, Robert Plant, Betty Buckley, Patti LuPone, Len Cariou, Michael Rupert, Brian Stokes Mitchell. And now that I've heard Chip Zien singing the Mysterious Man from Into the Woods, I have to include him too!
The one performance — attended — that you will never forget:
Brian Dennehy in Salesman and Liam Nieson in The Crucible.
Music that makes you cry, any genre:
Barber's "Adagio for Strings" conducted by Leonard Bernstein....
MAC or PC?
I have a PC but I usually use my wife's MAC, and I am now coveting an iPad.
Most played song on your iPod:
Right now it would be "Shake it Out" by Florence and the Machine and the live version of "England" by The National.
Most-visited websites:
NYTimes, Playbill and sanfranciscogiants.com
Last book you read:
"Freedom" by Jonathen Franzen
Must-see TV show(s):
"Mad Men" and "Parenthood," although "Smash" has become a guilty pleasure.
Last good movie you saw:
Can't remember the last time I saw a movie in a theatre! The last one I remember that I really liked was "The Social Network." And "Bridesmaids"!
Some films you consider classics:
"Annie Hall"
"Hannah and Her Sisters"
"The English Patient"
"Fargo"
"On the Waterfront"
"The Mission"
"Sophie's Choice"
"Midnight Cowboy"
"The Godfather"
"Goodfellas"
"Terms of Endearment"
"The Color Purple"
"Moonstruck"
"One Flew Over the Cuckoo's Nest"
"The Piano"
Performer you would drop everything to go see:
Page and Plant if they ever perform together again! Pearl Jam and maybe Nine Inch Nails and Audioslave if they ever played together again.
Pop culture guilty pleasure:
"Smash," if that counts.
Favorite cities:
San Francisco, New York, Los Angeles
Favorite sport/team/player:
Baseball, SF Giants. I went to my first game when I was 8 with my dad.
First CD/Tape/LP you owned:
It was actually a recording of "Welcome to the Jungle" by Guns and Roses
| | |
| --- | --- |
| When you first realized you could sing: | I sang when I was a young boy in these music classes but when I hit puberty I couldn't sing anymore. So for about 4 years I didn't sing one note until my senior year in high school when my friends convinced me to audition for Magaldi in the school's production of Evita. And all of a sudden this big voice came out! |
| First stage kiss: | Summer stock in Santa Rosa, CA in The Grapes of Wrath. I was playing Al Joad and the girl playing my girlfriend and I just decided to put some kissing in throughout the play for fun. We were young. |
| Favorite or most memorable onstage role as a child/teenager: | Jesus in JC Superstar and Romeo in Romeo and Juliet. |
| Moment you knew you wanted to perform for a living: | After a couple years at school I realized I wasn't taking any thing except theatre classes. |
| How you got your Equity card: | The first show I booked when I moved to NY was Senor Discretion Himself by Frank Loesser at Arena Stage. |
| Favorite pre-/post- show meal: | Pre-show: steak I cook myself at home with a Caesar salad. My wife and I make a killer dressing. Post show: vodka. |
| Favorite liquid refreshment: | A good margarita with fresh lime juice or a really good California Cabernet. |
| Pre-show rituals or warm-ups: | The usual vocal noises, some push-ups and stretches, and now that I have children, a nap. |
| Most vocally challenging role you have ever played: | Playing Dr. Zhivago in Zhivago The Musical. I was onstage all the time! And Romeo in Romeo and Juliet. Shakespeare is just so difficult. |
| Worst job you ever had: | I've had plenty of them. And they all involved waiting tables. |
| Worst costume ever: | Wearing tights in Camelot. |
| If you could trade roles with anyone in the cast for a week, who would it be? | This may be weird but I would love to trade with Donna and play the Witch! She has the best songs. |
| Favorite Sondheim tunes from other shows: | "Finishing the Hat" from Sunday, the "Johanna" reprise Sweeney sings in Act 2 of Sweeney Todd, "Everybody's Got the Right" from Assassins, "Me and My Town" from Anyone Can Whistle, "The Road You Didn't Take," "In Buddy's Eyes," "The Right Girl" and "Take Me to the World" |
| Some Sondheim roles you'd love to play at some point in your life: | George and Sweeney |
| Leading man role you've been dying to play: | Che |
| Leading lady role you wish you could play: | Besides the Witch, maybe Dot in Sunday |
| Something you are incredibly proud of: | Being a father |
| Something you're embarrassed to admit: | I cry when I watch movies, all the time. |
| Career you would want if not a performer: | Soccer player or rock star |
| Three things you can't live without: | Coffee, meat, vodka |
| Words of advice for aspiring performers: | If this is what you really want then just keep trying, keep working at it. Also have a life outside of it. Friends, family, hobbies... whatever it is so that you can keep things in perspective. |