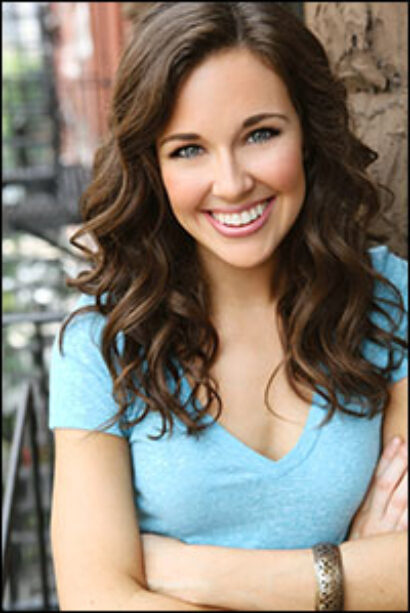 Other theatre credits include Sophie in Mamma Mia! (Broadway), Eponine in Les Misérables and Belle in Beauty and the Beast.
Full given name: Liana Marie Hunt
Where you were born/where you were raised:
Morrisville, Vermont. It's right next to Stowe.
Zodiac Sign:
Gemini
What your parents did/do for a living:
My mom has owned her own children's clothing store in Stowe called The Yellow Turtle for the last 26 years (and JUST recently sold it). My dad works for the Trapp Family Lodge in Stowe, which is where the Von Trapp family settled in Vermont after coming from Austria. The lodge is now run by Maria and the Baron's youngest son, Johannes Von Trapp. So cool. The hills are alive indeed.
Siblings:
I have one younger brother, Connor, who just graduated from St. Lawrence University. He's an amazing downhill and nordic skier and photographer. He also makes delicious bread from scratch. Serious. Skills.
Special skills:
Eh, I sort of snowboard, I bake, and I can freestyle rap battle.
Something you're REALLY bad at:
Driving. Whoops. Good thing I live in NYC.
First Broadway show you ever saw:
Beauty and the Beast
If you could go back in time and catch any show, what would it be?
I would have loved to see the original A Chorus Line in the 1970s with my mom and my grandparents when they went to see it.
Current or recent show other than your own you have been recommending to friends:
Pippin
Favorite showtune(s) of all time:
I have a whole iTunes playlist dedicated to my favorite show tunes. But. A few that I will always adore and will never get tired of are: "Every Day a Little Death" and "Now/Later/Soon" from A Little Night Music, "Please Let's Not Even Say Hello" by Maury Yeston, and the opening of You're a Good Man Charlie Brown.
Some favorite modern musicals:
In The Heights, Next to Normal, The 25th Annual Putnam County Spelling Bee, The Light in the Piazza, The Drowsy Chaperone, Urinetown
Some favorite classic musicals:
South Pacific, My Fair Lady, Gypsy
Broadway or screen stars of the past you would have most loved to perform with:
Gene Kelly, Lucille Ball, Judy Garland...
Your personal performance idols, living or dead:
Lucille Ball, Cate Blanchett, Diane Keaton, Sutton Foster, Jim Carrey, Audrey Hepburn, Rachel McAdams, Julie Andrews, Ginger Rogers, Amy Adams...
The one performance – attended - that you will never forget:
James Corden in One Man, Two Guvnors! Unbelievable. The most brilliant comedic performance I've witnessed live. I was convinced he was improvising most of the show on the spot.
Music that makes you cry, any genre:
Joni Mitchell, Regina Spektor, anything with strings, The Last Five Years
MAC or PC?
MAC
Most played song on your iPod:
Probably "Who Did That to You?" by John Legend off the "Django Unchained" soundtrack. Can't. Get. Enough.
Most-visited websites:
Pinterest, YouTube
Last book you read:
"Game Change"
Must-see TV show(s):
TV is how I get through the winter. My all time favorites are "Sex and the City" and "Law and Order: SVU." I've probably seen every episode of both but continue to watch all of the time. My favorite comedies these days are "New Girl" and "Modern Family." Other current favorites: "House of Cards," "American Horror Story," "Orange Is the New Black," "Scandal," "The Following," "The Americans," "Mad Men" and "Dexter."
Last good movie you saw:
"Dallas Buyers Club"
Some films you consider classics:
"It's a Wonderful Life," "Hook," "Sabrina," "Dumb and Dumber," "Harvey," "When Harry Met Sally," "Pretty Woman," "Big"
Performer you would drop everything to go see:
I had tickets two years ago to see one of my favorite singer/songwriters, Brandi Carlile, who I've been dying to see perform, and the concert was canceled because of the hurricane. So if she came back to NYC I would drop everything and finally go see her!
Pop culture guilty pleasure:
"The Bachelor/Bachelorette"
Three favorite cities:
NYC, Boston, Austin
Favorite sport/team/player:
One of the few sports I actually enjoy watching is baseball. However, I support any and all New England teams for my dad (he's originally from Boston): Red Sox, Patriots, etc.
First CD/Tape/LP you owned:
CD: Alanis Morrissette's "Jagged Little Pill." Tape: The Raffi kids tapes and then Annie with Andrea McArdle. I've never owned any LP's!
First stage kiss:
Cannot remember for the life of me. It might have been in The Fantasticks with my friend Paul Miller (who's now in Mamma Mia!) at a community theatre in Vermont during high school! Maybe??!?
Favorite or most memorable onstage role as a child/teenager:
Fredericka in A Little Night Music at a regional theatre in Vermont when I was 13. This was my first professional production. I got to work with actors from New York City and it was the biggest deal ever to me at the time. Also playing the role of Echo in Eleemosynary during my freshman year of high school. It's a three-woman play we competed with at the One Act Play festivals and won a bunch of awards for my high school. I'll never forget it! It was my first really meaningful stage experience with some really amazing women.
Moment you knew you wanted to perform for a living:
It goes back as far as I can remember. Perhaps seeing Les Misérables on Broadway for the first time as a kid. I was obsessed with Eponine. The role, her songs, the music, the show... I knew I wanted to do that someday.
How you got your Equity card:
Playing the role of Sophie on the national tour of Mamma Mia!
Favorite pre-/post- show meal:
Pre-show: Sushi from Ageha Sushi on 9th ave. Post-show: I like to cook dinner at home after the show. My favorite go-to is quinoa with a bunch of sauteed veggies, ginger and tamari.
Favorite liquid refreshment:
Coffee and coconut water
Pre-show rituals or warm-ups:
I love to take yoga during the day before the show, I like to drink a coconut water before the show, I usually drink either Throat Coat tea or ginger tea while I put my makeup on and warm up at the theatre. I love to do some good old planks, pushups, and jumping jacks right before I go on stage to get the blood flowing. I also like to sing through "Watch What Happens" at some point before every show, because I feel like I need to sing through those words at least once before singing them onstage! AHH!
Most challenging role you have ever played:
Cathy in The Last Five Years during college. It taught me a lot about myself while I was really learning who I was as a person and a performer and it pushed me out of some comfort zones.
Worst flubbed line/missed cue/onstage mishap:
There are some to choose from here. Perhaps an epic fall I had one night while playing Sophie in the Broadway company of Mamma Mia! It was during the big dancing finale reprise of "Mamma Mia." The girls gather upstage and then link arms and "girl power strut" downstage on the lyrics "Yes, I've been broken hearted…" It's a sexy, all eyes on us moment and I was center stage. While "strutting" downstage my hiking boot (yes, Sophie dances the finale in hiking boots) got caught on the textured stage and I went flying down face first. My arms were behind the backs of the girls on either side of me so I had no way to catch myself and literally face planted/belly flopped helplessly onto the stage. Awesome.
Worst job you ever had:
I waitressed for a summer in college. I was pretty bad at it. I made a lot of mistakes. I had fun doing it sometimes, but I was a mess.
Craziest audition story:
Probably my audition for the Mamma Mia! tour while I was finishing up college. I woke up that day at 6 AM sick, throwing up all over my bathroom. My audition was at 10:30. It was the only day the whole team was in town to see people, so I dragged myself to my appointment. I am really particular about my pre-audition routines, and always make sure I have plenty of time to get ready, etc, but that morning I basically dragged myself off the bathroom floor, threw on clothes and hopped in a cab with some saltines and ginger ale.
In the room, I ended up having to do all these crazy physical exercises including running circles all over the room. I spent most of the audition on the verge of puking and felt like a delirious crazy person, and I ended up getting the job. Go figure.
Leading lady role you've been dying to play:
Louise in Gypsy
Leading man role you've been dying to play:
Leo Frank in Parade. GAH that music.
Something about you that surprises people:
I'm a mean free-styler. I love a good rap battle. And I love rap and hip-hop music.
Something you are incredibly proud of:
My second Broadway show! The first was a huge deal for me but the second is sort of even better. Helps to convince you it wasn't just a fluke the first time.
Something you're embarrassed to admit:
I had a huge crush on Clay Aiken in high school. His poster took up some serious real estate on my bedroom wall. #clueless
Career you would want if not a performer:
Something involving food, health and nutrition maybe. Or a baker in a cute little bakery. Or maybe some sort of therapist, psychologist or sociologist.
Three things you can't live without:
Good food, music, my loved ones
"I'll never understand why…"
... people insist on honking in traffic in NYC.
Words of advice for aspiring performers:
Be yourself. Bring you to every audition. It's the one thing only you have. And take class always. All kinds. We are constantly learning and growing.