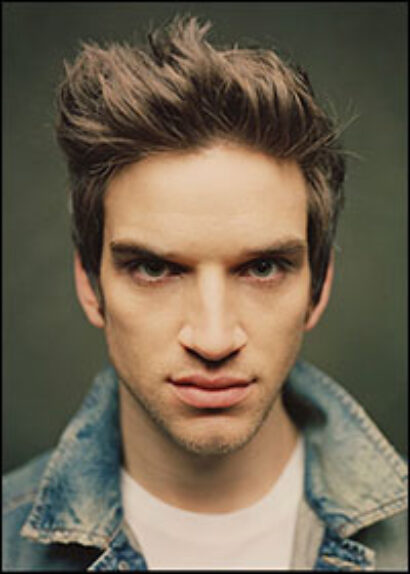 Other stage work includes High (Broadway); Really Really (MCC); Harrison, TX (Primary Stages), Romeo and Juliet, The History Boys (Arden Theatre Company); Six Characters… (People's Light & Theatre); Never the Sinner, The Misanthrope (Mauckingbird Theatre Company); A Streetcar Named Desire, Natural History (Walnut Street Theatre); The Glass Menagerie, The Rose Tattoo, Tibet Through the Red Box (Cape Rep Theatre); and Pay Up (Pig Iron Theatre Company).
He has appeared on screen in "Calendar Girl Killer," "The Gift," "As the World Turns," "Greatest Sport Stories," HBO's "Girls" and "X-Men: Days of Future Past."
Full given name:
Evan James Jonigkeit
Where you were born/where you were raised:
I grew up in Langhorne, PA, and lived in Aurora, IL("Wayne's World"), before that. I was born in Oyster Bay Hospital in Long Island.
Zodiac Sign:
Aquarius (Feb. 18)
What your parents did/do for a living:
Dad works in insurance, Mom is a secretary, both moonlight as parenting gurus.
Siblings:
Meg and JJ!
Special skills:
Making a perfect soft-boiled egg.
Something you're REALLY bad at:
Singing in front of people.
First Broadway show you ever saw:
Medea with Fiona Shaw in 2003
If you could go back in time and catch any Broadway show, what would it be?
I would go back to that same year of 2003 and see Long Day's Journey with Brian Dennehy, Philip Seymour Hoffman, Robert Sean Leonard and Vanessa Redgrave
Current show other than your own you have been recommending to friends:
Kinky Boots, so much fun... such a lovely message.
Broadway or screen stars of the past you would most have loved to perform with:
Julie Harris (who had an incredibly beautiful energy each time I met her).
The one performance – attended - that you will never forget:
Edie Falco and Brenda Blethyn in 'Night Mother.
Music that makes you cry, any genre:
Death metal and Electronic Trance music... soul crushing.
You personal acting idols:
Kevin Spacey, Philip Seymour Hoffman, James Earl Jones, Mark Rylance.
MAC or PC?
MAC
Most-visited websites:
Why playbill.com, of course...
Most played song on your iPod:
Vocal exercise #1
Last book you read:
"Duty, Honor, Privilege" (play research) and "Townie" (leisure)
Must-see TV show(s):
"Breaking Bad," "House of Cards," "Homeland"
Last good movie you saw:
"Short Term 12" (fantastic cast)
Some films you consider classics:
"A Woman Under the Influence" is probably my favorite film amongst many close contenders.
Performer you would drop everything to go see:
Hugh Jackman
Pop culture guilty pleasure:
Home remodeling shows
Three favorite cities:
Philadelphia, San Francisco, Denver
First CD/Tape/LP you owned:
Queen's greatest hits
Moment you knew you wanted to perform for a living:
I saw a performance of Pig Iron Theatre Company's Gentleman Volunteers
Can you credit any particular companies or people in the Philly theatre community with being most instrumental to your success?
Philadelphia is a really incredible community. I had the chance to work with so many wonderful companies and so many brilliant people. It is its own self-sustaining theatrical paradise. When you get done visiting the Liberty Bell, go see a show!
Pat's or Geno's?
If those are my choices… Pats, hands down.
Favorite pre-/post- show meal: (note where)
Post show - delivery.com in bed.
Pre-show rituals or warm-ups:
Vocal warm ups and some music
Worst flubbed line/missed cue/onstage mishap:
An actor named Tony Lawton made a joke onstage during the closing performance while I was supposed to be a dead Romeo that sent me into hysterics as I was lying there with Juliet.
Worst job you ever had:
Denny's midnight shift
Craziest audition story:
Chasing Kathleen Turner around a room with my pants around my ankles... that was crazy.
What drew you to this project?
Everything. The first time I read it I wanted this part and started hounding everyone involved.
What has been the biggest challenge so far?
Keeping up with intelligence of fellow cast members and Dan Sullivan (believe the hype).
What has been the most fun or fulfilling aspect of this show?
I find when working on new play that it's when a breakthrough happens in the writing- seeing how that energizes a room is a really special thing to be around.
Most challenging role you have played onstage:
Hmmm... I plead the 5th.
Leading man role you've been dying to play:
Stanley Kowalski, LTJG Daniel A. Kaffee, John Proctor, Iago, Caliban
Leading lady role you'd like a shot at:
Mary Tyrone
Something you're incredibly proud of:
My nephews
Something you're embarrassed to admit:
I can't remember people's names til the third time I meet them ... it makes me feel incredibly rude and self-involved.
Career you would want if not a performer:
Carpenter
Three things you can't live without:
Love, family and friends
"I'll never understand why…"
… theatre folk don't get two days off a week like the rest of the world.
Words of advice for aspiring performers:
Just do it.