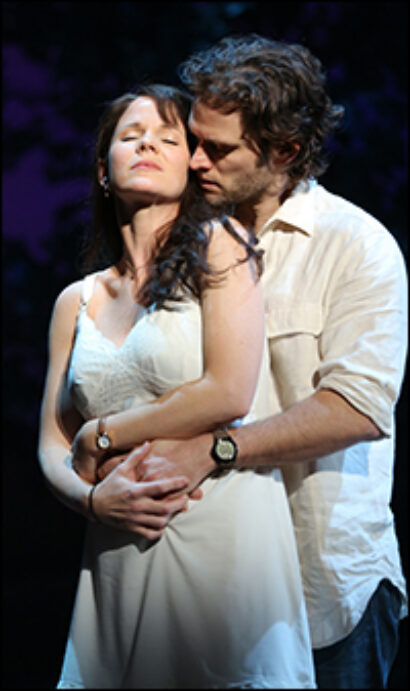 The new Jason Robert Brown-Marsha Norman Broadway musical is based on the popular, but critically maligned Robert James Waller romance novel about a Italian-American housewife in 1960s Iowa who finds new love and life when a rugged photographer pulls into town to take photos of those charming structures alluded to in the title. Bartlett Sher, who has piloted O'Hara to acclaimed performances in The Light in the Piazza and South Pacific, directs.
Critics haven't always been kind to Brown since he emerged as the wunderkind composer of Parade 16 years ago, but they generally loved the musical's lush score. What they loved even more was the acting and singing of O'Hara, who with this show only burnished her reputation as the theatre's leading musical theatre actress. With most reviews, however, the praise ended there.
Ben Brantley of the New York Times basically devoted his entire review to praising O'Hara (while being a bit skimpy in his approval of anything else), writing, "I am happy to say that Ms. O'Hara more than keeps the promises made by her interpretation of that first song, one of many sumptuous pieces that feel as if they had been written specifically for her by the show's composer, Jason Robert Brown. She also confirms her position as one of the most exquisitely expressive stars in musical theater."
The AP spread the praise out a bit more evenly, saying, "Kelli O'Hara and Steven Pasquale come just short of blowing the roof off the Gerald Schoenfeld Theatre in this touching doomed romance that features a superb, thrilling score by Jason Robert Brown." Variety, too, focused on the attractions at center stage: "Fussy direction and design choices and cumbersome book scenes crowd the central couple, but the gorgeous voices and thoughtful characterizations of Kelli O'Hara and Steven Pasquale in those roles help counter the weaknesses of this problematic romantic musical."
The Wall Street Journal said of Brown's score, "Parts of it are as musically exciting as anything heard on Broadway since Stephen Sondheim's glory days" (which must have pleased an ardent Sondheim disciple like Brown), while New York Magazine went so far as to compare Brown's work to the even earlier greats, saying, "The Bridges of Madison County, though based on an insipid novel, is a very serious musical indeed, both rapturous and moral, with a gorgeous score by Jason Robert Brown. It is also one of the few recent Broadway shows to take up the challenge laid down by the great midcentury works of R&H and their cohort: to tell stories that weld important sociological upheavals to personal conflicts and somehow make them sing...the leading performances, shaped by Sher to preserve a sense of character modesty within the vocal extravagance, are exemplary."
***
Elaine Stritch gets more press in retirement than most actors get whilst in fervent industry. The New York Times seems to write a profile on the theatre great — who now lives in Michigan with her relatives — every other week.
Stritch's sandpaper voice and salty anecdotes will get a further workout in coming weeks. "Elaine Stritch: Shoot Me," the documentary film about the outspoken stage icon, premieres in New York City theatres, Feb. 21, with cities across the U.S. to follow.
The film is made by documentarist Chiemi Karasawa, who began following Stritch's public and personal life in February 2011. Alec Baldwin is executive producer of the film with Cheryl Wiesenfeld. "Shoot Me" includes interviews with a host of theatre vets who have worked with Stritch, including At Liberty collaborator George C. Wolfe, director Harold Prince and actors Cherry Jones and Nathan Lane.
The film will cover the usual highlights of Stritch's colorful life: Her career ups and downs, alcoholism and the loss of her husband, among other subjects.
Stritch said in a prepared statement, "It's a little frightening for people to get into your life that much, but I don't have anything to hide. So, I'm open." She can say that again.
***



Photo by Joan Marcus
Bronx Bombers,
the new Eric Simonson drama about the history of the New York Yankees framed through the eyes of baseball legend Yogi Berra, will end its Broadway run March 2 at Circle in the Square, producers announced Feb. 20. The show opened Feb. 6.
The play lasted about as long as Magic/Bird, the basketball-themed Simonson play which ran on Broadway last season.
***
Playwright Athol Fugard has occasionally taken to the stage over his career, sometimes in his own plays. He will do so again when his The Shadow of the Hummingbird has its premiere at the Long Wharf Theatre beginning March 26.
Fugard plays a man who is visited by his ten-year-old grandson (who is playing hooky from school), who "reminds the old man of his lost sense of wonder, while the child is given a bit of hard-earned wisdom." Directed by artistic director Gordon Edelstein, the play also stars Aiden McMillan and Dermot McMillan, alternating in the role of his grandson Boba.