The evening will mark Jackman's fourth time hosting the Tony Awards. Like Harris, he did the job three years running, hosting the 57th, 58th and 59th Annual Tony Awards (2004-06). Jackman received an Emmy Award for hosting the 58th Annual Tony Awards in the category of Outstanding Individual Performance in a Variety or Music Program.
Very likely, Harris would have found himself too busy to be host, anyway. This spring, he returns to Broadway as an actor, taking the lead in the musical Hedwig and the Angry Inch, which begins previews March 29 and opens April 22. So, while he may not be playing host, Harris could appear at the ceremony as a nominee.
***
Two productions lost some major talent this week.
Diahann Carroll, who was to return to Broadway this spring in a revival of A Raisin in the Sun with Denzel Washington, exited that venture. LaTanya Richardson Jackson will replace her in the role of matriarch Lena Younger. A representative for the production told Playbill.com that Carroll withdrew from the production due to the vigorous demands of the rehearsal and performance schedule.
Carroll, who is 78, confirmed this in a statement she issued: "The pace of filming movies and TV projects is quite different than the extensive amount of time preparing and appearing live on Broadway eight times a week. I enjoyed working with Scott Rudin, Denzel Washington, Kenny Leon and an amazing cast and I wish them well."
A Raisin in the Sun was to mark the Broadway return of the acclaimed actress after more than a 30-year absence from the New York stage. Carroll is a Tony Award winner for No Strings.
Meanwhile, Off-Broadway, film star Maggie Gyllenhaal — an increasingly regular presence on the New York stage — withdrew from the MCC Theater production of Penelope Skinner's The Village Bike, which is scheduled to begin performances in May at the Lucille Lortel Theater.
Gyllenhaal cited that classic excuse, "scheduling conflicts," as the reason for her exit. It was recently announced that she would make her Broadway debut opposite stage and screen actor Ewan McGregor in the Roundabout Theatre Company production of Tom Stoppard's The Real Thing this fall.
No replacement for Gyllenhaal has been announced for The Village Bike.
***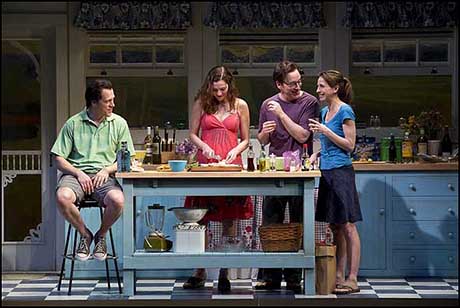 photo by Jeremy Daniel
The Roundabout Theatre Company opened its new production of
Donald Margulies
' Pulizer Prize-winner
Dinner With Friends
, with stars Jeremy Shamos, Darren Pettie, Marin Hinkle and Heather Burns, Feb. 13. The staging marks the play's first major New York revival.
The critical opinion of the play — always generally good — seemed to have improved with the years, as a few reviewers found themselves newly impressed with the nuances of the script.
"Either the play has deepened, or I have," said Newsday, "or television isn't mining that particular domesticated demographic with such intensity these days. Whatever the reason, the revival that the Roundabout Theatre has mounted at its Off-Broadway venue feels freshly bruised — even emotionally brave."
Wrote the Hollywood Reporter, "Director Pam MacKinnon's sensitive production fully mines the work's subtle depths while serving as a strong showcase for its quartet of veteran New York stage performers." Not everyone was bowled over. Said The Daily News, "It's back Off-Broadway in a revival that is perfectly well done, but which still can't mask the work's skimpiness. Seriously, where's the beef?"
Also opening Off-Broadway was the Primary Stages premiere of playwright-actor Charles Busch's new comedy The Tribute Artist, featuring Busch and his frequent cohort, actress Julie Halston, which opened Feb. 9. Carl Andress staged the production about an out-of-work female impersonator who, when his elderly landlady dies in her sleep, takes on her identity in order to hang on to her valuable Greenwich Village townhouse.
The reviews were some of the best Busch has gotten in years.
The Times called it "delightful and slyly insightful," adding, "No translation is required, though, for the sheer joy that comes from seeing two top comic artists, in perfect harmonic disharmony, finding the sincerity in spoof and vice versa."
Said Entertainment Weekly: "You can expect the piquant one-liners Busch has become renowned for, not to mention his penchant for rehashing lines from old TCM melodramas. Though the show is perhaps fifteen minutes or so more than it should be, there is great fun to be had in this larkish romp with a surprisingly forward-looking attitude. The cast is uniformly game — especially Halston, who continues to steal every one of Busch' plays. With The Tribute Artist, Charles Busch is peddling a familiar stock — this one is a blue-chip that continues to pay comic dividends."
Variety, however, thought the play was only for Busch devotees, saying "while Busch's longtime director, Carl Andress, aims for the high comic style of classic farce, the plot complications aren't witty or zany enough to sustain that line of attack. All the characters are one-dimensional, which is not necessarily a bad thing in farce, but only Busch and Halston relate to their characters as if they were human."
***
One sign the upcoming revival of Noises Off might be good: The Roundabout has cast multiple Tony Award winner Andrea Martin to star. Martin recently won her second Tony for her work in Pippin. The Roundabout is doing some serious thinking ahead with this show: It doesn't begin previews until January 2015 at the American Airlines Theatre.