Al Pacino, who recently starred on Broadway in David Mamet's Glengarry Glen Ross, to the glee of the bean-counters (it was a smash at the box office) and the semi-glee of the quality controllers (it received mixed marks from critics), will return to Broadway next October in China Doll. The new play was written by Mamet specifically for Pacino.
It certainly sounds like a Pacino part. The legendary actor will play a billionaire named Mickey Ross, "who has just bought an airplane for his young fiancée as he prepares to go into semi-retirement," when he decides to take… just… one… more… call. The only other character in the play is Ross' assistant, Carson.
Pacino has done a good share of Mamet over the years (Glengarry Glen Ross, American Buffalo, the film of Glengarry), but this is the first time he will be creating a Mamet role.
Mamet seems pretty confident in his new piece. In a statement included in the press release announcing the production, he wrote, "The characters are Mickey Ross, a billionaire; Carson, the assistant, and a telephone. I wrote it for Al. It is better than…." And then he mentioned something that a Mamet character would be very comfortable mentioning, but is not fit for a family theatre website.
***
Nobody's been paying too much attention to the new Broadway revival of the classic musical comedy On the Town since it creeped into town a few weeks ago and began giving performances at the Lyric Theatre. It boasted no stars or advance ballyhoo. And John Rando, who helmed the recent, critically acclaimed City Center Encores! and Barrington Stage productions, has not had a great Broadway track record since his glory days of Urinetown.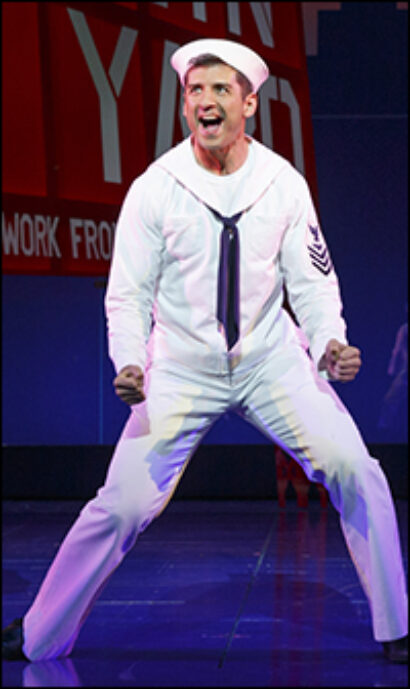 But, lo and behold, we all should have been paying attention. Much as with the recent revival of You Can't Take It With You, which against all odds found a way to be fresh and winning in its new rendition, Rando and company forced the critics to look at the Bernstein-Comden-Green perennial anew.
"This merry mating dance of a musical feels as fresh as first sunlight as it considers the urgent quest of three sailors to find girls and get, uh, lucky before their 24-hour shore leave is over," crowed the Times. "If there's a leer hovering over On the Town, a seemingly limp 1944 artifact coaxed into pulsing new life by the director John Rando and the choreographer Joshua Bergasse, it's the leer of an angel."
"The webs have been swept away, the comic book villains are long gone and even the name of the theater has changed," cheered AP. "So what better way to bid farewell to the doomed Spider-Man musical at the re-christened Lyric Theatre than with a pure American classic? An exuberant, dazzling revival of On the Town opened Thursday, filling Broadway's biggest theater with big, crowd-pleasing dance numbers, lavish and clever visuals and superb performances from a massive cast. It's simply a helluva show."
"This just is a breezy, peppy, pleasantly libidinous valentine to New York-New York that respects Leonard Bernstein's jazzy brainy score with a lush 28-piece orchestra," said Newsday.
Will these words be enough to make theatregoers revisit the familiar property that they think they know? We shall see.
***
I think it's safe to say that many of us in the theatre community had assumed that Stephen Sondheim was done writing new musicals. Publishing books, sure. Being the subject of documentaries and biographies, you bet. But musicals, no.
Since Passion in 1994, he's only produced Road Show, a musical idea he had first hatched 40 years previously. There's been talk of a musical of the movie "Groundhog Day," that so far that's all it's been: talk.
So it was a bit of a surprise to hear that Sondheim is at work on a new musical with the playwright David Ives based on two renowned films by the Spanish director Luis Buñuel, "The Exterminating Angel" and "The Discreet Charm of the Bourgeoisie."
The Public Theater and producer are also attached to the projects. Artistic director Oskar Eustis, knowing his place, said in a statement, "We will do it whenever Steve tells us to." Road Show was also produced by the Public Theater.
***
Our little Tony Awards host has grown up and gone to the big time.
Tony Award-winning Hedwig star Neil Patrick Harris will host the 87th Academy Awards, it was announced.
Harris, who has emceed the Tony Awards four times and the Emmys twice, will make his Oscars hosting debut in 2015. He has been honored with four Emmy Awards, three of them for his acclaimed hosting of the Tony Awards.