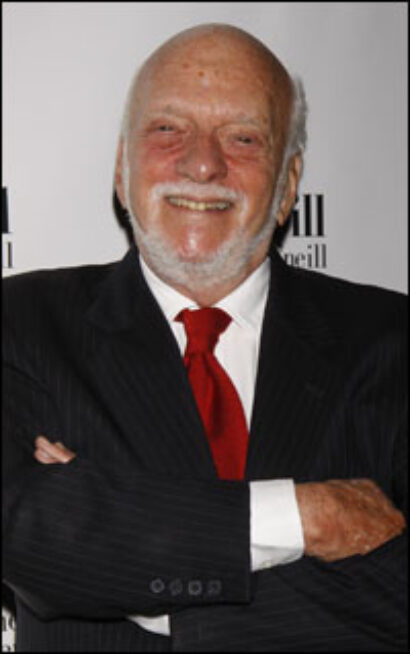 The Prince of Broadway is directed by Prince, and co-directed and choreographed by Susan Stroman. (Prince is probably the only person in the theatre under which five-time-Tony-winner Stroman would accept a "co-director" credit from at this point.) It will feature a book by David Thompson (The Scottsboro Boys).
Prince has been working to bring The Prince of Broadway to life for several years. The show was first announced for a fall 2012 start on Broadway, followed by a goal of fall 2013. Issues with capitalization for the nearly $10 million musical delayed the production's Broadway arrival. Japanese producers are now financing the musical, according to the Post.
The production is now aiming for a spring 2016 Broadway arrival. Actors set to appear in The Prince of Broadway include Emily Skinner, Sierra Boggess and Richard Kind.
Prince, via an Al Hirschfeld-esque hologram, will narrate the musical. Spooky.
*** David Leveaux's new racially charged production of Shakespeare's Romeo and Juliet — the Montagues are white and the Capulets are black — opened on Broadway this week, with Orlando Bloom as Romeo and rising stage star Condola Rashad as Juliet. The critics, who admitted to having hopes for the casting concept and the two young leads, expressed themselves as disappointed.
The New York Times liked the stars, saying, "Mr. Bloom, in a first-rate Broadway debut, and the gifted Ms. Rashad exude a too-fine-for-this-world purity that makes their characters' love feel sacred." But is was less enthused by the production: "Yet, while the production features stunning columns of flame as part of its eclectic mise-en-scène, it never acquires the fiery, all-consuming urgency that Romeo and Juliet should deliver."



Photo by Carol Rosegg
AP credited "David Leveaux with trying to make Shakespeare cool, even if this uneven production sometimes misses the mark by falling in love with its visual effects," but was not won over by the leads, who "when they're apart, the weight of these roles seems to push them down." The Wall Street Journal faulted the entire concept, writing, "This
R & J
is a slick, weightless assemblage of modern-dress trickery (Romeo wears a hoodie and jeans) whose conception is as stale as its been-there-seen-that décor and TV-movie music. From the low-impact knife fight to the brutally abridged tomb scene (what happened to Paris?), it proceeds systematically along its overfamiliar way, never missing a chance to be obvious. When the star-crossed lovers paw one another lasciviously at their first meeting, you can almost hear Mr. Leveaux assuring himself, 'That ought to thrill the kiddies.'"
And Hollywood Reporter noted that "dreamy intoxication…is largely missing from David Leveaux's snoozy modern-dress production, along with poetry and heat. Bloom is the big name on the marquee and he makes a confident Broadway debut, roaring onto the stage on a motorcycle no less. But such contemporary trappings never quite amount to a distinctive edge." ***
How do the British come up with new ideas for stage shows? They go to the movies!
Movies are routinely adapted into musicals in America. A short list of examples includes The Producers, Hairspray, Dirty Rotten Scoundrels, Catch Me If You Can, The Lion King and the current Big Fish and The Jungle Book. But movies adapted into straight plays seems to be the special province of the British. Prominent examples include the smash hit The Graduate, 2008's Rain Man and the recent bomb Breakfast at Tiffany's.
Fatal Attraction, a new stage version of the 1987 film, will receive its world premiere at London's Theatre Royal Haymarket, beginning previews March 8, 2014, prior to an official opening March 25, for a 15-week run through June 21.
It will be directed by Trevor Nunn and adapted by James Dearden, writer of the original screenplay. The Michael Douglas-Glenn Close thriller was a surprise smash back in the '80s. As in the original film, the play will track how a casual sexual encounter with the woman Alex Forrest quickly becomes a living nightmare for Dan Gallagher, a successful New York lawyer, his young family and their pet rabbit.
The show is produced by Theatre Royal Haymarket Productions, Robert Fox and Patrick Ryecart.



Photo by Joseph Marzullo/WENN
Meanwhile,
Laurence Fox
and
Jack Huston
will star in
Strangers on a Train
, which begins performances at the West End's Gielgud Theatre Nov. 2.
Craig Warner
's new stage show is an adaptation of Patricia Highsmith's novel of the same name, which is best known for the 1955 film version that was directed by Alfred Hitchcock and starred Robert Walker and Farley Granger in the roles of a psychopath and his victim. In the plot, a seemingly innocent conversation on a train between Guy Haines (Fox), a tennis star trapped in an unhappy marriage, and Charles Bruno, a crazy who hates his father, leads unexpectedly to murder.
The show is directed by Robert Allan Ackerman.
***
Kathleen Turner, who has built up solid stage chops over the past few decades, is arguably taking on her most challenging role to date at D.C.'s Arena Stage, where she will play the title role in a 2014 production of Brecht's Mother Courage and Her Children.
Additional casting, which was announced this week, will include Rick Foucheux, Meg Gillentine and Nehal Joshi, who join the previously announced Nicholas Rodriguez and Erin Weaver. The production, which will run Jan. 31, 2014-March 9, will be directed by Arena Stage artistic director Molly Smith.
***
Playwright Anne Washburn and Playwrights Horizons were handed a critical win this week when Washburn's unusual new work, Mr. Burns, A Post-Electric Play, opened at the Off-Broadway theatre. Critics largely went bananas for the play, which envisions a post-apocalyptic America robbed of all electricity and much of its population, where the characters and plots of "The Simpsons" take on a mythic meaning over the course of several decades. The New York Times called the play "downright brilliant" and a lot of other reviewers agreed, heralding the show inventive, challenging and profound.
Soon after, Playwright Horizons extended the work through Oct. 20.
***
Finally, "Sopranos" actor Joe Pantoliano, who was set to play Yogi Berra in the world premiere of Eric Simonson's New York Yankees drama Bronx Bombers at Primary Stages, abruptly departed the production this week. And in the glorious tradition of Shia LeBeouf, he tweeted about his exit. (Full disclosure: the playwright is this writer's brother.) Replacing Pantoliano as Berra is actor Richard Topol. Previews, which were scheduled to begin Sept. 17, were delayed to Sept. 20.