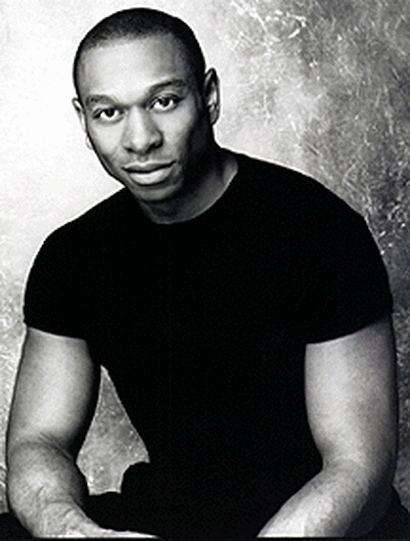 Alton Fitzgerald White plays the wronged Coalhouse Walker Jr. in the hit Broadway musical, Ragtime, but when it comes to his constitutional and civil rights, the popular actor does not play around. That was the message the City of New York got Sept. 28 when White and his American Civil Liberties Union lawyer, Norman Siegel, filed a notice of claim in association with White's alleged wrongful arrest by the NYPD on July 16.
White is demanding as much as $750,000 in damages but, he says, the real issue is the changes he feels are necessary in police procedure.
"It's not about the money," White explained. "We are talking about civil rights, and you can't put a price on that, can you? The most important thing is to get some systemic changes. Racial profiling is happening right now, while we are talking. And it has to stop."
The NYPD arrested White on the afternoon of July 16 near his home in Harlem after responding to a call about "four Hispanic men with guns," White recalled.
"I opened the door for them," White told Playbill On-Line. "I was inside near the door when I saw them approaching and I actually quickened my pace so they wouldn't have to ring the bell. I thought, "Oh, people in uniforms are here," and I figured they might be paramedics or something, because there are a lot of older people in my building. Some of these people are friends of mine, people who have been there for forty or fifty years, and I have seen ambulances come to the building at times. I was trying to help. "To go from welcoming the police with `hello' to being put up against the wall is a shock -- and that's an understatement." he said. White, who is African-American ("Dark-skinned African-American, thank you very much," he adds.), said the police told him they were looking for "four Hispanic men."
"To be immediately made a suspect and taken into custody, even though you do not fit the description is a shock," he said.
White said that the notice of claim filed Sept. 28 gives the city 30 days to respond.
"The issue's not going to be dropped," White pledged. "As long as this keeps happening it deteriorates our society. I have had friends who are black, white, Russian, and Jewish ask me, `How this could possibly happen? You star in a Broadway show.'
"Even when I was in custody the police said, 'Yeah, your super was telling us you're the star of a show.' "
White said he had received many cards and letters and e-mails from around the world offering support. "If you could help me and tell everyone thank you for the cards and letters, I would appreciate it," White said. "People can also e-mail me directly on my web page, which is altofitz.com."
White said a couple of the e-mail messages he has received were actually apologies from individual NYPD officers.
"I'm not out to sue the NYPD," White emphasized. "I'm against the cops who did this to me. The police I encountered that day took me through this, not every cop. If I thought that, it would be like me reversing the racial profiling thing and saying, `All cops are bad.' They just aren't."
As earlier reported, The New York Times said that police have conceded White and three acquaintances were wrongfully arrested outside the lobby of White's Harlem apartment building on St. Nicholas Avenue, held for several hours and strip-searched. White missed the Friday performance July 16, and subsequent shows over the weekend.
The police were responding to a report of Hispanic men with weapons at the building, but White, who is African-American, and his black acquaintances, were among those rounded up.
Although he was released that Friday, White also missed the subsequent weekend Ragtime performances. Some of his fellow cast members had no idea where White was until they read the weekend papers.
He told the Times Saturday that he pulled out of his Saturday appearance in the Tony Award-winning show because he had not eaten or rested properly. In the musical, White plays an African-American rag pianist who can find no justice after his property is destroyed by racist firemen. The vandalism leads to a revenge, murder and mayhem story in which Coalhouse Walker Jr. wreaks havoc on the justice system that showed him none.
White had also told The New York Times he believes he and the other men were arrested due to their skin color.
"When I was sitting in that jail cell, I realized that my perception about good and justice would never be the same," he told The New York Times.
The police department apologized, but said the men fit the description of a tip about drug-dealing, and told The Times that two of the six men arrested -- not White's acquaintances -- were charged with criminal drug possession. Strip-searching is apparently routine in felony drug cases.
White's other Broadway appearances were in Smokey Joe's Cafe (also in London), Miss Saigon and The Who's Tommy. He has worked at the Goodman Theatre, the McCarter Theatre and elsewhere.