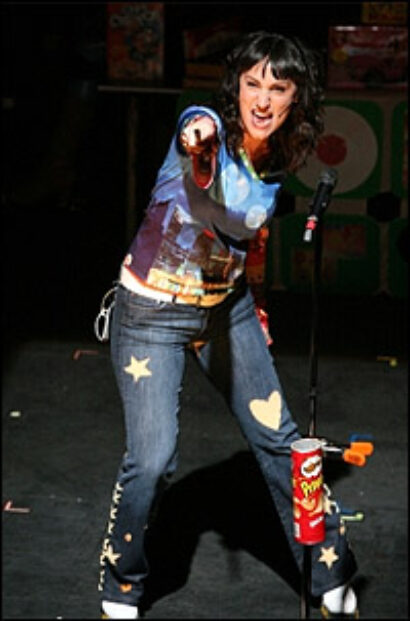 Screenings of this high-def filming of the final Broadway cast of Jonathan Larson's Rent, the Tony Award-winning musical that ended its acclaimed 12-year-run at the Nederlander Theatre Sept. 7, 2008, played at cinemas around the country for four days in late September 2008.
The film — under the umbrella of Sony Pictures Releasing's new alternative programming divison, THE HOT TICKET — doesn't exactly represent the final Broadway performance. It's drawn from Aug. 20 and Sept. 7 performances, which were filmed live at the Nederlander Theatre. A composite of those shows — including the Sept. 7 finale add-on that featured some of the show's original stars — was "cinecast" in movie theatres nationwide.
Hundreds of theatres across the country offered the screenings.
The DVD sells for $24.95. The Blu-ray Disc sells for $38.96.
Extras for this release (on both DVD and Blu-ray) include special features titled "The Wall" (a rare look at the backstage wall); "The Final Curtain Call" (past and present cast members sing "Seasons of Love" one last time on Broadway); "The Final Lottery" (hundreds of fans turn out hoping to snag tickets to the two front rows of the final show); "Rent: The Final Days on Broadway" (a retrospective documentary with cast and crew); and "National Marfan Foundation PSA." Marfan Syndrome led to the early and tragic death of Rent's young composer-lyricist-librettist, Jonathan Larson. The Blu-ray release also includes the exclusive features "Home" (a look at the Nederlander Theatre and how it was transformed into Rent's home); "Casting" (Bernard Telsey talks about casting the show over 12 years); a PSA for the Jonathan Larson Performing Arts Foundation; and "BD-Live functionality" (allowing users to get connected and go beyond the disc via an internet-connected Blu-ray player).
The Rent DVD can be purchased by clicking here.
*
The film, which utilizes high-definition video and digital audio technology, was directed by Michael Warren. Cinematographer Declan Quinn and Grammy-winning music producer Giles Martin were also brought on board to heighten the visual and audio elements of the film.
About the filming of Rent, Renée Elise Goldsberry — the final actress to play the role of Mimi — previously told Playbill.com, "[There is a] difference between a staged performance and a cinematic performance… and [we had to trust] that the people that we didn't know that were producing and directing [the cinecast] would capture it in a way that did it justice and the characters justice and us justice. You worry about things like, 'Will they catch this particular moment? Will my face be huge on a screen while I'm sweating? The one moment that it's recording this, will it be as true as it normally is?' So you think about all of those things, but I felt, on that particular day … it was kind of like getting married. There's all this anxiety before and stress and preparation, and everyone's freaking out on some level. And then the day arrives and, all of a sudden, it's the perfect day. Everything falls into place even if you didn't think it was what it was going to be. It just felt like a blessed day. . . . I know that a camera telling a story is a very specific tool: It basically tells your eye where to go. It's very different from watching a show in the theatre, so it's extremely important that the director who is directing the camera is telling the right story, and I think that [cinecast director Michael Warren] did a brilliant job."



photo by Casey Stouffer
The filming is part of a new business venture launched by Sony Pictures Releasing, which is entitled The Hot Ticket. The Hot Ticket, according to a press release, will "distribute event programming, including popular music concerts, the performing arts, and sporting events in high definition digital projection to select movie theaters nationwide." The final cast of
Rent
included Tracie Thoms (who was the movie's Joanne) as Joanne, Will Chase as Roger, Renèe Elise Goldsberry as Mimi, Eden Espinosa as Maureen, Michael McElroy as Collins, Adam Kantor as Mark, Justin Johnston as Angel and (original ensemble member) Rodney Hicks as Benny with Shaun Earl, Andrea Goss, Marcus Paul James, Telly Leung, Tracy McDowell, Jay Wilkison, (original ensemble member) Gwen Stewart and Destan Owens.
Rent, which has book, music and lyrics by Jonathan Larson, is the seventh longest-running show in Broadway history.
Rent, directed by Michael Greif, opened on Broadway April 29, 1996, following a sold-out, extended limited engagement at Off-Broadway's New York Theatre Workshop. The musical went on to win every major best musical award, including the Tony Award, New York Drama Critics Circle Award, Drama Desk Award, and the Outer Critics Circle Award.
Rent is one of only seven musicals to win the Pulitzer Prize for drama.
The Rent cinecast should not be confused with the "Rent" film, which was directed by Chris Columbus and featured much of the original Broadway cast.
For information visit www.rent.thehotticket.net.
*
As previously announced, a new tour of Rent — starring original cast members Anthony Rapp and Adam Pascal — is now on the road. Visit siteforrent.com.