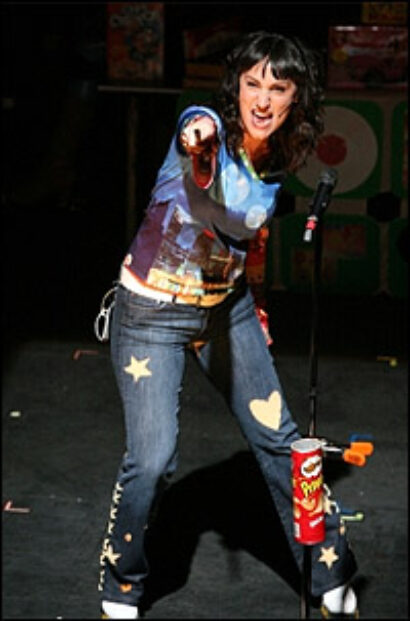 In Demand Networks and Sony Pictures Television present the Pay-Per-View event, which premieres at 8 PM ET; check local listings.
The broadcast, including behind-the-scenes video content, will air via Pay-Per-View through Feb. 17 and will then be available on VOD beginning Feb. 18.
In a recent statement Thanda Belker, senior vice president, pay television sales, Sony Pictures Television, said, "Fans who want to see the original musical Rent, who never got to Broadway, or who just want to relive the experience and share it with others will find this special event very satisfying."
David Asch, executive vice president of iN DEMAND Networks, added, "This iconic Broadway show embodies a musical and cultural generation in a way that nothing has since Hair in the 1960s. It is with great pride that we bring the original musical show into nearly 40 million cable homes. This event is another example of how on demand and high-definition television technologies can help make the excitement, vivid sound and exquisite picture quality of live entertainment available to cable viewers with just a click of their remotes."
For more information visit www.sonypicturestelevision.com or www.indemand.com. The Rent DVD can also be purchased by clicking here.
*
Screenings of this high-def filming of the final Broadway cast of Jonathan Larson's Rent, the Tony Award-winning musical that ended its acclaimed 12-year-run at the Nederlander Theatre Sept. 7, 2008, played at cinemas around the country for four days in late September 2008.
The film — under the umbrella of Sony Pictures Releasing's new alternative programming divison, THE HOT TICKET — doesn't exactly represent the final Broadway performance. It's drawn from Aug. 20 and Sept. 7 performances, which were filmed live at the Nederlander Theatre. A composite of those shows — including the Sept. 7 finale add-on that featured some of the show's original stars — was "cinecast" in movie theatres nationwide.
The final cast of Rent included Tracie Thoms (who was the movie's Joanne) as Joanne, Will Chase as Roger, Renèe Elise Goldsberry as Mimi, Eden Espinosa as Maureen, Michael McElroy as Collins, Adam Kantor as Mark, Justin Johnston as Angel and (original ensemble member) Rodney Hicks as Benny with Shaun Earl, Andrea Goss, Marcus Paul James, Telly Leung, Tracy McDowell, Jay Wilkison, (original ensemble member) Gwen Stewart and Destan Owens.
Rent, which has book, music and lyrics by Jonathan Larson, is the seventh longest-running show in Broadway history.
Rent, directed by Michael Greif, opened on Broadway April 29, 1996, following a sold-out, extended limited engagement at Off-Broadway's New York Theatre Workshop. The musical went on to win every major best musical award, including the Tony Award, New York Drama Critics Circle Award, Drama Desk Award, and the Outer Critics Circle Award.
Rent is one of only seven musicals to win the Pulitzer Prize for drama.
The Rent cinecast should not be confused with the "Rent" film, which was directed by Chris Columbus and featured much of the original Broadway cast.