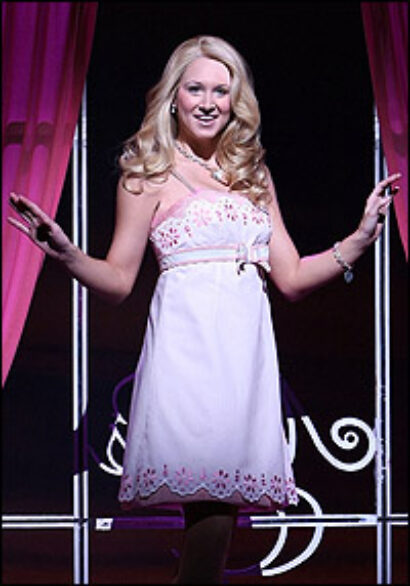 Radio station 106.7 Lite FM presents the midday summer series, which highlights current and upcoming musicals on and Off-Broadway. The performances, which launched July 10 at the midtown park, continue Thursdays (12:30 PM-1:30 PM) on The Lawn.
Scheduled to perform Aug. 14 are Young Frankenstein's Kelly Sullivan, Fred Applegate, Kevin Ligon, Jack Doyle, Brian Shepard, Aaron Ramey and Justin Patterson; 13's Alberto Calderon, Eamon Foley, Caitlin Gann, Elizabeth Gillies, Ariana Grande, Aaron Simon Gross, Malik Hammond, Joseph Lo Varco, Delaney Moro, Eric Nelsen, Graham Phillips, Allie Trimm and Brynn Williams; Grease's Ashley Spencer, Derek Keeling, Kirsten Wyatt, Ryan Patrick Binder, Jose Restrepo, Robyn Hurder, Will Blum, Lindsey Mendez, Matthew Hydzik and Janine DiVita; Legally Blonde's Bailey Hanks, Asmeret Ghebrumichael, Kate Rockwell, Tiffany Engen, Autumn Hurlbert, Emily Padgett, Amber Efe, Rusty Mowery, Matt Risch, Manny Herrera and Josh Frankel; and Rent's Shaun Earl, Eden Espinosa, Reneé Goldsberry, Andrea Goss, Trisha Jeffrey, Adam Kantor, Telly Leung, Tracy McDowell, Tracie Thoms and Gwen Stewart.
Currently lined up for Aug. 15 are The Lion King's Dashaun Young and Sophia N. Stephens; Hairpsray's Marissa Perry, Ashley Parker Angel and Tevin Campbell; and Godspell's Uzu Adoba, Sara Chase, Gavin Creel, Diana DeGarmo, Celisse Henderson, Joshua Henry, David Josefsberg, Telly Leung, Maria Thayer, Daniel Torres, Andrew Arrington, Morgan James, Kyle Post and Dana Steingold.
The remaining schedule (subject to change) follows:
Aug. 14 - Grease, Young Frankenstein, Rent, Legally Blonde and 13
Aug. 15 - The Lion King, Enter Laughing, Hairspray, Forbidden Broadway and Godspell (rescheduled from July 24) Bryant Park is located just behind the New York Public Library on Sixth Avenue between 40th and 42nd Streets. Seating is on a first-come, first-served basis.

For more on "Broadway in Bryant Park," visit 1067newyork.com.