MSG Entertainment announced Sept. 22 that dates of production would shift to summer for the Spectacular, which will now run June 15-August 7, 2016. To reflect the change in season, the name of the 2016 presentation will be altered.
Representatives for MSG Entertainment said details on changes, if any, within the show were forthcoming. The 2015 incarnation opened with an Easter Bunny bounding across the stage.
The interactive musical spectacular was helmed by Tony Award winners Warren Carlyle and Diane Paulus, along with Drama Desk Award winner Randy Weiner, and presented a completely revamped version of the show Heart and Lights, which was originally planned to open spring 2015, but was scuttled before performances began. Tony Award winner Laura Benanti and Emmy Award-winning choreographer Derek Hough ("Dancing With the Stars") were among the show's stars.
Mia Michaels (Finding Neverland) choreographed the show's opening number. New York Spring Spectacular included original songs, classics and pop hits, including the Taylor Swift single "Welcome to New York" and Kander and Ebb's "New York, New York."
Tina Fey and Amy Poehler lent their voices as the lion statues that guard the New York Public Library, while Whoopi Goldberg voiced the Statue of Liberty puppet, and Bella Thorne voiced the Central Park Alice in Wonderland statue.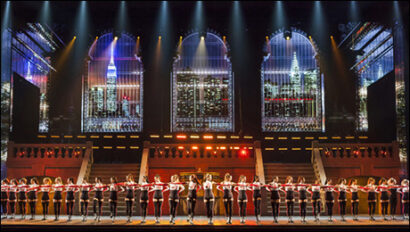 Celebrities who made video cameos include 50 Cent, Odell Beckham Jr., Victor Cruz, Walt Frazier, John Leguizamo, Al Michaels, Kelly Ripa, Mariano Rivera, Sam Rosen, Carmelo Anthony, Henrik Lundqvist and Donald Trump. No word on whether any will participate again in 2016.
Joshua Harmon, the young playwright who earned acclaim for Off-Broadway's Bad Jews, wrote the book for the production.
Here's how the 2015 production was billed: "New York Spring Spectacular takes audiences on a whirlwind adventure across New York City while telling an inspiring and hopeful narrative about New Yorkers who change each other's lives in unexpectedly wonderful ways. Bernie, played by Wolpe, has been giving old fashioned tours of New York for decades, but his company was just bought by Jenna, played by Benanti, a whip smart techie with plans to fire Bernie and turn his tours into a virtual reality wonderland. Bernie is in trouble. Enter Jack, played by Hough, a spirited young man with a secret agenda of his own: If he can help Bernie keep his job, Jack will get an eternal reward."