*
One of the greatest perks of living in or visiting New York City is being surrounded by theatrical landmarks, often hiding in plain sight! For Playbill's Women in Theatre Week, we look at five of the best theatrical landmarks honoring some of Broadway's most-loved ladies. You may not find plaques commemorating all of these momentous locations, but that just makes them more special to find and visit. All you need is an iPod, your favorite Broadway cast recording and a pair of headphones, and you can be off on a trip back into the golden age of Broadway.
1. The Site of Barbra Streisand's Premiere
Before the platinum albums, before the movies, before Funny Girl, Barbra Streisand was working as an usher (at the Lunt-Fontanne during the original run of The Sound of Music) and taking summer stock jobs. In the summer of 1960, she decided on a whim to enter a talent contest at what was then an upscale gay bar in Greenwich Village called The Lion. The bar held a talent competition every Tuesday night in the back room. Streisand entered the competition one night as a singer, performing "A Sleepin' Bee" and "When Sunny Gets Blue," walking through the audience with a microphone for the second number. She won a $50 prize that night and was invited to perform there weekly as a paid singer. A few weeks later, she moved around the corner to the larger and more-prestigious The Bon Soir nightclub, where she continued to make a name for herself. The rest, as they say, is history.
The Lion is still in operation today as a restaurant and bar, though it is not longer specifically a gay bar. It is located in Greenwich Village at 62 West 9th Street, just East of the Southeast corner of West 9th Street and 6th Avenue. The Bon Soir is no longer around, sadly, but its former site was just around the corner at 40 West 8th Street.
2. Elaine Stritch's First NYC Home
Legendary Broadway funny lady Elaine Stritch moved to New York City at age 17 to fulfill her dream of becoming an actress. To ease the worried minds of her Roman Catholic family back home in Detroit, she enrolled in the Duchesne finishing school at the Convent of the Sacred Heart. She lived there while training at the Dramatic Workshop of The New School under Erwin Piscator. She was also living there when she returned home from an ill-fated date with schoolmate Marlon Brando, a story she hilariously told in her one-woman show Elaine Stritch At Liberty. Still open today, the Convent of the Sacred Heart on Manhattan's Upper East Side is made up of the gorgeous former Otto Kahn and James Burden mansions. Stritch apparently called the Otto Kahn-portion of the building home, which is located at 1 East 91st Street on the Northeast corner of East 91st Street and 5th Avenue. Even if you're not a Stritch fan (God forbid), the building is truly a beautiful site to behold. Built in 1918, George Gershwin was known to visit there when it was the private home of investment banker and arts patron Otto Kahn.
3. Katharine Hepburn's Apartment and Gardens
Katharine Hepburn is most known today as a film star, and with good reason, but she got her start on the Broadway stage. Even after becoming a big Hollywood star, Hepburn maintained a New York residence. For over 60 years, she had an apartment in the illustrious Turtle Bay community, which makes up East 48th and 49th street beween 2nd and 3rd Avenue. Between the two streets, inhabitants of the community have access to a beautiful garden (viewable by using Google Map's satellite view option). Hepburn lived at 244 East 49th Street, which still exists today, though apparently the inside has been completely renovated since Hepburn lived there.
If you visit her former home, you'll notice some other Hepburn landmarks nearby as well. The intersection of East 49th Street and 2nd Avenue was renamed "Katharine Hepburn Place" following her death in 2003. If you walk South a few blocks, you'll find Dag Hammarskjold Plaza (the gateway to the United Nations building) on East 47th Street between 1st and 2nd Avenue. The planting areas on the border of the plaza were named the Katharine Hepburn Garden on May 12, 1997 to commemorate the actress's love of horticulture.
4. The Algonquin Round Table
From 1919 to 1929, a group of New York City artists, actors, writers and all-around personalities gathered for lunch daily at the Algonquin Hotel. The group came to be known as The Algonquin Round Table. Thanks to several members who wrote nationally-distributed newspaper columns, the wordplay, wit and conversation from these lively meetings often travelled far beyond the confines of the Algonquin Hotel.
Given the era, you'd expect such a group to be pretty male-dominated, but the Algonquin Round Table counted many influential and prominent woman in its membership. Of particular note to theatre fans were Dorothy Parker (a playwright and co-lyricist of Bernstein's Candide), Edna Ferber (a novelist and playwright, of "Show Boat" and Stage Door fame), Margalo Gillmore (an actress who may be best remembered today as Mrs. Darling in the Mary Martin Peter Pan and a former president of Actors' Equity), Peggy Wood (an actress who appeared in the original company of Blithe Spirit among her many Broadway credits) and Tallulah Bankhead (legendary actress of stage and screen who was also noted for her liberal activism).
The Algonquin Hotel is one of New York City's most-loved historical landmarks; it was chosen to receive landmark protection in 1987, largely due to its association with the Round Table. They first met in the Pergola Room, which is now called the Oak Room and used for private events. As their numbers increased, they moved to the Rose Room, now a restaurant appropriately named The Round Table. Located at 59 West 44th Street between 5th and 6th Avenue, the eatery features a menu of pub fare for pre-theatre dining.
5. Ethel Merman's Birthplace
Ethel Merman may be the most legendary leading lady of them all, with a name and a voice that is nearly synonymous with the golden age of Broadway. She created many now-famous female Broadway characters, including Mama Rose in Gypsy, Annie Oakley in Annie Get Your Gun and Reno Sweeney in Anything Goes.
Merman was born in 1908 not too far from Broadway, just across the East River from Manhattan in Astoria, Queens. You can visit this momentous Broadway landmark if you're near the city, but as is unfortunately often the way in New York, you'll have to use your imagination as the original building itself no longer exists. The house, which belonged to Merman's grandmother, was located on the West side of what is now 33rd Street, just South of 36th Avenue. If you visit the site, you'll see a large black building called The Melrose Ballroom; Merman was born in a home that formerly stood to the right of this.
If you look around Merman's old neighborhood a little bit, you'll see that Kaufman Astoria Studios is just a few blocks away. At the time, it was known as Famous Players-Lasky's Astoria, and was operating as one of the silent movie industry's most important studios. It has been said that Merman would see the era's biggest movie stars drive by in their fancy cars and dream of her own stardom.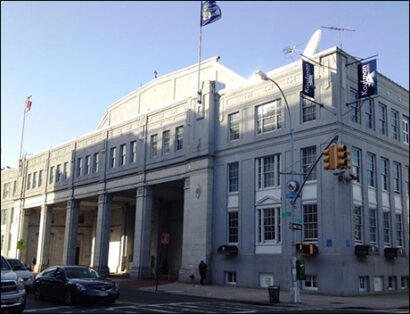 (Logan Culwell is a musical theatre historian, Playbill's manager of research and curator of Playbill Vault. Please visit LoganCulwell.com.)
Follow Playbill.com's Women in Theatre Week coverage on social media, using the hashtag #WomenInTheatre. Click here for more coverage on women in theatre!