*
As one of the biggest nonprofit theatres in New York (and the nation, for that matter), with three Broadway houses to its name, the Roundabout Theatre Company has never had any trouble attracting the theatregoing public's attention. The 2010 rechristening of the Henry Miller's Theatre as the Stephen Sondheim Theatre, which is under a long lease to the Roundabout, is an example of a recent headline-grabber.
But over the last couple years, some of the company's biggest advances having been happening underground.
Roundabout Underground, in fact, is the name of a new program, founded in 2007, that is intended to showcase new plays by untested authors, without all the attendant fuss that surrounds the premieres at the Roundabout's Broadway spaces or its Off-Broadway home, the Laura Pels Theatre. The plays are presented in a 65-seat black box that is part of the same Harold and Miriam Steinberg Center for Theatre, on West 46th Street, that contains the Pels.
"We felt for young new playwrights, doing these million-dollar productions — which got critics coming with certain expectations — wasn't serving the playwright best and was putting so much pressure on the play," said Todd Haimes, the Roundabout's artistic director. "We wanted to find a way to nurture young playwrights in an environment that was more comfortable and friendly. We had the space below the Pels, which we hadn't done anything with." Haimes hatched the idea after attending a reading of Speech & Debate by playwright Stephen Karam. He loved the play, but felt it wasn't right for the Pels, which up until then was the natural home of new plays at the Roundabout. (The company's Broadway stages are typically filled with revivals of classic plays and musicals.) "That play made us start the black box," he said. The theatre spent $200,000 renovating the unused black box, which lies four levels below the street. The three-fold mission of the new Roundabout Underground program: to present the work of only young American playwrights with no major New York productions to their credit; to charge only $20 a ticket; and to support those artists as they grew. The Underground has so far presented four works, each costing about $200,000 to produce. The productions are scheduled for 11 or 12 weeks, and can be extended. Each selected playwright automatically gets a commission for their next play.
"The writers get all the resources of the Roundabout, but there's not the <i>pressure</i>," said Haimes. "On the other hand, they don't have the sadness of being downtown in some loft space where no one will even notice them and they won't get reviewed."
Haimes observed that, "More than most things we do, Underground took off from the beginning." Speech & Debate got stellar reviews and was extended and, said Haimes, has since gone on to be "the third most-produced play in America."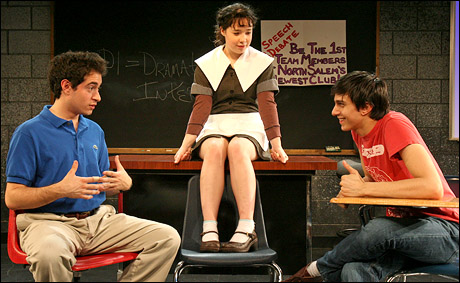 photo by Joan Marcus
photo by Carol Rosegg
Haimes has evidently been thinking a lot of playwrights lately. In August, shortly after the close of the Pels staging of Theresa Rebeck's The Understudy, he tapped the seasoned dramatist as the Roundabout's most recent Associate Artist. Rebeck is the first playwright to achieve that designation. Up until her appointment, Roundabout's Associate Artists were mainly directors, and included Mark Brokaw, Scott Elliott, Bill Irwin, Joe Mantello and Kathleen Marshall.
"I liked her outspokenness," said Haimes, "and I wanted somebody with a playwright's voice to be part of the team here. And she was really enthusiastic about it. It seemed like a natural after we did The Understudy."
"I had such a good experience doing The Understudy with the Roundabout, and people were really enthusiastic about the work," said Rebeck, explaining why she accepted the post. "There was a lot of energy in the audience and the institution; they were truly excited to be seeing a new play. It was fantastic. Since the Roundabout historically has focused on producing these beautiful revivals it was exciting for everyone to have a new play that got everyone so jazzed up. They have done new plays there in the past, obviously, but it seemed like a good moment to focus on the fact that this was now going to be a part of their programming that was increasingly important to them."
Haimes said he hoped Rebeck would come to see Roundabout play readings and comment on them, "what stage of development it's in, and presumedly give notes to the playwright." He also wants her to suggest new playwrights to him, and occasionally hand him a script she likes.
Rebeck, meanwhile, said that she sees a more basic value in her and Haimes' conversations. "Every time I call him and talk to him, he's talking to a living playwright," she pointed out. "That actually doesn't happen to him all that often and it's good for him, I think. I think it's good for him to be in an ongoing relationship with a living playwright. And honestly it's good for me to be in an ongoing relationship with an artistic director without the pressure of production constantly being an issue." Rebeck has long been a fierce advocate for the production of new plays by American writers, particularly female writers. So it's no surprise that she said her main advice to the Roundabout will boil down to: "Do more new American plays."
"I sincerely believe that for the New York theatre to remain relevant, all our major producing institutions should be presenting new American plays. A lot of times I think people feel that new plays are suspect and actually I don't know where that came from. I completely disagree with it! I think new plays are vastly more surprising and challenging and inspiring; I hear from audiences all the time that they are delighted when they see plays about the world we live in now, at this moment. And I think that women, whose voices have been historically underrepresented to such a shocking degree, have a lot to say about the world right now."
photo by Aubrey Reuben
Just three months after appointing Rebeck, Haimes named another Associate Artist. And again, the choice was something of a surprise — Sam Gold, the young director of the hit Underground play, Kim Rosenstock's Tigers Be Still, and an artist associated with downtown companies like the Rattlestick Theatre Company and The Wooster Group. As with Rebeck, Haimes approached Gold, 30, right after his Roundabout show closed
"To have a younger person's perspective is very valuable," said Haimes. "I think he's going to bring a different kind of energy."
"The Roundabout is such a large institution with so many pressures on its artistic decision-making," said Gold. "I think it's smart that Todd surrounds himself [with] artists who will bring fresh, exciting projects to him and the theatre. And who push for what they are passionate about."
Surprisingly, Gold is as passionate about old plays as he is new ones. Haimes said the two productions he and Gold have discussed are revivals, and that Gold would direct a revival on the Pels stage in 2011.
Gold said he hoped his new relationship with the Roundabout would allow him to introduce the company to some of his artistic colleagues, and vice versa. "I have developed collaborations and relationships with so many playwrights that I think could benefit immensely from being a part of the Roundabout community," said Gold. "I am excited to introduce some new faces there." He added, "I think the Roundabout Underground is a really important opportunity for young artists and audiences and I hope that it continues to get support, and the writers it nurtures continue to have a home at the Roundabout."
Associate Artists, by the way, do not perform their part-time duties completely out of the goodness of their heart. They receive a bit of money. "There are two agendas for the Associate Artists, particulary for directors," explained Haimes. The first agenda, as previously mentioned, is the giving of advice. "The other is to give them a stipend to help them financially, because it's so hard for them to make a living. One of the goals is to keep them in New York and keep them solvent."
The Roundabout's recent spurt of artist initiatives does not end with the Underground program and the drafting of Rebeck and Gold into the fold. The theatre has upped its number of play commissions. In the past, the company made two or three commissions a year. Right now, there are about 12 in the works, including a musical. The Roundabout isn't doing this due to some recent monetary windfall. "We didn't find more money," said Haimes. "We're just committing more money to commissions."
Some of those commissions, of course, are for the lucky playwrights whose works were presented in the Black Box. But Haimes sees a benefit in those little productions that goes beyond that enjoyed by the dramatist.
"The Black Box productions are so much fun and exciting for the staff, seeing these people at this point in their career," he said. "Everyone is so turned on. Sometimes we spend more time in the black box than we do in the other $10 million productions we do. It's a fun place to be. It's like going back to your basics."
The next Underground production is David West Read's The Dream of the Burning Boy, directed by Evan Cabnet, beginning in February. It will be the first spring show in the Underground, making this the first season with two productions in the subterranean space.