SIX: The Musical celebrated 1,000 performances March 29 at the Vaudeville Theatre in London's West End. The special gala held for the achievement was captured with a photograph of creators Toby Marlow and Lucy Moss on stage with the cast, and the audience in the background.

The pop musical is currently playing in multiple venues across the globe including on Broadway, and a North American 'Aragon' Tour launched the same day as the London gala.
WATCH: Learn the Choreography From Broadway's Six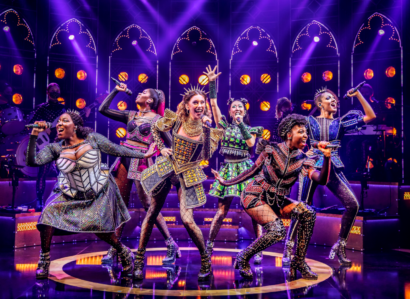 Currently, the West End cast features Amy Di Bartolomeo, Amanda Lindgren, Claudia Kariuki, Dionne Ward-Anderson, Tsemaye Bob-Egbe, and Meesha Turner, with Paisley Billings, Danielle Rose, Roxanne Couch, Rachel Rawlinson and Esme Rothero, backed by the all-female, on-stage band, the Ladies in Waiting. The show originally debuted in the West End in 2018 and switched theatres during the pandemic before settling at the Vaudeville Theatre.
2022 marks a big year for Six. In addition to celebrating 1,000 performances in the West End, the musical has announced a reunion of the original West End queens, with three performances to be held this June in the main courtyard of Hampton Court Palace, a historic Tudor residence of King Henry VIII. The musical is also launching two North American tours in addition to its ongoing tours of the U.K. and Australia and New Zealand, and has two productions on Norwegian Cruise Lines.
For tickets and more information, visit SixTheMusical.com.