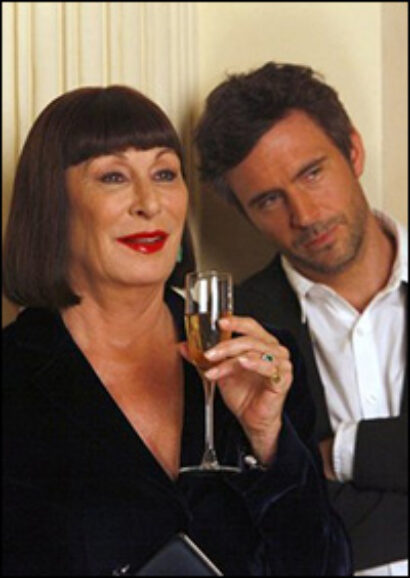 According to affiliate estimates from Nielsen, the one-hour episode scored a .9 preliminary rating with viewers 18-49 — the same as last week and down from a 1.1 for the second series premiere on Feb. 5, 2013. (The second season premiere was down 71 percent from the series premiere on Feb. 6, 2012, and down 39 percent from a 1.8 for the first-season finale on May 14, 2012.)
This week, "Smash" brought in 2.99 million viewers during the 10-11 PM time slot — down from 3.29 million viewers on Feb. 19 and 4.47 million viewers on Feb. 5. Besting the series on Feb. 26 were CBS' "Golden Boy" with 10.46 million viewers and the season premiere of ABC's "Body of Proof" with 6.31 million viewers.
Although live viewership of the series is continuing to decline, the recently released DVR ratings show an increase for "Smash." The Feb. 5 season premiere rating of "Smash" went from a 1.2 (the preliminary rating had been 1.1) with viewers 18-49 to a 1.9 — a 58 percent increase.
Read the Playbill.com "Smash" Report, recapping the Feb. 19 episode, here.
The second season introduced a slew of new characters as well as a new tone created by new series "showrunner" and executive producer Joshua Safran. Safran, known for his work on the popular CW series "Gossip Girl," succeeded playwright Theresa Rebeck, who was let go after the series' first season. Read the Playbill Stage to Screens column with Safran, who talks about his fresh approach to "Smash."
*
"One of my favorite things about this new season is there's more than just one show going on," said star Katharine McPhee from the Brooklyn set of "Smash." "I mean, last year we had Bombshell, and that was pretty much it… This year, there [are] so many more shows. We still have Bombshell, and then there's this [new] show, which is Hit List… And then there's Megan Hilty, who gets to do a show called Liaisons with Sean Hayes, who's awesome!"
Aside from welcoming a new showrunner and a handful of new actors, "Smash" will also introduce new musicals that will participate in the race for the Tony Awards. The "Smash" actors confirmed that audiences will see a Gypsy Robe Ceremony — the event that takes place on every opening night on Broadway, where the chorus member with the most Broadway chorus credits is awarded the coveted Gypsy Robe. Also, the New York City-based series recently shot in and around Broadway houses in the Times Square theatre district.
Populating the scores of the new musicals are tunes by rising songwriters in the musical theatre and pop scenes, including Benj Pasek and Justin Paul (A Christmas Story), Joe Iconis (The Black Suits), Drew Gasparini (Make Me Bad), Andrew McMahon, Luci Silvas and others.
Returning to the second season are McPhee ("American Idol") as Karen Cartwright and Megan Hilty (Wicked, 9 to 5) as Ivy Lynn — the two leading ladies in constant competition for the lead role of the Marilyn Monroe-based musical Bombshell — with Oscar winner Anjelica Huston ("Prizzi's Honor") as producer Eileen Rand, Tony Award winner Christian Borle (Peter and the Starcatcher) as composer Tom Levitt, Emmy Award winner Debra Messing ("Will & Grace") as lyricist and book writer Julia Houston and Jack Davenport ("Pirates of the Caribbean") as director-choreographer Derek Wills.
The actors who will not return as series regulars in the second season are Jaime Cepero as assistant Ellis (although he will reportedly make an appearance in a possible flashback sequence), Tony nominee Brian d'Arcy James (Giant, Next to Normal, Shrek) as Julia's husband Frank (he's in the season premiere), Raza Jaffrey as Karen's former fiancé Dev and Will Chase (The Mystery of Edwin Drood) as Julia's lover Michael Swift.
photo by Will Hart/NBC
New to the cast are Tony nominee Jeremy Jordan (
Newsies
) as bad-boy songwriter Jimmy Collins,
Andy Mientus
(Off-Broadway's
Carrie
) as book writer Kyle Bishop and
Krysta Rodriguez
(
The Addams Family
) as Karen's new roommate Ana Vargas. The trio will play a part in the youth-infused new musical
Hit List
.
Read the Playbill Stage to Screens column with Jordan, who discussed his new character on the show.
Read the Playbill Stage to Screens column with McPhee and Rodriguez here.
Oscar winner Jennifer Hudson ("Dreamgirls") will appear in a multi-episode arc as Veronica Moore, a Tony Award-winning Broadway star who impacts the lives of Karen and Ivy; Tony nominee Sean Hayes ("Will & Grace," Promises, Promises) will also recur as Terrence Falls, the star of the musical Liaisons who becomes a major thorn in the side for Ivy and other characters; and Jesse L. Martin (Rent) will play Scott Nichols, the artistic director of a non-profit off-Broadway theatre.
Guest appearances in the second season also include Tony nominee Daphne Rubin-Vega (Rent), Nikki Blonsky ("Hairspray"), Tony winner Liza Minnelli (The Act), Tony nominee Montego Glover (Memphis), Tony winner Harvey Fierstein (Hairspray) and more.
Read all of the Playbill "Smash" Reports, recapping episodes from the first season.
In Season 2, according to NBC, "the Bombshell team is one step closer to achieving their Broadway dream. The Boston run was the success the team was hoping for, including producer Eileen Rand (Huston), writers Tom Levitt (Borle) and Julia Houston (Messing), last-minute star Karen Cartwright (McPhee) and director Derek Wills (Davenport). But, they are all about to learn even a charmed show cannot avoid paying for sins of the past. Will Eileen get away with mixing business and pleasure with her shady paramour, Nick (guest star Thorsten Kaye)? Will Julia's marriage to Frank (guest star Brian d'Arcy James) survive the revelation of her infidelity? Will actress Ivy Lynn (Hilty) bounce back from the shame of losing the lead role to rival Karen and bedding her fiancé in retaliation? And will Tom and Julia's long-time partnership endure the changing tides of opportunity? As they all scramble to push forward, one of the show's players finds Brooklyn natives Jimmy Collins (Jordan) and Kyle Bishop (Mientus) toiling away on a current-day rock musical of their own, which could either become Bombshell's biggest rival, or yet one more Broadway false start."
From Universal Television in association with DreamWorks Television, the series stemmed from an idea of executive producer and multiple Emmy and Oscar winner Steven Spielberg. Executive producers also include Safran, Craig Zadan and Neil Meron, Darryl Frank and Justin Falvey, Tony and Grammy Award winners Marc Shaiman and Scott Wittman, Jim Chory and Theresa Rebeck.
Visit NBC.com/Smash.