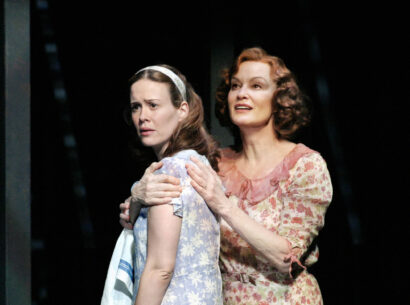 David Leveaux directs a cast which also includes Sarah Paulson as the crippled and cripplingly shy Laura Wingfield, and Josh Lucas as Jim O'Conner, better knows as The Gentleman Caller. Slater plays Laura's restless brother Tom, who also acts as narrator, and Lange is Amanda, the genteel, yet overwhelming Southern Belle mother of the tiny clan.
Christian Slater gave his first performance as Tom on March 4. Slater was announced as the replacement for Dallas Roberts on Feb. 21. Previews at the Barrymore began Feb. 24, with understudy Joey Collins in the part of Tom.
Natasha Katz executes the show's often expressionistic lighting, with Jon Weston doing sound, and Tom Pye fashioning the period costumes. Pye also provides the spartan set: a couch, a lamp, a phonograph, a typewriter, and, of course, Laura's menagerie. Particularly prominent in Pye's design are a black metal fire escape (euphemistically called a porch by the family) and an apartment-dividing lace curtain.
Slater has recently been concentrating on stage work in London. He played the lead in One Flew Over the Cuckoo's Nest at the Gielgud Theatre in the West End, and was recently announced for a new London production of Sweet Bird of Youth in the fall. On Broadway, he starred in Side Man. His well known film roles include "Heathers," "Pump Up the Volume" and "True Romance."
Lange appeared on Broadway in the 1992 revival of A Streetcar Named Desire as Blanche Du Bois opposite Alec Baldwin. The actress won Academy Awards for her roles in "Blue Sky" and "Tootsie" and she was also Oscar-nominated for her work in "Music Box," "Sweet Dreams," "Country" and "Frances." Director David Leveaux is currently represented on Broadway by the revival of Fiddler on the Roof, for which Pye was scenic designer. He has been Tony Award-nominated for his stagings of Jumpers, Nine, The Real Thing, Anna Christie and A Moon for the Misbegotten. Other Broadway credits include Betrayal and Electra.
The Glass Menagerie premiered on Broadway at the Playhouse Theatre in 1945. Directed by Eddie Dowling and Margo Jones, the original production featured Laurette Taylor as Amanda, Eddie Dowling as Tom, Julie Haydon as Laura and Anthony Ross as Jim. The play was Williams' first to be successfully produced and made the playwright's reputation. The show also provided a late-career showcase for stage great Laurette Taylor, who died eight months after the work premiered on Broadway.
Since its debut, the drama has been revived on Broadway five times, including the present effort. Past Amandas has include Julie Harris, Jessica Tandy and Maureen Stapleton (who played the part on Broadway in both 1965 and 1975). Former Toms include Bruce Davidson, Zeljko Ivanek, George Grizzard and Paul Rudd (the oft-employed theatre actor of the '70s not to be confused with the current film and stage actor of the same name). Laura has been essayed by Amanda Plummer, Calista Flockhart, Pamela Payton Wright and Piper Laurie. John Heard, Kevin Kilner, Rip Torn and Pat Hingle have all been Broadway Gentleman Callers.
The Kennedy Center for the Performing Arts presented the Tennessee Williams play in summer 2004 starring Sally Field as Amanda.