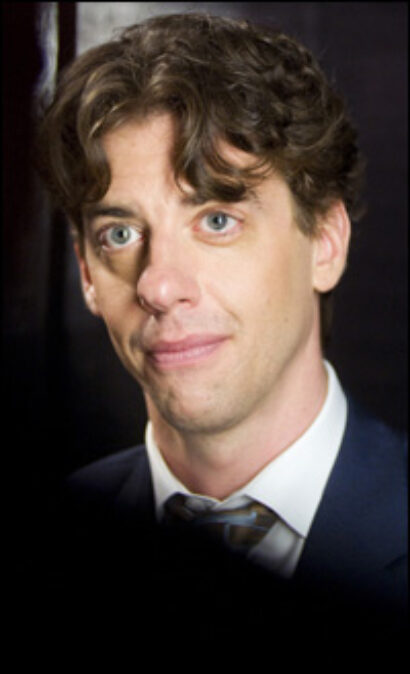 *
Following an acclaimed run as the menacing — yet bumbling — Black Stache in the New York Theatre Workshop production of Peter and the Starcatcher, Christian Borle is revisiting the beginnings of Captain Hook at Broadway's Brooks Atkinson Theatre. He recently received a 2012 Featured Actor Tony Award nomination for his performance as the bigger-than-life pirate. In between the downtown and midtown engagements of Starcatcher, Borle — previously a Tony nominee for his performance as Emmett Forrest in Legally Blonde — tackled the world of television in the musical drama "Smash," starring as composer Tom Levitt, the quirky counterpart to lyricist Julia Houston (played on the series by Debra Messing). The cliffhanger first episode of "Smash" aired May 14. The second season begins filming this summer. For now, Borle is hamming it up eight times a week in Neverland.
Congratulations on the Tony nomination! Peter and the Starcatcher was very well received. What is the tone at the Brooks Atkinson?
Christian Borle: Pretty ebullient — if I can throw that word at you before noon! [Laughs.] I am enormously gratified, as I know the rest of the cast and the whole creative team is, to get this recognition. [Co-directors] Alex [Timbers] and Roger [Rees] and [playwright] Rick [Elice] have been working on this play for five years — since [its early development at] Williamstown [Theatre Festival] — and then a bunch of us came on three years ago [for a workshop] at La Jolla [Playhouse]. So after three years of pouring love and devotion into this very special play, walking through the stage door on 47th Street has its own sense of surreality. And, to have people respond so positively has been icing on the cake — truly.



photo by Stephanie Warren
I saw the show both on and Off-Broadway. The positive response has only seemed to increase. What was the transfer like for the actors?
CB: Well, on stage it feels exactly the same in terms of the set, the spacing and the lights. Obviously, one major adjustment is that we have to look up because suddenly there is a mezzanine! [Laughs.] I have to say that an enormous amount of credit goes to the sound design because [although] we are miked, it feels like there's still a sense of intimacy. [There's not] the usual struggle to make it feel organic and present. They've done a remarkable job, and I think that helps fill the space while also making it seem intimate.
Take me back to your early involvement with Peter and the Starcatcher. You began your journey with the show at La Jolla?
CB: I did. What was so crazy about it was that, originally, the amazing Steve Rosen was going to play Black Stache in La Jolla's Page to Stage program, which is just like a workshop. You get there, you rehearse during the day, and you perform at night. Nobody really knew what it was going to be. And, sweet Steve, whom I've worked with in Spamalot — who is, incidentally, a genius — got Guys and Dolls on Broadway working for Des McAnuff. And, when Broadway calls, you answer! He did, and so they were scrambling to find somebody, and Rick Elice had seen me in a reading and brought me in. I read with him in front of Roger — and I was a little star-struck — and that was the beginning of the journey. Ironically enough, when "Smash" came around last year, they needed to have somebody [perform] Black Stache on the days that I was filming, and they brought in amazing Steve Rosen... It's funny how life works. I couldn't bring myself to go see him because I think he's a friggin' genius, and I know, deep down inside of my little human heart, I would have been very jealous of the brilliant things he had come up with that I hadn't. [Laughs.] What was your schedule like when you were doing Starcatcher and filming "Smash"? It must have been hectic!
CB: It must be reiterated that it's the most amazing, swirling time [for me]. The people at the New York Theatre Workshop and our directors were so gracious. I think they recognized that when getting something like "Smash," you really do have to go on that adventure, so they were very accommodating. I did "Smash" during the weekdays and Starcatcher on the weekends for a few weeks. In the thick of actually shooting a season of "Smash," the timing just worked out that I finished season one right around the time that [Broadway] rehearsals began. I had to juggle that for a few days, but now I'm all Starcatcher all the time.



Photo by Will Hart/NBC
How did you first get involved with "Smash"?
CB: Honestly, my agent, Joe Machota, is a miracle worker and an amazing human being. He just kept kicking at that door, and he finally got me an audition — got me in the room with them. They were late in the casting process, so if I may humbly suggest, they were a little bit desperate… [Laughs.] I guess my special brand of mugging… [Laughs.] No...when I got into that room, something clicked — you never know what that thing is going to be — and it all just lined up. It was incredible.
You've played several ingénue-style roles (Legally Blonde, Thoroughly Modern Millie) on Broadway. What excited you about taking on quirky composer Tom Levitt in "Smash"?
CB: I think if one looks at what I've been lucky enough to do over the last ten-or-so years, I fit more into the quirky category than into the true leading-man "ingénue." The ingénues that I've played, [Emmett Forrest] in
Legally Blonde
for example, could be called the unlikely love interest, which is actually what I was called for two years in that show. It wasn't so much of stretch to play somebody who had a little bit more quirk to him, but I was excited to challenge myself — I don't play the piano, so it was very fun to take on that challenge. And, who wouldn't leap at the opportunity to co-star with Debra Messing in anything?
You have great chemistry with her on the show.
CB: It's so cliché to say, but when I met her for the first time — when she came in for my [screen] test — we clicked instantly. She was at ease, and she put me at ease, and she was fun and generous and funny. We started doing the first scene from the pilot, and there was an instant rapport and trust, and we just liked each other. For me, that's the easiest part of it. There's very little acting required to pretend we're good friends. And, the rest is just watching her work — someone who is that experienced in television. My goal was to just absorb everything from her. She is everything you hope she is going to be.
I was going to ask you about your piano skills. Have you ever played before?
CB: Well, I quit when I was like ten years old, and I could obviously kick myself now. I had one year of piano freshman year at CMU — Carnegie Mellon. In the musical theatre program there, you have to take maybe a semester. But it had been 20 years since I actually had to sit down and make noises on a piano! I had a basic understanding of it, but to say I could sit down and play anything at all would be stretching it, so I tried to take a couple of lessons with a mind towards getting proficient. It became very clear to me that I didn't have the hours in the day to dedicate to becoming great. I'm [given] kind of a blueprint of what the hands need to look like, and I have [executive producer, composer and co-lyricist] Marc Shaiman there, and this amazing guy who has coached me. This [recent] episode, Episode 14, is the first time that I've played live — that's actually me playing for the first time. I was proud of myself.



O&M Co.
Getting back to Starcatcher, where did you begin in creating the character of Stache?
CB: Roger and Alex and Rick impressed upon me that this guy should be pathetic, and that he is a lost soul, and that you should actually kind of sympathize with this poor guy. He's not pure evil — he's not the devil incarnate. He's just a buffoon, who is trying to make his way in the world, and he stumbled into being a pirate. So one of the things that I latched onto was that it's all façade — he's an absolute liar, he's made up everything and stolen everything he's ever gotten. With that in mind, I, as an actor, stole from everybody. There's a little bit of everything in Stache. And, a lot of it is a ten-year-old me finally getting to be the villain.
When you were younger, did you have an attachment to the Peter Pan story?
CB: I know this might be bad to say, but I really didn't. The Disney movie was not one of the more popular ones in my household growing up. But, if you were alive and on the planet, you knew something of Peter Pan and Tinker Bell and Captain Hook… What I subconsciously knew about Captain Hook is what I tried to bring to the character. At any point, did you go back to the J.M. Barrie material or read Dave Barry and Ridley Pearson's [source novel] "Peter and the Starcatchers"? Do you research or do you prefer creating from the text you're given?
CB: [Laughs.] I joke with Jack Davenport, [who plays Derek Wills] on "Smash." He knows all too well, when he watches me, that I am an actor who works from the outside in. Never in my acting work have I done a lot of research. I've found that it gets in my way a little bit. Truly, everybody is different, but for me, I do what comes instinctually until someone tells me that it's wrong. So I started playing around and listening to what Roger and Alex were telling me, [taking] what was on the page from Rick, and I went from there. And, here we are now.
You have an eventful second act — a mermaid musical number, a show-stopping monologue. Do you mentally prepare during intermission?
CB: I will try to describe my mental preparation during intermission for Act Two… Are you ready?: I get dressed up as a mermaid with broccoli steamers on my boobs. I stand in the wings and look at Greg Hildreth, who has mustard dispensers on his boobs and ringlets on his crown, and I beg him to sing "I Think I'm Gonna Like it Here" from Annie, which he does — as a 13-year-old girl with pitch problems — and then we go out on stage. That is my prep, and it works! [Laughs.] Also, what is liberating and fun about this show is that it's such a machine, [and] it requires such focus and precision in each moment — we all have to be on the same page and so focused that there's no time to think about what's coming next. All of a sudden, I'm flying under an umbrella while Adam [Chanler-Berat] and Celia [Keenan-Bolger] have their beautiful scene on the trunk. I take a breath there, stand up, put on my coat, come out, and 15 minutes later, I'm covered in sweat and backstage again. It's kind of a blur.



O&M Co.
Black Stache tends to ham things up, and he can easily become over-the-top. Where do you draw that line?
CB: It's a tightrope, and sometimes I fall off. I have
Roger Rees
there to sometimes say, "Less is more." As a comedian, if you show a little bit of your strength and not go for
every single joke
, sometimes you'll get a bigger laugh on the third joke. [However], sometimes something takes over, and you become a bit of a hog. You try to get it all, and when you do that, you can feel the difference — you can feel the audience not responding as well. [SPOILER!] When I get my hand chopped off, and I go on and on [with an] over-the-top reaction, there's a fine line. When I blow it and go too far, I can't put the genie back in the bottle. [Laughs.] You just go, "Oops," and then you move on to the next joke. Sometimes I succeed, and sometimes I fail. That's live theatre, and that's the great shame of the hamming actor. Also, you want to keep it fresh. That's the other part of the challenge. The audience can tangibly sense when something new is happening when the entire company is responding. If you're doing
literally
the same thing night after night, subconsciously, it starts to bleed into a rote energy. The great gift that this entire cast has is that we're constantly trying to surprise each other and, I will say somewhat ashamedly, even trying to make each other laugh a little bit.
Peter and the Starcatcher
is very much an ensemble piece.
CB: That's what makes it special. We are — this is going to sound so pretentious — literally breathing together. There are lines that we have to all say together, and there's no cue. We're not looking at each other and nodding and saying, "We're going to speak…
now
!" We just have become this almost single-minded entity at times. Everyone is very good at taking cues from each other, and there's an extraordinary level of trust in terms of the physicality — we're hoisting each other over our heads, and Adam is constantly being spun around. There's a sense of abandon to [the show] because we trust each other. It's also really a testament to Roger and Alex's [direction] — they were absolutely focused on getting it tight and clean, and they drilled us. The preview process was not easy. It's a lot of hitting precise marks… There's almost an acrobatic sense of physical accuracy that has to happen or else somebody is going to get hurt.
What do you think Black Stache's ultimate motive is? Is he — like Peter — looking for a sense of belonging or is he just power-hungry?
CB: Well, it's something that came [up] at La Jolla that Rick latched onto. What Black Stache is looking for, because it's just what pirates look for, is booty — treasure. That's what he's been programmed to hunt for, but it's ultimately left him to feel quite shallow. There's some part of him that realizes that he's not a whole person, and he is looking for a hero to make him feel whole. Finally, at the end of the play, he sees this Boy make the ultimate sacrifice, [and] he understands who he is meant to be in the world — the true complete villain.
Read Playbill's Leading Men column with Adam Chanler-Berat, who stars as Boy in Peter and the Starcatcher.
Michael Gioia's work frequently appears in the news, feature and video sections of Playbill.com. Write to him at mgioia@playbill.com.
Playbill Video interviews Tony nominee Borle: