*
"Sweeney Todd" is a brilliant film. But the faint-of-heart should be forewarned that there's an onslaught of blood seen onscreen. Producer Zanuck defends the over-the-top carnage: "If there were less, the film would be more gruesome."
John Logan wrote the adaptation of the Stephen Sondheim-Hugh Wheeler musical, and Tim Burton's directed. Johnny Depp (in the title role) and Helena Bonham Carter (Mrs. Lovett) do their own singing, which is fine. As are the vocals of the top-notch cast, including Alan Rickman (Judge Turpin), Timothy Spall (The Beadle), Sacha Baron Cohen (Pirelli), Jayne Wisener (Johanna), Jamie Campbell Bower (Anthony Hope), Laura Michelle Kelly (Beggar Woman), and young Ed Sanders, who's a wonderful Tobias. The film's nominated for four Golden Globes: Best Picture, Director, Actor, and Actress.
Several songs had to be cut in order to turn the nearly three-hour stage musical into a two-hour movie. Speaking at the Dec. 2 screening that I attended, Sondheim acknowledged "many changes...additions, deletions. But if you just go along with it, I think you'll have a spectacular time."
* If I had visited the "Sweeney" set during production, says Richard D. Zanuck, I'd probably think that I was in a space station. "Everyone was wearing [astronaut-type] suits, because of the blood [spattering]. If an additional take was called for, the actors had to change costumes and have their make-up done over."
Zanuck came aboard when Tim Burton was signed as director. "Stephen Sondheim had the final okay on who would direct and who would play the two leads. The screenplay had already been written by John Logan, but he re-worked it with Tim Burton.
"Steve was present for the soundtrack recording, but didn't want to be in the way when filming began." The movie, which opens Dec. 21, is only the fifth theatrical release (and the first in nearly 20 years) of a Sondheim musical. Zanuck believes that's "because his work is too sophisticated [for mass movie audiences]."
*
"Sweeney was the first musical I ever saw," relates co-producer Walter Parkes. "I grew up in L.A., and got to see the original production's national tour, with Angela Lansbury and George Hearn. It was stunning!
"About five or six years into running a studio [he and wife Laurie MacDonald, also a co-producer, headed DreamWorks until 2005], we realized that we were in a position to bring [the musical] to the screen. We decided: Let's do it; we may never have the opportunity again.
"First, we had to convince Steve, who was extremely reasonable. Early on, Steve asked me which of his musicals did I think were the most-produced. The answer was West Side Story and Sweeney Todd — because they were the best stories. We developed [the film] working closely with John [Logan], with whom we'd done 'Gladiator.' This was before the good fortune to have Tim and Johnny involved."
At the previous night's screening, Parkes points out, "The first spontaneous applause was [the slashing of Sweeney's number one victim]. I think that was because people had heard [the picture's] bloody, and had a certain anxiety, but when they saw that [the butchery] was so over-the-top, they felt they could deal with it." Claims Parkes, "My wife and I made the movie for just one reason — our mutual love of Sweeney Todd and specifically for Steve Sondheim."
*
"Everything I've done for the past five years," reports John Logan, "has been hand-in-glove with Steve Sondheim. I wouldn't suggest for a second that his DNA is not on every page, every note of music, in every frame.
"I saw the original run three times, with Angela Lansbury and Len Cariou, and have seen [productions] countless times since. You could not find a bigger fan of the piece. Tim Burton and I both love the show. I have such affection for it that I felt, if anything, fans would realize that our movie was made with love and respect. In my opinion, the film pays homage to the original creators — Stephen Sondheim, Hugh Wheeler, and Hal Prince."
His biggest challenge in adapting the demon barber's story "was taking a sprawling, magnificent Broadway musical and making it cinematic, and an emotionally honest film. Onstage, you can have a chorus sing as the people of London, but I think that would be alienating in a movie. ["The Ballad of Sweeney Todd" has been removed, along with some of Johanna and Anthony Hope's songs.] Onstage, a declamatory element is understood, but movies whisper at you. For me, movies exist in close-up."
Among Logan's plays is Never the Sinner, produced in England and America, and his screenplays include "Any Given Sunday," "RKO 281," "The Gladiator" and "The Aviator" — earning Oscar nominations for the latter two. When the writers' strike ends, Logan will "be working on a film with Michael Mann about modern media — a 'Network' for the present time. And I'm working on a new play, I'm glad to say — going back to my first and purest love."
Is there a "Sweeney" sequence that especially pleases Logan? "Because Tim and I worked so closely, it was filmed very much the way we had discussed it. I'm most proud of the 'Epiphany' sequence, which is when Sweeney Todd goes mad and his personal quest for revenge becomes a universal quest. He breaks the fourth wall and walks the streets of London.
"You see Johnny like a ghost — he's singing and people aren't responding. In a way, it suggests cinematically what I remember Len Cariou doing. It creates the same emotion — of pity, terror, and exultation, all at the same moment. That worked so well onstage, and I think it works equally well in the movie. It was a hard-fought battle to figure out how we could do that."
*
Based on an Ian McEwan novel, "Atonement," has been adapted by Christopher Hampton and is directed by Joe Wright. Set in England in 1935 and '40, it's a story about love and the devastating consequences of a falsehood.
The film stars Keira Knightley, James McAvoy, an astounding young Irish actress named Saoirse (SEAR-sha) Ronan, and — in an astonishing final scene, which lasts maybe five minutes — Vanessa Redgrave, in an absolutely riveting turn. The movie's up for seven Golden Globes: Picture (Drama), Director, Screenplay, Actor, Actress, Supporting Actress (Ronan), and Score.
*
After reading McEwan's novel, Christopher Hampton contacted his agent and said that he'd like to write the screenplay of "Atonement." The agent told him, "So would a lot of other writers. I had dinner with Ian, who had it in his contract that he retained the right to choose the screenwriter. I set out my feelings about the book and how it should be done. I passed the audition."
So began a long adventure. "I started with Richard Eyre directing. We worked on it over a year, and went over each draft with Ian. We kept waiting for word as to when [filming] would start. The silence went on just a little too long. Richard Eyre was offered 'Notes on a Scandal,' and off he went. I was then introduced to Joe Wright, who said, 'Well, the screenplay is fine, but can we start from scratch?' [Laughs]
"He set about kicking away the crutches. He got rid of the framework [in which Redgrave was also seen at the beginning, and had voiceovers]. Joe said, 'That way, the audience is as surprised at the end of the film as the readers are at the end of the book.' We decided that three actresses were needed to play Briony — at 12, 18, and as the old woman. Saoirse Ronan is absolutely brilliant! The book is about Briony, she's the central character. We realized that we had to shift the focus —
"We had to spend time with the two characters that become the center of the film [Keira Knightley as Briony's older sister, Cecilia, and James McAvoy as her lover, Robbie Turner]."
Hampton, who won Tonys for the book and lyrics of Sunset Boulevard, is having his 1978 play, Les Liaisons Dangereuses, revived on Broadway next May. (He won an Oscar for adapting the play into 1988's "Dangerous Liaisons.") Why does Hampton enjoy adapting complex stories for the screen? "I love doing the big crossword puzzle."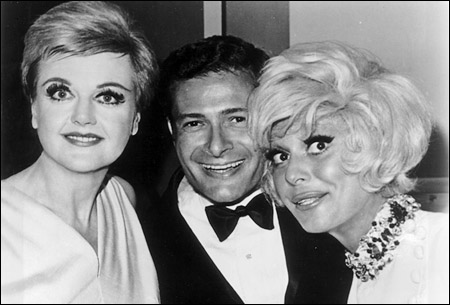 "Words and Music by Jerry Herman," Amber Edwards' delightful documentary, celebrates the life and talent of the gifted composer-lyricist who won Tonys for the scores of
Hello, Dolly!
and
La Cage aux Folles
. The film ends 2007 and begins 2008 on just the right note — airing New Year's Eve (on the New York metropolitan area's WNET, 10 PM ET) and New Year's Day nationwide (9:30 PM in different time zones).
Jerry Herman terms Edwards' hour-long documentary "a chance at longevity — for people, 50 years from now, to know a little about me and my work." In the film, Herman remarks that his music and lyrics "happen simultaneously," and acknowledges that he can neither write nor read music. He tells me that he knows "chord names and all the terminology trained musicians use. I know keys and I've learned the mechanics, because I had to find a language that I could use with my orchestrators. I end up — at least 95 percent of time — getting just what I heard in my head."
Continues Herman, "One of my teachers at the University of Miami was Robert Crawford, who wrote 'The Army Air Corps Song' [later the Air Force anthem: "Off we go into the wild blue yonder..."]. He told my mother, 'Don't inhibit [her son] at this point.' I use chords that are not traditional. He also said that I should discontinue music lessons. I benefited from that. There's a freer air about me when I sit down [to work]. There are no preconceived limitations; for the way I write, that's been a good thing."
Among those appearing in the documentary are Carol Channing, Angela Lansbury, Charles Nelson Reilly, Marge Champion, Arthur Laurents, Michael Feinstein, Fred Ebb, George Hearn, Phyllis Newman, Charles Strouse, Don Pippin, Jason Graae, Francine Pascal, Leslie Uggams, Miles Kreuger, and Ken Bloom. There is also some great home-movie footage (taken by Pippin) of the rehearsals of several Herman shows.
Extras on the DVD (a New Year's Day release on PBS Home Video) will include Carol Channing performing the complete title song of Hello, Dolly! at the White House for President Lyndon B. Johnson; "Dancing Shoes," from Herman's 1955 college musical; and "Before the Parade Passes By," performed by Herman and Merman — Ethel's last stage appearance was as Broadway's seventh (and final) Dolly.
Amber Edwards' expert, award-caliber achievement deserves many thanks from musical-comedy fans, especially people who admire "The Words and Music of Jerry Herman." States Herman, "I'm absolutely thrilled!"
*



photo by Aubrey Reuben
"Daunting!" is how
Cindy Williams
describes the experience of making her Broadway debut last Tuesday in
The Drowsy Chaperone
. As Mrs. Tottendale, Williams, who won fame as Shirley Feeney in the sitcom "Laverne & Shirley" (1976-82), follows two other TV stars, Georgia Engel and Jo Anne Worley, in the role. "It's a lot of fun," says Williams. "I'm grateful that I get to perform it." Her character has a running gag involving spit-takes. How does she enjoy them? "Talk to me in a year," responds Williams (dryly). Were there any relatives or friends in the audience for her first performance? "No, nobody. I don't like that. It makes me really nervous. I like them to come after a couple of weeks, when I feel free in the show, when I have a fun handle on the character, and feel relaxed." I remark that an actor once described taking over a part in a show was like "getting on a speeding train." Notes Williams, "That's perfectly put."
She tells me, "I was trained for theatre. That's what I always thought I was going to do. After college, I thought I'd be auditioning for regional theatre, and eventually wending my way to Broadway. It took me awhile. [Laughs] I got deterred along the way." But deterred (by TV) in a good way, right? "A wonderful blessing of a way," she admits.
Williams met Penny Marshall when they were teamed on a writing project. That led to Penny's brother, Garry Marshall, asking them to play two "fast" girls — Shirley Feeney and Laverne DeFazio — in the "Happy Days" sitcom. "A couple of weeks later, we got a call that they liked the characters and wanted to spin them off [on their own series]. The show was grueling; there was a lot of physical comedy, but it was great. It's great to go out there and make people laugh."
Though Drowsy marks her Broadway bow, Williams' previous stage work includes tours of Grease (as Miss Lynch) and Deathtrap, opposite Elliott Gould. "And in Canada," adds Williams, "I was in Moon over Buffalo." A play she'd "love to do" is Noises Off. "I saw it in London. Of course, that's if I can still move swiftly. [Laughs]."
Williams' two children are Emily and Zak — "both wonderful musicians." Before joining the Drowsy cast, she saw the show several times.
VARIOUS AND SUNDRY
Feb. 5, 2008 marks the two-disc DVD release of "Across the Universe," the Julie Taymor film set to the Beatles' songbook. Extras include a deleted scene, five featurettes, eight additional musical sequences, and Taymor's commentary... "The Bucket List," which opens Christmas Day, is a winning Rob Reiner comedy-drama feature about friendship, love, and the pursuit of dreams, co-starring Jack Nicholson and Morgan Freeman. After a 20-year absence, Freeman returns to Broadway in the spring, appearing opposite Frances McDormand and Peter Gallagher in Clifford Odets' The Country Girl, directed by Mike Nichols… Broadway-bound in the Harvey Fierstein-John Bucchino musical, A Catered Affair, Tom Wopat informs me that he's playing the father in the fourth workshop of Catch Me if You Can, a Scott Wittman-Marc Shaiman musical version of the fact-based 2002 Steven Spielberg movie about a young con man. Playing roles originated by Tom Hanks, Leonardo DiCaprio, and Christopher Walken are Nathan Lane, Christian Borle, and Wopat.
MEMORABLE STAGE PERFORMANCES
Four-time Tony winner (and six-time nominee), the enchanting Audra McDonald is waiting for the writers' strike to end, in order to return to her TV series, "Private Practice" (ABC, Wednesday, 9 PM ET), which has been picked up for a second season. On Feb. 25, McDonald recreates her (most recent) Tony-winning role, Ruth Younger, in a sublime TV version of "A Raisin in the Sun" (ABC, 8 PM ET), about which I'll write in February.
I asked her what three stage performances (of other people) she most remembers.
Audra's Choices: "There are so many. It's very difficult to choose three. One, I played opposite every night: Zoe Caldwell in Master Class [Terrence McNally's 1996 Tony-winning Best Play, which also won Tonys for Caldwell (her fourth) and McDonald (her second)]. Next would have to be Barbara Cook in Concert. She's astonishing! She's able to communicate with an audience with such ease. It's a lesson [to watch her] every single time. Number Three: Simon Russell Beale as Hamlet, at the National Theatre."
Michael Buckley, a longtime theatre journalist, has written this column since 2002. He may be reached at stagetoscreens@aol.com.