*
Tony Goldwyn, grandson of Sam and son of Jr., has commendably resisted, for all his 50 years, the easy temptation to enter the family business — movie producing and distributing — but he has played profitably around the periphery of that kingdom.
These days you'll find him at the Broadway Theatre, acting — not just acting but, for the first time, singing and dancing (although he modestly undercuts the latter: "I walk around to music, but I don't exactly dance"). In this bouncy revival of the 1968 Neil Simon-Burt Bacharach-Hal David musical, Promises, Promises, he plays a rake named Sheldrake, a married gray-flannelled philanderer who is the dark cloud hovering over the course of true love for Kristin Chenoweth and Sean Hayes.
And, starting Oct. 15 at various movie houses around town, you'll find him — less visible — as the director of "Conviction," a factual drama that took nine years to make and 21 years to live. Hilary Swank stars as Betty Anne Waters, a Massachusetts barmaid who is singularly driven to get 1) her GED, 2) her college diploma and 3) her law degree, for the express purpose of exonerating her brother, Kenny (Sam Rockwell), who has been wrongfully sentenced to life imprisonment for murder.
Professionally and emotionally, it's two different worlds, and Goldwyn is on top of both of them right now, pleased with these recent self-reinventions. It's his first time at bat in a Broadway musical and his fourth time out as a feature-film director. "Remain a moving target—that's my motto," he chirps about this versatility. "It's absolute heaven. Earlier in the year I was finishing the editing on the movie in the Brill Building on 49th Street and then walking up to do my show on 53rd at the Broadway Theatre. I was doing double duty. It was really wonderful. In this business to be able to do a lot of different things — and do them at the same time — is rare."
photo by Joan Marcus
While acting remains his strong suit (62 performances, counting TV), he has 16 directing credits to his name. Prior to "Conviction," Goldwyn directed 1999's "A Walk on the Moon" with Diane Ladd and Viggo Mortensen, 2001's "Someone Like You" with Ashley Judd and Hugh Jackman and 2006's "The Last Kiss" with Zach Braff and Jucinda Barrett.
He took up directing as a way of "completing" himself. "After I'd been an actor for almost ten years, I started feeling a bit limited in what I was doing. I wanted to be doing more, to be more engaged in the process — particularly, the filmmaking process. I find acting in the theatre incredibly satisfying — a full use of myself as an artist — whereas, with film acting, I've always felt much more constrained. You come in, make your contribution, and that's it. I was fascinated with filmmaking, so I started out thinking I wanted to be a producer. That way, I could find a project I could act in and be involved more than just performing. It wasn't a desire to direct."
Nevertheless, it turned into that when he came across the script he liked. "I didn't really feel right for the role in 'A Walk on the Moon,' but I wanted to see it get made so I partnered up with Pamela Gray, the screenwriter. We worked on the script for a couple of years, and, by the time it was in good shape, I was too nervous to give it to somebody else to direct. I almost did it as a personal challenge. I thought I was being protective, but I fell in love with directing as soon as I started doing it and kept on."
His first film and his latest are the only times he took Producer credit — and both, interestingly, were scripted by Pamela Gray. "Nine years ago, my wife saw a piece on '60 Minutes' about Betty Anne Waters and her brother, Kenny. I was very moved by this brother-sister relationship, and I found out that there's a producer in New York, Andy Karsch, who'd gotten the rights to the story. We got together, he brought me in as director, and we developed this script from scratch. Through the process, as the years went on, I became a producer because I was so much the driver of the film."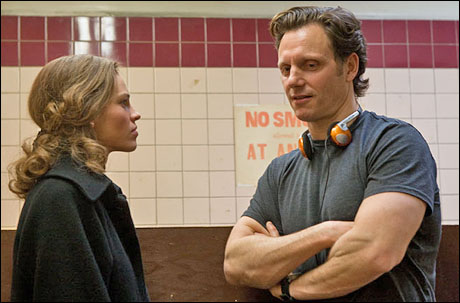 photo by Ron Batzdorf
photo by Ron Batzdorf
Rockwell, who appeared in Broadway's
A Behanding in Spokane
in 2009-10, is currently being talked up for an Oscar for his complex, anguished and wholly unsentimental portrayal of the incarcerated Kenny. That performance is one of two things Goldwyn says he is proudest of about the picture. "I've always known how great Sam is, and I'm very happy to be able to show that to people."
The other thing concerns the film's real-life heroine, who shelved the law books after winning her brother his freedom. "Betty Anne still runs Aidan's Pub in Bristol, RI, and works pro bono on cases for the New England Innocence Project — cases like Kenny's — and she works nationally with the Innocence Project on legislative reform.
"What I'm most proud of, I think, is that I was able to give her the gift of the movie — to know that she felt that it was emotionally honest and that it told the truth and represented her life in a way that honors her. It has been such a long journey."
"Conviction" does tell the truth, as far as it goes. The story has a tragic postscript which Goldwyn saw fit to spare the audience. Six months after his 18 years in prison, Kenny Waters died in a freak accident, trying to scale a 15-foot-high cinder-block retaining wall. "Kenny was like an overgrown kid. He was 47 years old and weighed about 300 pounds, and he fell on his head and died of a brain hemorrhage.
"I had this in the film for a while. I really debated long and hard whether and how to dramatize Kenny's death. It was in the script for a number of years. To me, I wanted it in the movie because I felt that was what the movie was about. It's about the transcendence of love over adversity and suffering — and, to me, even with Kenny's death, the love that he and Betty Anne shared transcended the tragedy of that. It made her life and her achievement a triumphant thing. However, when people read the script, they were still moved and carried away by their love, but, when it came to Kenny's death, they were completely derailed by it. They just couldn't recover, and the movie became about something very different than I wanted it to be about. Finally, about a year before we went into production, I made the decision to take it out. I decided that wasn't what the movie was about. And then I experimented with putting it in the end crawl, and the audience reacted the same way so I took it out." Ah, if life only had the grace to fade away, like the movies, with a happy ending.
Tony Goldywn talks to Betty Anne Waters about the project: