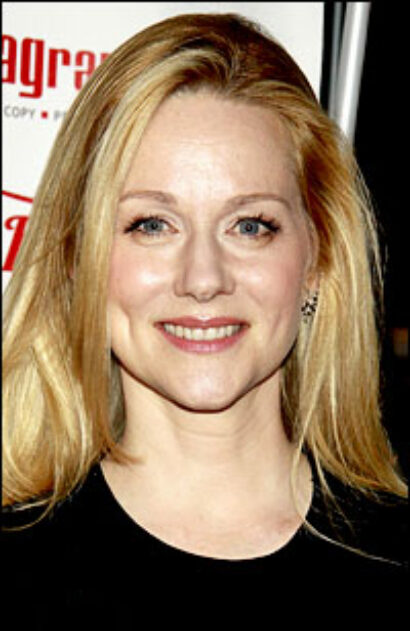 *
While It Lasts, Laura Linney Lives Life to the Fullest
The promos that Showtime is putting out about its new half-hour comedy series, "The Big C," rate a C for Coy. Gingerly, ever-so-gently, they give you a multiple choice about what the title refers to: Does the "C" stand for "Charity," for "Chopping Block," for "Classroom," for "Couch," for "Cathy" or "Cancer"? The answer, it turns out, is All Of The Above, and especially cancer — the same "Big C" which John Wayne (prematurely) said he had kicked when he invented the phrase back in the mid-'60s.
You — and Cathy Jamison, played by the luminously alive Laura Linney — get the bad news (Stage IV melanoma) from her unreasonably hunky doctor (Reid Scott) three minutes into the series, and, by season's end, only you and a precious few are privy to the diagnosis. By the time she gets around to ruminating about her own immortality at the conclusion of Episode One, she is pouring out her heart to the neighborhood hound — he silently standing in for you, gentle viewer.
Conspicuously left in the dark about her condition are her estranged husband (Oliver Platt), their son (Gabriel Basso), her brother (John Benjamin Hickey) and her best friend (Cynthia Nixon) — although all might suspect something's afoot from Cathy's deportment, which falls somewhere to the left of "Whoopee!" A constrained, conservative Minneapolis schoolteacher, she accepts the prognosis as a life sentence and proceeds to kick over the traces and cram as much in as time allows. She's the type who sees the glass as half-full. There are, indeed, a lot of days for Cathy Jamison to seize — from Aug. 16, when the series lifts off, to Nov. 15, when it airs its 13th episode, the last of its first season.
More seasons are promised, although at this pre-launch point-in-time no one is willing to venture a guess as to how many — life, and death, being exactly like that.
As befits her terminal illness, time will go into slo-mo for Cathy Jamison: Each network season will represent a calendar season in her life; next year's episodes will take place in autumn, and the year after that will be in winter. Should the series last six seasons, only 18 months of her life will be covered. Darlene Hunt, the actress-author who concocted the series (her first) and successfully peddled it to Showtime, is banking on the unpredictability of melanoma's mortality timeframe to give Cathy ample opportunity to explore life's possibilities in the time left to her.



photo by Ken Regan/SHOWTIME
It's only that audiences can see the dark at the end of the tunnel after investing three minutes into the series, so, for Showtime, "The Big C" stands for a kind of pretested "Courage." Before it put a cancer-stricken heroine out there for all to see (or not to see), it tried out the market with a moonlighting serial killer for a hero (
Michael C. Hall
's "Dexter"), a tough-willed New York City nurse with a weakness for drugs and infidelity (
Edie Falco
's "Nurse Jackie") and a widowed mother of two who makes ends meet by selling marijuana (
Mary-Louise Parker
of "Weeds"). Kindly note all three of them hail from the theatre.
Linney is just the latest of these stage-trained New York actors who have been asked to make a difficult premise stick — and play for an audience that clearly welcomes the challenge. And, with her as team leader (and, not so incidentally, executive producer), it was logical that other theatre folk would follow suit into TV.
"I think that Laura really fought to have the production take place in the East," opined her co-star, Hickey, "because the primary benefit of that is that you get to use all the great New York actors that you don't really see on television much because they all live in New York. These people have been a huge boom to the show.
"Oliver and Cynthia, of course, have done lots of plays, and Phyllis Somerville, who plays Laura's neighbor, is stage, as is Brian Cox, who plays Laura's father. And theatre is where we've gotten a lot of our guest stars — J. Smith-Cameron, Nancy Opel and Deborah Hedwall." (The first role Linney originated on stage was in a play that starred Hedwall, Sight Unseen, and 12 years later Linney redid the play on Broadway, this time in Hedwall's role.)
"One of the reasons I came on board is that Laura called me about the part and said, 'I really think you should come in for the part of my brother,'" admitted Hickey, who took her up on it. "I really responded to the idea A) because I think she is such a great actress and B) I have also known her for 20 years. We went to drama school at Juilliard together, and then, some 15 years after we left Juilliard, we did The Crucible together on Broadway with Liam Neeson — Liam is going to do a guest-star in a couple of weeks on the show — so I have a really great working relationship with her. We have a kind of acting 'shorthand' together, and I think that really helps, especially when you're playing out a brother-sister relationship."
Neeson plays one of the few people in the series Cathy shares her secret with — an eccentric named "Bee Man" whom she consults for a possible treatment for her cancer. There's a certain intimacy about this character that made Neeson the logical choice for it; he and Linney have twice played husband and wife — on stage in The Crucible and on screen in "Kinsey." The director who got her into the Oscar running for the latter is the man she hired to helm the pilot of "The Big C," Bill Condon, himself the Oscar-winning author of "Gods and Monsters."
One of the happy, accidental by-products of their teamings is that Linney became good friends with Neeson's late wife, Natasha Richardson.



photo by Ken Regan/SHOWTIME
Linney is reluctant to connect the dots publicly between Richardson and Cathy Jamison, but she has said that the series is about the "privilege" of aging — which is a primal privilege for those who die young and never have an opportunity to do it.
Hickey speculated that there may be another reason that drew Linney to the series: "It has to do with being middle-aged in a culture — especially a show-biz culture — that doesn't necessarily celebrate somebody in their mid-40s. Being faced with a life-threatening illness is the kind of a challenge that helps you to understand the privilege of being able to grow older — the privilege of being able to not be a kid anymore and, as a tagline for the series says, 'to really grab life by the balls.'"
Personally, Hickey enjoyed playing blood-kin to someone as polar opposite as Linney's buttoned-down Cathy. "Sean, her brother, is homeless by choice — a free spirit, to say the least," he said. "He's a 'freegan.' Those are people who believe in leaving zero carbon footprint. That means they will find a building or an abandoned home that already exists to squat in, as opposed to producing new places. They feel there are enough places for us to live now between what's abandoned and what is not. They also dumpster-dive. More than 50 percent of the food produced in this country every day gets thrown away, so they believe in recycling people's thrown-out food.
"Sean is incredibly odd. He was very well-educated, comes from a fairly average middle-class background, had a strong business degree and was on the rise in the business world — then something, which we really don't want to give away, happened to him, causing him to break from all of that and became this free spirit.
"One of the things that I love about this character is that he makes a lot of sense. In some ways, he's the happiest, sanest, most settled character on the series. I really like that the writers haven't reduced him to being a mental defective and that's why he has chosen to live the way he is living. You never really know if Sean has a couple of screws loose, or whether he's the best put-together of them all. A lot of the things that he espouses — a lot of the standards and tenets by which he lives his life — make a lot of sense in an environment increasingly going to hell in a hand-basket.
"This character is a real roller-coaster. I've done my share of television and film, and I've never ever gotten to play a part like this before so I'm really excited about it."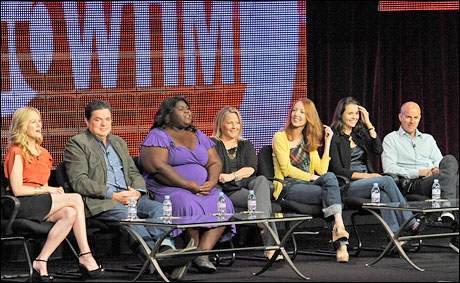 photo by Jeffrey Staab/CBS