*
Tracy Letts, 47, the Pulitzer Prize-winning playwright and occasional actor, and William Friedkin, 76, the Academy Award-winning director and sometimes producer, are proof positive that opposites attract: Exhibit A, "Killer Joe," arrives in movie houses July 27, six years after Exhibit B, "Bug." These are Friedkin's only features in a decade, and both hail from plays that put Letts on the theatre map.
This unlikely but flinty combination of talent has revitalized Friedkin's career, which had dipped a bit since his glory days of "The French Connection" and "The Exorcist," and given Letts' career an authoritative leg-up in a new medium. Win win.
Letts credits the matchmaking to Friedkin himself: "Some friends took him to see Bug when it was playing at the Barrow Street Theatre — he didn't know anything about it — and afterward he called me up and said, 'I'd like to make a movie of this.'"
It seems stupefyingly simple, the way Letts tells it. "He told me he couldn't stop thinking about it so he went back by himself a couple of days later to see it again. He found it really compelling material and thought it would make a really compelling movie. He also loved Mike Shannon's performance and fought really hard to make Michael part of the film. We both felt it important his performance be recorded." They were right. Shannon's breakout job here as a nutzy war vet who finds creepy-crawlies and conspiracy theories in a motel bedroom caused Sam Mendes to cast him as an unhinged mathematician in "Revolutionary Road," which, in turn, led to an Oscar nomination and bigger roles ("Take Shelter" and HBO's "Boardwalk Empire").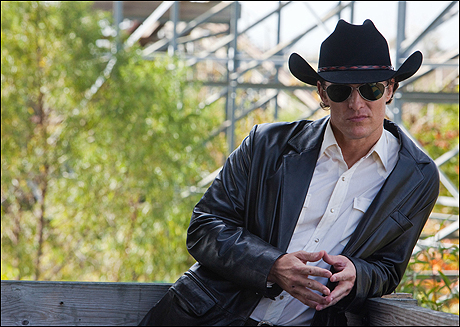 photo by Skip Bolen
Currently, he and Letts are cooling their heels, of all improbable places, in Chekhov: Shannon as the amorous Dr. Astrov in Soho Rep's Uncle Vanya Off-Broadway, Letts with a critically cheered rewrite of Three Sisters" for Chicago's Steppenwolf troupe.
The chemistry between Friedkin and Letts was potent enough to see them breeze through both cinematic sieges. "First of all, we like working with each other," admits Letts. "We share a sense of humor and enjoy each other's company. He's a delightful fellow — but, beyond that, he's so respectful of writers and the writing process. The first thing he said to me when he started talking to me was: 'First, do no harm. I liked what I saw in the theatre, and I want to make a film of that. I don't want to reinvent this thing.' I've spent a few years in L.A. and never got the kind of treatment out there that I got from him. He's really a very warm and generous collaborator."
On stage and on screen, "Bug" goes to hell in a pyrotechnic hand-basket, consumed in a fiery finale. "I think they blew that motel set up," says Letts. "It was the last shot in the film, and they were actually going to shoot it more than once, but they blew it all up on take one, so it was, like, 'Well, I guess we better go home now.'
"The play ends the same way. The same thing happens. Of course, we weren't able to have such a conflagration on the stage. Dexter Bullard, who directed that original production, did a really wonderful effect. He had some huge lights focused at the audience that are never used throughout the play. They were cleverly disguised so the audience didn't even see them pointing at them. Then, when the fire began at the end, he lit up these lights full blast, causing the audience to shield their eyes."
"Killer Joe" is another tale — another motel, in fact — predating Friedkin's theatre-going experience and bringing Letts to Manhattan audiences for the first time.
The 29th Street Rep got off the first shot at Killer Joe in 1994, busting its budget on blood bags which were liberally splattered all over the set. Four years later, a starrier revival sat down at the Soho Playhouse for an open-ended run; among the name-brand bodies that fell during its respectably long engagement were Scott Glenn, Amanda Plummer, Sarah Paulson, Lori Petty and, in their New York stage debuts, Michelle Williams and the aforementioned Michael Shannon.
Those last two would look right at home among the stellar cast now being assembled for the film version of Letts' Tony-winning "August: Osage County" (Meryl Streep, Julia Roberts, Juliette Lewis, Chris Cooper, et al). He has already turned in his screenplay and will leave the directing to John Wells of "ER" fame.
The Texas trailer trash in "Killer Joe" is less delusional and more frontal than the Oklahoma trailer trash in "Bug." Happiness is not remotely a thing called Joe here; rather, the title character is a Dallas police detective who moonlights as a murderer and has the ear of a young druggie wanting to kill off his mom for her insurance money and offering his sister for sexual sacrifice as a kind of retainer for the service.
How, one wonders, did Letts become so intimately acquainted with trailer-park low-life? "Well, they're all me, some version of me," he 'fesses up. "I grew up in southeast Oklahoma. My parents were college English teachers, and I felt like I grew up on the wrong side of the tracks. Actually, when I was a kid, I once lived in a trailer park. Some of those characters come from my own experience — and, as far as the terrible things they do as well as the noble things they do, they're all part of me somewhere."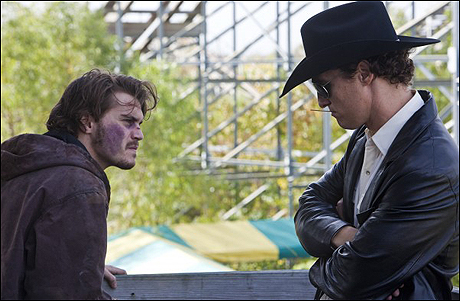 photo by Skip Bolen
Longview's Matthew McConaughey has the title role, and Laredo's Thomas Haden Church plays the druggie's dimwitted dad. "The authenticity of the Texas actor and the Texas accent was really helpful," Letts conceded about that comfortable casting. Of late, McConaughey has been embracing his seedy side like the Holy Grail, and he seems to be taking a perverse pleasure in pulling out all stops for this assignment.
Age hasn't mellowed Friedkin's flair for unbridled violence. The man who once had a demonically possessed Linda Blair masturbate with a crucifix comes up with some unsavory business with a drumstick that could set KFC sales back a couple of years.
This return to form, in Letts' view, is just a man enjoying what comes naturally to him. "He's such a master with that camera. He's done this so long now, and, because he's 76 years old, he just doesn't have a lot of time for B.S. That's why, when he's on the set, he's all business. He doesn't keep a trailer on the set, for instance, because he said, 'What am I doing? Am I going to go lie down? I'm working. If I'm at work, I'm working. If not, I'm going to go home.' He keeps a real energy and enthusiasm on the set. He knows where the camera goes. He's going to give the actors one take, two at the most — and, as a result of that, everybody on the set is really cued up and attuned to what's going on because nobody wants to screw up. It seems to me that he has always been a very vital filmmaker. There's a lot of life in a William Friedkin movie."
"One take, two at the most" — really? Keeee-rect! "Michael Shannon used to ask for a third take, and Friedkin'd say, 'What? You got stock in Eastman Kodak?'
"There's a story that Caleb Deschanel told — he was [director of photography] on 'Killer Joe' — and he remembered a shot they did of a truck pulling up. You could see the reflection of the camera in the truck so Caleb said, 'We got to shoot that again,' but Billy said, 'No. We're moving on.' Caleb said, 'We have to shoot it again. You can see us and the camera crew in the side of the truck.' And Billy said to him, 'Caleb, don't you think movie audiences are sophisticated enough now to know that movies are shot with movie cameras?' And he moved on. Caleb said, 'Of course, he was right. By the time all the stuff gets edited down, if it's in the movie at all, you can't see it.'"
To date, Letts has scripted all three of the films made from his plays, but that's not by any grand design. "They asked me to write the screenplay, and I said, 'Yes.' It wasn't about trusting anybody else. They said, 'Would you like to do it?' and I said, 'Sure, I'll take that on.' The adaptation is never going to be entirely faithful to the play, but at least I can be the one who's sorta picking and choosing what we're faithful to. I think I prefer that. The rhythm of a movie is very different from that of a play. They clip along at a pace in a play, but movies move slower and have the luxury of different locations. In 'Bug,' you can only open it up so much. Those characters are pretty much agoraphobic and aren't going to leave their motel room, but, in 'Killer Joe,' they're a bit freer to work their own nefarious ends outside of the trailer."
Not that it's a slam-dunk turning your play into a screenplay. "I suppose the challenge is what it always is: How do you tell the story, and how do you tell it more efficiently than you did in the play? You don't have all the dialogue that you have in a play in order to tell the story and maintain a sense of humor. Sometimes these things can really lose their humor in the translation from the stage to the screen. There's some strong stuff that happens in 'Killer Joe,' and the only way people can hang through it and have it be palpable for them is through humor. We wanted to make sure we didn't lose that very dark comic streak that runs in that piece."
Letts came to playwriting, and now screenwriting, as an actor — one of Steppenwolf's best. He made his Off-Broadway debut in 2005 in one Steppenwolf transplant, Austin Pendleton's Orson's Shadow, and he'll make his Broadway bow Oct. 13 in another, Edward Albee's Who's Afraid of Virginia Woolf?
Being otherwise engaged on stage saved him from being a protective playwright hovering over a movie set. "Two hats means I can't be in two places at once," he cheerfully notes. "I'm the kind of screenwriter you have to pay to be on set."