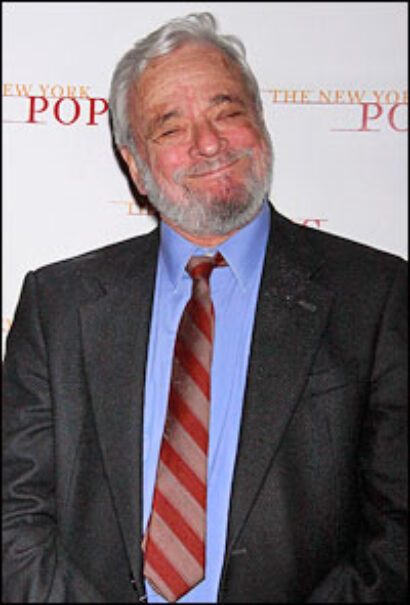 *
The Year of Stephen Sondheim. Sounds grand, doesn't it? But that's what 2010 was for those of us who still view the musical theatre as an important art form worth celebrating, examining and encouraging.
This was the year that composer-lyricist Sondheim — whose Broadway musicals include Sweeney Todd, A Little Night Music, Company, Follies and A Funny Thing Happened on the Way to the Forum, among others — turned 80. Concerts were presented around the world, Broadway's Henry Miller's Theatre was named The Stephen Sondheim and the writer's first book of collected lyrics, volume one, "Finishing the Hat: Collected Lyrics (1954-1981) With Attendant Comments, Principles, Heresies, Grudges, Whines and Anecdotes," was published by Knopf in October.
Why celebrate Sondheim? Let's point out what is obvious to the seasoned Playbill.com reader, but what may not be obvious to young people who are just now having their first brushes with Gypsy, West Side Story, Into the Woods, Pacific Overtures, Passion and Merrily We Roll Along. The Pulitzer Prize-winning, Tony Award-honored Sondheim changed the face of American musicals by building on a foundation set down by his artistic mentor and father-figure, the librettist and lyricist Oscar Hammerstein II, who himself had reinvented musicals a generation earlier by insisting that songs do more than divert and charm — they must explore character and drive plot (and address important social-justice issues). Sondheim recognized Hammerstein's revolution (it began with Show Boat and continued with Hammerstein's musicals with Richard Rodgers — Oklahoma!, Carousel, South Pacific, The King and I and others), but Sondheim sought to avoid Hammerstein's reliance on holdovers from the operetta era (purple prose and unnatural phrasing) and pushed for delving deeper into the psychology of characters. As a lyricist, he tells us in his book, he follows three rules: content dictates form, less is more, God is in the details. Sondheim and his librettists care about drawing you away from their contributions and closer to the world, the people and the point of the musical play. This only scratches the surface of why Sondheim was celebrated in 2010. And, what a celebration: a new Broadway revival of A Little Night Music, a new Broadway revue called Sondheim On Sondheim (cast albums of both shows were recently nominated for Grammy Awards), a starry concert by the New York Philharmonic (aired on PBS and released on DVD), a concert at New York City Center, a London Concert at Royal Albert Hall (broadcast on the BBC), a gala birthday celebration by Roundabout Theatre Company (a frequent artistic home of Sondheim works), the DVD release of the 1966 TV musical "Evening Primrose" (script by James Goldman and songs by Sondheim) a concert by New York Pops at Carnegie Hall, a handful of public interviews (including a Nov. 22 Times Talk event with Frank Rich) and more.
Sondheim, who splits his time between homes in Manhattan and Connecticut, is busy working on volume two of his collected lyrics, "Look, I Made a Hat," due out in fall 2011. The coming year is to be quieter, and that's O.K. with the usually public-shy songwriter. "Nobody celebrates your 81st," he told me, as though relieved. I spoke to Sondheim by phone on Nov. 23, when he was in Connecticut.
From what I know of your career and your work, 2010 is possibly the busiest year ever for you in terms of appointments and appearances and interviews.
Stephen Sondheim: Oh, sure it is. Oh, exactly. It's much the busiest, of course.
How do you feel about it? Is it a great joy for you to be doing this, or is it a chore?
SS: It's both thrilling and embarrassing, and exhausting and gratifying — it's everything at once. You know, I'd rather be at home just working, but this is partly work and partly pleasure.
What's the best part of 2010?
SS: Oh, I can't — you mean so far…? Oh, gosh —
Getting a Broadway marquee?
SS: Oh, that's one, sure, that's one highlight. The PBS — The Philharmonic concert…that's another one, that was a big highlight of the year. That was terrific. But I guess it's all the concerts. And the production of Passion in London, which is extraordinary. And also a production of Into the Woods in London, which is also extraordinary.
And there's your book. I'm devouring it, I'm really loving it.
SS: Oh, good.
In the book — which contains much more than just your lyrics and annotations — you make observations about songwriters of the past. I love how you're critical, but you're also incredibly generous. Particularly what you say about Alan Jay Lerner. You call his lyrics "pleasant," "smooth," "polite," but observe that they "lack energy and flavor and passion," and are without "personality." But then you go on to say that My Fair Lady was one of the most entertaining nights you spent in the theatre.
SS: Oh, sure, because, you know, everybody I speak about, there's stuff of theirs that I like, or that I've enjoyed. None of those people are somebody whose work I only deplore. It's the balance of how much you like and how much you don't. Yeah, My Fair Lady was a terrific show.
I know very well the influence that Oscar Hammerstein had in your world, but there is something that you write in the book that you acknowledge will be a "seismic shock" to people: that Hammerstein was not your idol.
SS: What I should have said is he's my hero, not my idol.
People often think that because Rodgers and Hammerstein started a revolution in storytelling, that Hammerstein's lyrics were also revolutionary —
SS: No, no, first of all, Hammerstein's the one who started the revolution. Not Rodgers, it was Hammerstein. I mean, it started with Show Boat.
You've pointed out in the past that Hammerstein's lyrics were not revolutionary.
SS: No, it's about the theatre. I've said often, he's rarely recognized as the experimental playwright that he was. As you know, in the book I compare him to Eugene O'Neill, because O'Neill was also an experimental playwright. And, both of them, their language did not soar in the way their imaginations did.
I'm curious to know your relationship to Show Boat, since the show is so seminal. It's where modern musicals began. When did you first see it — did you see the 1945 revival of it?
SS: Yeah, that was the first time I ever saw it on stage — it's interesting, yeah, which Oscar directed himself.
Could you talk about Show Boat a little bit? How does it strike you?
SS: It's not the show itself — it's what it attempts to do. You know, it's sort of clunky. And there've been many versions of it, as you know. It was so unwieldy when it was first done. It's Candide. No two productions are alike. Not just the productions, but in terms of what the contours of the script are, what songs are in, what songs are not. You know, it was a big sprawling work, just like the novel that it was based on, and, so there's no definitive version of Show Boat. Nor will there ever be, just the way that there's no definitive version of Candide. There are approved versions, but no definitive ones.
From production to production, over the years, there have been songs cut or interpolations — variant songs restored — to Show Boat with permission.
SS: Mm-hm.
When your musicals are done by groups around the country, do you get word about people "Frankensteining" your shows without authorization? Adding Fredrika's "Letter Song" to A Little Night Music, things like that…
SS: Well, usually, only too late, after the shows have been on. But sometimes we get reports of a show that's on where they screwed around with the score or the script and we, meaning MTI, the leasing organization — Music Theatre International — puts a stop to it, because it's a breach of contract. But you have to find out about it in advance. Most of these breaches, you know, are shows that only run for a weekend or for a week or are college shows or things like that, so by the time you find about them, it's too late.
Does it trouble you that in a hundred years people might be playing fast and loose with your work?
SS: No, it doesn't bother — I don't care what happens after I'm dead. You know, and also, as long as they're in print, people know what they're supposed to be. As long as they've been recorded, people know what they're supposed to be.
Briefly back to Show Boat. Without it, the map of 20th-century musical theatre would have been very different, no?
SS: Well, look, that's one of those metaphysical questions: "If it hadn't happened, would . . . ?" That's "Someone in a Tree" — you know, if that hadn't happened, would everything have been changed? I think somebody else would have come along and done it. I mean, you know, art moves forward. It wouldn't have stayed in the backwater forever.
For the past decade, I, along with friends and colleagues, would scratch our heads and wonder why there isn't a Stephen Sondheim Theatre on Broadway.
SS: Well, guess what?
It was time. But I have also wondered why there isn't an Oscar Hammerstein Theatre.
SS: Oh, please. Hello! Why isn't there a Tennessee Williams Theatre? C'mon. I mean, there's a Eugene O'Neill but no Tennessee Williams. What is that?
What can we do to get Oscar a theatre?
SS: Well, you know, somebody has to sponsor it. Cameron Mackintosh made a Noel Coward Theatre in London out of what was…somebody else's theatre. And, theatre names do change. Martin Beck had to cede way to Al Hirschfeld — they were both real people. I've no idea how that stuff starts, how somebody starts the ball rolling. In the case of London, Cameron Mackintosh owns a number of theatres, so he can rename them, just the way the Shuberts renamed two theatres after themselves.
Of course, a theatre naming is only one way to recognize someone. The are generations of people now who don't know that Hammerstein made history.
SS: I know. Well, of course, there used to be a Hammerstein Theatre, as you know, on 42nd Street. That was his grandfather. And then there still is the Hammerstein Ballroom.
And the Ed Sullivan Theatre, where "The Late Show" is taped, is the former Hammerstein's Theatre.
SS: There used to be a George Abbott on 54th.
There's a Samuel J. Friedman. And an American Airlines…
SS: Enough, enough.
Do you hate the question, "What is your favorite Hammerstein song or lyric?"
SS: No, actually. Nobody's ever asked me. It would be hard, you know? Certainly one of my favorite lines of Hammerstein is in "What's the Use of Wond'rin'," when he says, that "anytime he needs you, you'll go runnin' there like mad." That's a line I think is wonderful. So, you know, I like an awful lot of his lyrics, but "favorite"? Gosh, I don't know. Favorites are hard to pick out. Of anything — favorite show, favorite song — anybody else's or one of my own. Also, what's your favorite this week may not be your favorite next week.
At the recent public Times Talk conversation with Frank Rich, you said that "Oscar took the fun out of it for the rest of us" when he started going deeper than his contemporaries.
SS: Yeah, what he did, he just made it — he made musicals more difficult to write because suddenly you had the task of telling story as well as writing songs. That's all that means.
But it suggested that the age of writing diversionary songs — really delightful whipped-cream songs — was over after Hammerstein.
SS: Oh, no, no, I didn't mean that. No, those still exist. I've written some of those myself. But certainly…audiences have demanded more than the sort of fluffy empty musicals of the '30s and '20s. Although, still, a show like
Crazy for You
gets to be a big hit. Also
No, No, Nanette
. So, there's still room for them, it's just that, the balance now is towards musicals that tell stories and that try to involve an audience. And that's been true for 50 years.
And, as a theatregoer, do you delight in revivals of more frivolous pieces?
SS: Oh, if they're good, of course.
Like, Me and My Girl, was that — ?
SS: Yeah, I liked Me and My Girl…I saw it in London. Yeah, I liked it very much.
I'm curious to know what you've liked lately on Broadway, in terms of plays —
SS: I don't do that. I don't give opinions.
No?
SS: No, no. One thing that I can unequivocally give an opinion about is the National Theatre production of Hamlet [in the U.K.], which is on right now. That, everybody should go see.
If I can jump around I'd love to ask you some scattershot questions.
SS: Sure.
In your book, you wrote that — after the passing of Oscar Hammerstein — Richard Rodgers sent you three or four ideas for musicals.
SS: Yeah.
Do you remember what they were?
SS: No.
There's always been a rumor that you wrote your own spec score — music and lyrics — for Gypsy.
SS: Rumor, rumor, rumor. No foundation whatsoever.
Well, we can dream, can't we?
SS: (Laughing.) Why would ya? No. When I auditioned for Gypsy, I auditioned with songs from Saturday Night.
I'm a big fan of your score for the TV musical "Evening Primrose." Has there been talk of fleshing it out to be a 90-minute stage musical — adding new songs? Making it a new Sondheim property?
SS: Oh, a lot of people have said that: "Put it on the stage." First of all, we don't own the rights, the [John] Collier estate owns the rights, the stage rights. We only have permission to do it for TV. And also James [Goldman] is no longer with us. And I don't want to go back to old work, so — no. No temptation.
I wanted to talk about the size of Broadway orchestras today vs. what orchestras were, say, 50 years ago.
SS: Yeah.
Will we ever get large orchestras back?
SS: I doubt it. You know, the costs are so great. If somebody wants to — Look, if they're going to put on Spider-Man for 50 million dollars, then they can afford a full orchestra. The problem with a sizeable orchestra is the running cost, it's not the initial cost. And so, you know, if you're gonna try to make a profit each week, you try to skimp on everything, and the cost of live musicians is very high.
The Tony Awards honor orchestrators, but they don't really recognize musical directors or musical supervisors or conductors anymore.
SS: Oh, they did once…there was an award for music directors.
But no more. Do you think they should be recognized at the Tonys?
SS: Well, I — what about associate stage managers? I mean, everybody runs a show. The stage manager and the conductor are the people who run the show. And, sure, if you're gonna give an award for that kind of craft, that kind of technical stuff, there should be an award for conductors and an award for stage managers, but how is anybody going to vote on that? Who knows anything about that? Only other conductors and composers know what a conductor does, so there's no way to judge. Same thing is true, nobody knows what a stage manager does except other stage managers and the director.
You recently spoke about how The Expectation of the Next Sondheim show is a great deterrent for you, creatively.
SS: Yeah. But aren't you also picky?
SS: I don't know what you mean by "picky."
I mean picky, like, "choosy" — there are things that you know you want to write, right away. You choose carefully, I think, don't you?
SS: Yeah, sure. When there's something I've been burning to write, I write it. I haven't been looking for anything to write, because I've been working on the book, partly. And, you know, there hasn't been any brand-new show in 15 years [since Passion in 1994]. You know, [librettist John] Weidman and I worked on the show formerly known as Wise Guys off and on for over — for four incarnations of it, 'til we got it right, 'til we got it the way we wanted it. That takes time.
And are James Lapine and John Weidman talking to you about new show ideas? I mean, do they pitch projects to you?
SS: Ah, yes, and I to them, too. I mean, we talk, yeah, both. Absolutely. If they have an idea, we talk about it, or if I have an idea, we talk about it. I've discussed possible projects with both of them, two or three each, over the period of the last ten years.
When you read the paper, or when you read a magazine, are you the kind of musical theatre writer who says, "Wow, there might be a show in that story"?
SS: Ah! No. Funnily enough, I don't. It's funny you would say, I've never thought of that. I don't think I've ever — it's funny, I should. It's actually, it's a very good idea, to get some kind of incident or story from real life, but it's never occurred to me. Of course, that's how Follies started: Jim Goldman wanted to do a play — before it was a musical — about reunions, and he thought it's awfully cliché to do the high school reunion or the college reunion. And then he picked up the paper and read about the annual Ziegfeld Girls' parties, and at that time, coincidentally, I came to him and said, "I'd love to do a musical with you." And so it was a concatenation of circumstance, but he got his idea from a newspaper piece.
photo by Joseph Marzullo/WENN
And wasn't there a famous Gloria Swanson magazine photo of her in the rubble of a theatre that inspired the show?
SS: No, that was when [director] Hal [Prince] came into the picture. We asked Hal to direct it, and Hal always thinks visually first whenever he takes on a new project — the first thing he thinks about is what it's going to look like. And he saw that photo of her standing in the rubble of the Roxy Theatre, and since our show dealt with the rubble of the theatre —
click, click
. And so that really became a kind of image for him and Boris Aaronson in terms of the set. But it was always meant to be, of course, in the rubble of a theatre.
Obituaries are, oddly, a great source of ideas for plays.
SS: You know, you're absolutely right — that's if you want to do a biographical piece. And, I suppose you could say the Seurat show [Sunday in the Park With George] — it didn't come from a newspaper or a magazine but it came from an artifact, a visual artifact.
Do you have a drawer full of show ideas?
SS: No, no, but there — let's say, not a drawer. A drawer's almost too big. There is a very shallow drawer. Not a trunk, a briefcase.
Do you sit down at the piano and play for the joy of it?
SS: I used to, but I haven't — I haven't in a number of years now. I'm out of the habit. I still do, occasionally, but, I mean, you're talking with some regularity? I'm never away from the piano entirely for more than a couple of weeks, because it's fun — but it's been a long time since I've just sat and spent an afternoon.
I know that young musical theatre writers are in touch with you, seeking advice. I'm trying to think of how to ask this without insulting the current generation of writers —
SS: (Laughing.) You know, I don't give opinions on anybody alive, so before you frame your question, just be aware of that.
No, no — I'm aware. When you give young writers advice, is the primary lesson that they should dig into the past? To know their Kern, for example.
SS: To know their — ?
Jerome Kern.
SS: Oh, right, exactly. I think that all artists have to know what's gone on before, otherwise you're in danger of reinventing the wheel. But more important, you get ideas from other people's ideas. You know, if you listen to a Kern tune, you might get an idea for a tune, not the same tune, but maybe he does a chord progression and you think, "Ooooh, that's interesting to play around with." Certainly lyrics, you might get an idea, you know. You might hear [Cole Porter's] "Let's Do It" and say, "Well, I'm not gonna write 'let's do it,' but I'm gonna write a song about fucking, but it's going to be a different kind of song about fucking, you know? But that's just a trivial way. If you're going to be an artist, even in a commercial art, like this, you have to know — or you should know, not have to — you should know what's gone on before. And if you don't, I think your work probably suffers lack of substance, depth or freshness.
It's the old idea of knowing the rules before you break them.
SS: Yeah, exactly. And it's not even about rules. Know your literature. Goodness, I can't imagine a novelist ever sitting down without ever having read a novel. It's possible. You know, Grandma Moses supposedly sprang full-fledged, but I'm sure she saw paintings. She may not have studied them. If you know the literature, it enriches you and stimulates you.
What I was going to say earlier about the current crop of writers was that so much of the young stuff we hear just sounds imitative of the past 20 years.
SS: Yes, it does. Well, a lot of people brought up on rock and pop only know rock and pop. Whatever you think of rock and pop, it's only been going on for…about a half a century. If you consider it sort of started in the mid-'50s. And, you know, if you're gonna write for musical theatre, there are many, many other sources. I think if you are a contemporary writer you should know something about rock and pop, but you should also know about the other things.
photo by Fox
Do you watch the TV series "Glee"?
SS: I've only seen it about, oh gosh, half a dozen times. I don't like to sit in front of the television set at a certain hour. I never got in that habit when I was a kid. I was brought up on movies and even when I was brought up on movies, you didn't go at 6 o'clock, 8 o'clock and 10 o'clock. You went to a double feature, you walked in any time you wanted. And walked out any time you wanted. I stopped going to movie theatres when everybody had to go at 6, 8 and 10 o'clock. 'Cause that's like going to the dentist. You know, you wouldn't want to listen to a CD [if it had to be scheduled]. "OK, you want to hear the Beethoven Fifth? Four o'clock this afternoon, you can put the CD on." It's not in any way attractive to me. So, I never got into the habit of watching television. Once VCRs came in, where you could tape things and watch it any time you wanted, that's a different matter. So that's what I do with "Glee," or what I intend to do: To get a season, and then watch it. That's what I've done with other TV series, like "Friday Night Lights" and "Mad Men" and "Breaking Bad" and "The Sopranos." You know, I wouldn't've dreamed of tuning in every Sunday at 9 o'clock.
Are you caught up on "Mad Men"?
SS: Oh, no, as a matter of fact I'm waiting for the fourth season to finish — I think it just did. Same thing with "Friday Night Lights." "Friday Night Lights" is one of the great inventions.
It has such an improvisatory quality to it —
SS: Seemingly. That's what's so great. And so beautifully controlled. I could go on about it. And, you know, I'm about as interested in football in Texas as I am in, you know, ballet. It's all about character, of course. That's always interesting and always moving. My feeling about "Glee," is, it's fresh and it's original and I want to see more, but I'm not gonna look at my TV schedule and say, "Oh, God, I'm gonna stay home this evening and watch 'Glee.'"
The songs of "Glee" often seem, to me, unconnected to plot, so I lose interest.
SS: Well, ah! But that's, to me, that's part of the fun of it, when they use the music right and freshly and it is in some way connected to plot — even if it's just emotionally, even if the lyric doesn't seem to be connected to plot, but the feeling of the song is. I like that. Obviously, it's very up and down, the episodes I've seen — even within the episodes they're up and down. In a way, it's a very daring show, and they are taking chances, and a lot of it is whimsical in the true sense of the word.
I do wonder if it teaches a new generation to go for jukebox shows.
SS: Well, I don't know, you know, jukebox shows are also partly the result of producing on Broadway, where shows are so expensive that producers don't want to take a chance on anything that's unknown to an audience, so they want an audience coming in whistling the tunes. You know, young people, maybe that's what they're used to going to in the theatre, [but] I think young writers wanna write their own stuff. It's often said we lack writers for the theatre —
SS: Oh, no, I don't think that's true.
We lack producers.
SS: Yeah, well, Hal Prince coined that 40 years ago. And he's absolutely right. There are very few producers who (a) know anything about producing and (b) can make a living from it so they can keep doing it. Because, producers have to make a living just the way actors and writers have to. And, you know, you have to experience in order to produce well. And just the way writers today don't get a chance to get their work heard often enough to get better at it, you know: The generation before me, people, Rodgers and Hart's generation and Kern, they did two shows a year, so they learned how to do it. Now, if you're a young writer you're lucky if you get it on every three years or four years. How you gonna learn? And the same thing is true if you're producing. You know, in the old days, a producer would produce two shows a season, maybe even three. That's how you learn your craft.
Do you foresee some sort of radicalization of producing? Is there some incubator, some giant not-for-profit model to come?
SS: I really don't know. We live in a country that does not support its arts, so your question deals with a very basic tenet here, which is that the United States does not support its artists, as opposed to a number of foreign countries. State and federal subsidies, of course, are necessary for the furtherance of something like the theatre, because there are only, no matter how big a hit it is, there are only so many seats in the theatre, you know. You can't mass produce it, so how does it keep itself alive financially? Well, one way is, if you get a show like Phantom of the Opera that runs for 30 years in one theatre. But look what it does: It occupies a theatre when somebody else could be going in there. On the other hand, it's so rare to make a profit, why shouldn't somebody produce Phantom of the Opera — keep it open as long as possible? It's a dead end, I think.
When creating a new show, are economics in your mind?
SS: Never. Never. Obviously, I would hesitate to write a show that required a cast of 50. I would hesitate so long I wouldn't do it, because, you know, it's hard to sustain it. You can't sustain running costs with a cast of 50 and expect any producer who has his head screwed on right to produce it. On the other hand, I certainly don't think, "Well, maybe we can reduce these 18 characters to 14." If there are 18 characters, there are 18 characters. And then a producer can say, "Well, Steve, I can't afford that," then they can't afford it. Maybe then you try to find a way of reducing costs. But, no, certainly if you let that hamstring your writing, you're sunk.
photo by Joseph Marzullo/WENN
Don't cripple yourself before somebody else does.
SS: Yeah. You just don't think of doing — well, I was just going to say
Tale of Two Cities,
which they just did, but I mean, you should hesitate if you're thinking of some kind of very lavish piece. On the other hand, you know, John Guare spent a number of years writing a lavish play — that's what
A Free Man of Color
is — on the optimistic assumption that he would get a producer to do it, and he did. So it can happen. And, you know, of course, the lavishness of
A Free Man of Color
, that was common corn in the 1930s. [The 1934 Kaufman and Hart play]
Merrily We Roll Along
was done at the Music Box Theatre — you know that's not a big theatre, right? And I want you to guess how many people were in the cast. You'll gasp.
30?
SS: 83.
What?!?
SS: 83 people were in the cast. I don't even know where the dressing rooms were, but I counted them in the cast list. And that was a play, not a musical. And not in the biggest theatre in New York, in a moderate-sized theatre.
When is "Look, I Made a Hat," volume two of your collected lyrics, coming out?
SS: October.
And when's your deadline?
SS: Probably March. Quite soon.
And how's it going?
SS: It's fine. I'm trying to get back on the stick. I stopped writing it about three months ago because of all the hazarai about the final editing of the first volume, and then the book…tours and appearances and that sort of stuff. You just don't get uninterrupted time, an uninterrupted time to write. And I'm not good without uninterrupted time. I'm easily distracted. So, I actually, this is the day when I'm gonna try to resume 16-hour-a-day work, at least for this week, because I have no other obligations until next Monday, so I'm gonna try to take five days and really just do it. So, between now and Thanksgiving.
Really, 16 hours a day?
SS: Well, I like to start — I usually start around 11 o'clock. No, that's 12 hours. It used to be 16. It's funny, that was a knee-jerk reaction because I used to start around 9 in the morning and then end around midnight, and that's 15. …So 16 hours is, it's a mild exaggeration. Let's call it 10.
What does being in Connecticut represent for you?
SS: I was going to say to get away from phone calls like this, but don't be insulted, I just couldn't resist it. (Laughing.) To get away, to get away from everything that hangs me up in New York from working.
Prose, you have said, is a bit of a mountain for you. It isn't your favorite thing.
SS: Well, I found it easier to write after I got going, but it's like writing a letter, you know, you start out, "God, I can't write this letter," but then after you get into it, you get into it. So I was able to get into it over a period of time, where, you know, the prose came easier to me. And I'm a good editor, so the important thing is to get something on paper…so I can edit the next day. But it's a little bit of a hurdle. I've been collecting notes for a long time, over a period of ten years, so…I don't have to search for what I want to say, in going back over the old lyrics — particularly ones that I've forgotten or that were cut out, and determining which to print and how to present them, and what I should say about them.
And did you know these books were coming ten years ago? Did Knopf approach you a decade ago?
SS: Well, they asked me to do it 15 years ago, and I just delayed for 10 or 12 years.
Does volume two include more observations about other writers, songwriters?
SS: I don't think so. I have a couple of ideas. One of the things I want to do is interrupt the rhythm of [the lyrics] with those boxes, those sidebars, and I have a couple ideas of what to do, but no…I've covered the writers I want to cover.
I love the boxes. They're like little meals along the way.
SS: Yeah, I do, too, but the other writers that I could talk about didn't write a lot about the theatre, you know. To talk about Johnny Mercer, you have to talk ostensibly about his movie songs and his pop songs, you know? To talk about Carolyn Leigh you have to talk about her club songs, you know? They didn't write mainly for the theatre, and since I knew I was going to restrict myself to the theatre, I'm just not interested in examining their work outside of the theatre.
Yes, and you don't want to write about contemporary writers.
SS: No, I don't want to write about anybody alive, no.
Do you read the internet? Are you a news junkie? Do you go online?
SS: No, no, no, I'm by nature addictive, so if I did that I would never get anything done, so I stay off the internet, except when I have to use it. It's too much fun and that would be too addictive for me and I would never be away from it. Everything from news to gossip, I would just be there all the time. Because I love the gadgetry of the computer. I love pressing the buttons and changing the screen and I love all that. It just makes it so much more attractive. So that in itself is an addiction.
So you don't go to YouTube and watch "Losing My Mind" sung by 10-year-olds?
SS: No, no, nope. People sometimes tell me about it. Are you referring to a specific one?
I'm not, no.
SS: Oh, OK. People do email me and say, "Here's a link you've gotta see this," and then I see it and I think, "I should see another one!" And then I say, "No, no," and I stop.
The reason I ask about the internet is selfish because we did a piece earlier this year talking to 25 Broadway songwriters about their favorite Sondheim song...
SS: Hah!
I wondered if you saw the piece.
SS: No, no! Can you send it to me?
Yeah.
SS: I'll look at it. It'd be — Will I be upset?
No, no. It's joyous. You know, it won't surprise you that "Finishing the Hat" is way up there.
SS: Oh, that's — oh, no, that's terrific!
(Kenneth Jones is managing editor of Playbill.com. His first brush with Sondheim was discovering the original cast album of Gypsy in his parents' hi-fi in the 1970s. Write him at kjones@playbill.com. Follow him on Twitter @PlaybillKenneth.)
The Sept. 15 lighting of the Stephen Sondheim Theatre: