On balmy evenings at the Eugene O'Neill Theater Center, participants of the National Playwrights Conference make their way to a balcony that overlooks the sea, and over wine and laughter, take turns in reading out loud from Eugene O'Neill's Long Day's Journey into Night.
The eight playwrights have settled into the campus and, with two more public readings under their belt, have reached the halfway point of the month-long conference.
Samuel D. Hunter's A Great Wilderness braved the elements on its first public reading at the open air Edith Theater. Hot summer rain drizzled over the copper beech tree that shades the theatre and june bugs flew dizzily around the orange lighting, yet the reading persevered and the weather added to the rustic atmosphere of the play.
Hunter is not new to the O'Neill. He was a participant during artistic director Wendy C. Goldberg's first year at the Center in 2005. He was a 23-year-old MFA student and, according to Goldberg, one of the reasons he was chosen was due to the freshness of his writing as well as the fact that he was telling stories about a region of the country not often explored onstage.
"I felt like he was somebody that was investigating a region of the country that I had never seen anyone write about, which was Idaho, and some of the communities of that region," Goldberg said. "He was a new storyteller. Fast forward to now, Sam is a very lauded playwright all over the country. I thought that was the beginning of the investigation of that region and yet again, here is another one coming. I'm excited to have him and be part of his homecoming [to the O'Neill]." A Great Wilderness is the story the story of an aging man who, deep in the forests of Idaho, runs a camp counseling teenage boys out of their homosexuality. Faced with counseling one last boy, his carefully constructed life falls apart when struck by tragedy, and he is thrust into a series of events that unravel relationships, unveil carefully avoided grievances and untangle complications that threaten to choke him with their grip.
Hunter's previous plays include A Bright New Boise (2011 Obie Award for Playwriting, 2011 Drama Desk Nomination for Best Play) and The Whale. A Great Wilderness is linked to A Bright New Boise, as Hunter found his inspiration from a backstory in Boise's narrative.
A Great Wilderness explores themes of homosexuality, religion, wisdom, aging and the clash of cultural mores. Nature permeates the play.
"I am really interested in the wilderness and its relationship with religion and a big relevation story," Hunter said. "I have a past that involves Christianity and so it frequently comes into my writing. I think that it is something that is not frequently on our stages, that it's something that is a huge part of America and the American consciousness."
Having grown up in the northern Idaho town of Moscow and attended a fundamentalist Christian school, Hunter is aware of the dichotomy of opinions that divide liberals and Christians. According to Hunter, there is no halfway point where these sparring opinions can meet, which frustrates him.
"The tendency for the two groups is to raise their hands and call one another crazy," said Hunter, explaining one of the reasons he wrote A Great Wilderness. "I think a play like this is an attempt to speak to both groups. I hope this play can be a narrative for a fundamentalist Christian the same way it can for the left-leaning gay community."
Directed by Braden Abraham, the cast of A Great Wilderness consisted of Joanna Day, Brian Murray, Jon DeVries, Christine Estabrook, Aaron Simon Gross and Tasha Lawrence.
According to Hunter the play has already "gotten blowback from both gay audience members and Christian audience members."
That was his intention. He wanted to write a play that could be "continuously unpacked."
"Whenever I go see a play that deals with something very topical, my shoulders always tense up. I always feel I'm going to watch a 90-minute play and at minute 90 the thesis will be delivered," he said. "It's usually preaching to the choir, confirming our beliefs and we can go home with a pat to our back. I always feel shortchanged. I feel that you could have written an op-ed to give me your opinion."
With A Great Wilderness, Hunter said, he just "wanted to keep things as complicated as possible so I can leave the discussion in the audience's lap."
*
Playwright Jeff Augustin is a chid of both Haiti and the United States, and that rich heritage is infused throughout his work.
There is a sort of magic in his play Little Children Dream of God that protects and shelters. There is the comfort and strength of home and the unending safety net of community.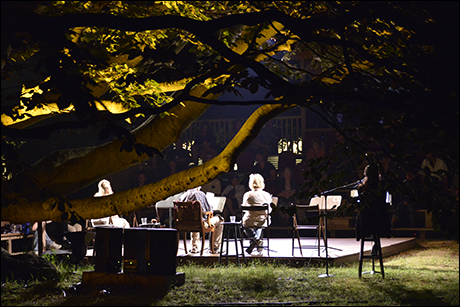 photo by A.Vincent Scarano
"When this play rose up in the pile of submissions, I was excited. He (Augustin) is incredibly theatrical and political," said Goldberg.
Comedy, grace and the dramatic are all present in Little Children Dream of God, which tells the story of a mother who risks her life to travel across the sea to save her unborn baby. It is a tale of voodoo and family, of being in a strange land and the unexpected people who provide comfort and love.
Augustin is currently a MFA Playwriting Candidate at UC San Diego and has based the play on his own experiences growing up. Little Children Dream of God revolves around a community that lives in an apartment building located at an address where Augustin once lived himself.
"I am the youngest of seven children and I was born here (in the US)," he said. "My family is from Haiti. My mother immigrated when she was pregnant with my brother and she didn't have family here. It is the idea of being a mother and being well educated and she couldn't go to college. The play is about the dreams our parents have for us and the dreams they have to let go for their children."
In a way, Little Children Dream of God is a commentary on the immigrant experience and the confusion and emotional chaos that comes with being an alien in a strange land.
"Community's love is something I am very interested in. There are communities of people who watch out for each other and who are so giving even when surrounded by poverty and violence," said Augustin. The play permeates with love, but Augustin has created a world that is stark and honest. But there is always the possibility of whimsical tenderness just around the corner.
"I think the core of it for me is that it's about relationships and people and about basic fundamental love and all the different variations of love," Augustin said. "Love is something that we are all searching for."
Little Children Dream of God features characters who have dreams that haunt and terrify, those who dream dreams that promise hope and those that don't have any dreams at all.
Directed by Giovanna Sardelli, the cast of Little Children Dream of God included Damien Bailey, Tina Benko, Jeremy Bobb, Duane Boutté, Ashley Bryant, Mateo Gomez, Jordan Mahome and Angela Robinson.
The National Playwrights Conference runs through July 27. Tickets and more information are available by calling (860) 443-1238 or visiting theoneill.org.
The Eugene O'Neill Theater Center was founded in 1964 and is based in Waterford, CT. Programs at the Center include the Puppetry Conference, Playwrights Conference, Critics Institute, Music Theater Conference and the National Theater Institute. The Monte Cristo Cottage, O'Neill's childhood home, is also owned and operated by the group.