The relationships between fathers and daughters, wives and lovers and the interconnection of generations were all themes that were explored at the most recent public reading of plays at the Eugene O'Neill Theater Center's National Playwrights Conference.
Bekah Brunstetter's The Oregon Trail is a study of depression and its causes and a story of how different generations deal with sadness, then and now. The audience travels with a family on the real Oregon Trail while in 1997 a confused teenager tries to understand her own grief through playing the vintage computer game "The Oregon Trail."
Currently a staff writer on ABC Family's "Switched at Birth", Brunstetter received her MFA in Dramatic Writing from the New School for Drama. Explaining what led her into exploring the causes and reasons behind depression, she said, "I was living with a roommate who was depressed and I found myself really frustrated with her. I grew up in a military family where you don't wallow and therapy was not something that was ever discussed."
The Oregon Trail follows two young women from different eras as they battle apathy, grief and a gnawing internal sadness. Their relationships with their families are important catalysts that drive the plot.
Brunstetter said she finds familial connections fascinating.
"When you are related to someone you are more honest with them and there is less of a filter. You are kind of forced to love them and connect with them," she said. "It is a more difficult relationship, and I was thinking about how frustrating it is to have a family member going through something like that." While on the path of writing The Oregon Trail, Brunstetter discovered the theory of epigenetics. A study in genetics that claims nurture can shape nature and that a state of being can be inherited from one generation to the next, this concept counters the belief that babies are born in an uncontaminated state of being; instead they are tarnished by the experiences of those who have come before them.
"I am interested in exploring why, if somebody is sad today, how that sadness is linked to something that happened to their great-great-great grandparent," said Brunstetter. "It is not hereditary like alcoholism is hereditary, but something that is imprinted in your DNA. If 150 years ago your great grandmother saw her family murdered, how does that shape your life today?"
The Oregon Trail is about the strength of connections to the earth and to a sense of heritage. Brunstetter said she "wanted to set out to explore to what extent our sadness is linked to our modern lifestyle. We don't have to struggle as much, so it is easier for us to be sad."
Directed by Geordie Broadwater The Oregon Trail's cast included Laura Ramadei, Alec Shaw, Emily Louise Perkins, Shayna Small, Ryan Kober and James Lloyd Reynolds.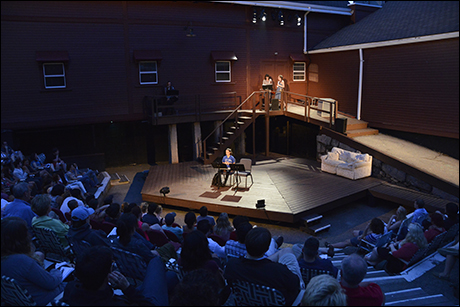 photo by A. Vincent Scarano
In a recent TED talk, travel writer Pico Iyer described the meaning of home. "For more and more of us, home has less to do with a piece of soil than a piece of soul," he said. "Movement is a fantastic privilege…but it ultimately only has meaning if you have a home to go back to, which can be anything or anywhere, because home is, in the end, not just the place where you sleep, but the place where you stand."
Jen Silverman's All The Roads Home explored those same themes. Also a story of family, the play explores the complicated and messy unbreakable bond that connects mothers and daughters.
The audience travels through the 50's, 70's and today as they see the stories of three headstrong young women unfold before them. In the 50's Madeline wants to be a dancer, her daughter Max is obsessed with the culture of America's heartlands and wants to be a cowboy and Max's daughter, Nix flies solo through the states of America, searching for a road that might lead her to stability and sanity.
With an MFA from the Iowa Playwrights Workshop, Silverman herself is a free spirit. The child of scientists, she left the United States at a young age and grew up in Japan, Europe and Finland. A third-culture kid, she explores themes of identity and stability in her work.
In All The Roads Home there is a sense of loss as each of the women give up some part of themselves as a sacrifice for the ones they love.
"I think each woman comes up against a moment where they either have to choose to sort of step outside of expectation and possibly destroy a life that has been built up for them," said Silverman, "or they have to choose to let go of it and step back into their lives." There is a sense of not being able to escape from one's past and from the dreams that mothers dreamt for themselves. For Silverman "the play is examining that whichever choice you make, that is how you hand to your children your unfulfilled longings and your unfulfilled dreams, and I think those things just imprint themselves in your DNA."
Silverman explores what causes the exoticism of a culture in an adolescent's eye. Max, the young girl from the 70's part of the play, lives in a New England suburb, but all she dreams about is the earthy wonder of the American Midwest. Country music is a strong influence in the play.
"I am really interested in the storytelling that happens in country music." said Silverman. "This sort of hyper-American mythology."
At the end of the circle, the loop inevitably ties to the call of a family. Silverman explained, "I am generally interested in close contentious relationships that family provides."
All The Roads Home was directed by Adam Greenfield with a cast made up of Makela Spielman, Christy Pusz, Hannah Cabell and Joe Tippett.
The Eugene O'Neill Theater Center was founded in 1964 and is based in Waterford, CT. Programs at the Center include the Puppetry Conference, Playwrights Conference, Critics Institute, Music Theater Conference and the National Theater Institute. The Monte Cristo Cottage, O'Neill's childhood home, is also owned and operated by the group.