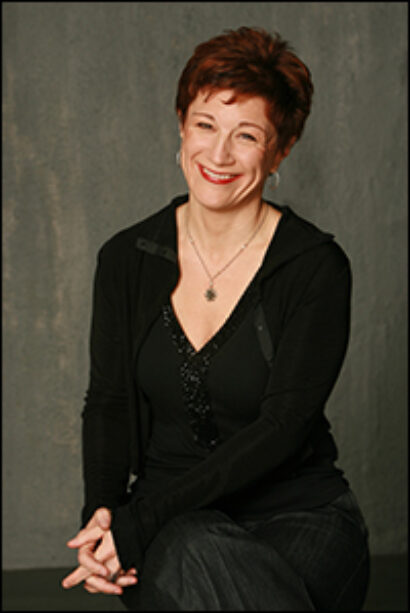 *
Lisa Kron is a monologist who made her mark Off-Broadway in autobiographical one-woman shows like 2.5 Minute Ride and 101 Humiliating Stories. For her Broadway bow March 30 at the Longacre Theatre, she has pushed the envelope a bit to create — voila! — "a solo show with other people in it." That, basically, is where this one-woman wonder loses the ball, since one of these people happens to be her own well-meaning, meddlesome mom who slyly skyjacks the show and transforms it. The result is called Well, after a medical condition that's in obviously short supply around her home.
Sharply attired and armed with index cards, Lisa steps into her circle of light at the outset and announces that the evening will be a "theatrical exploration of issues of health and illness both in an individual and in a community."
This would be, on both counts, her mother, Ann Kron, "a fantastically energetic person trapped in an utterly exhausted body." The firebrand who once racially integrated her neighborhood in Lansing is also laid low by mysterious, undefined allergies that keep her spending most of her days in a La-Z-Boy.
In fact, there she is now — having already invaded Lisa's stage space before the curtain went up — a lumpy load of laundry dumped on the recliner that snores, shifts and finally stirs in spurts to half-life. Like the fully formed actress playing the part (Jayne Houdyshell, also in her Broadway bow), she's soon running the show — or, rather, she's running interference for the show, kibitzing and correcting her daughter, the playwright, as they go along. The narrative gets not just knotted but annihilated, and Well becomes a mother-and-daughter Punch-and-Judy show. In the corner opposite Lisa, wearing a baggy cardigan, loose-hanging housedress and sloppy slippers, Ann receives the audience as if they were some of her daughter's after-school friends and blithely breaks into her messy Perle Mesta mode, apologizing for not having a more comfortable chair ("but then where would we put the coats?"), offering beverages and flinging sacks of snacks at the first few rows by way of bidding them welcome. Lisa stands there stunned, wondering if Pirandello really started this way.
Stage mothers have historically been handfuls, backstage and on — with Gypsy's thorny Mama Rose being the centerpiece of both worlds — and Lisa's mother has just a slightly gentler cast than Grendel's, bossing her offspring about with a good-hearted goo that binds and confines like emotional silly putty. It's a universal feeling, insists Kron, who started writing the show five years ago and has been performing it a good two.
"As we developed the show — workshopping it — we found people had an immediate and profound connection to this material," she says. "Many responded because they have chronic illness they don't like to talk about or people don't take them seriously about. Others responded because they know someone with chronic illness who's driving them crazy. Nearly everyone responded to the dynamic that is at the center of this show, where you completely love your mother and, at the same time, totally want to kill her."
Although Kron and Houdyshell look nothing alike and are a mere eight years removed from each other in age, their onstage chemistry couldn't be more convincing. Indeed, "people always think that I wrote this part for Jayne — and then, when they meet my mother, they inevitably say, 'I thought you were exaggerating.' From the minute Jayne uttered the first words of this play, she channeled my mother," declares Kron.
Houdyshell has spent a quarter of a century on the road getting her act together, winning awards across the country - including a 2005 Jefferson in Chicago for her role as a hypercritical matriarch in Bruce Norris's The Pain and the Itch and a 2005 Barrymore in Philadelphia as a compulsive cleannik in Sarah Ruhl's The Clean House. These regional roles are radically different from her Well part, which has already won her an Obie here and may well win her the Tony.
There are four other actors aboard, but they're a mutinous lot, easily swayed by a little soda and sympathy from Mom. Like the audience, they defect to the mother's side of the equation. Poor Lisa. The writer never had a chance.