*
While taking a break from tech rehearsals for The Belle of Amherst, the one-woman play she is starring in Off-Broadway, Joely Richardson recalled receiving a visit backstage from the Queen of England following a performance at the Royal Shakespeare Company.
"I just took the wig off and had a really weird memory back to the only time I remember doing this," Richardson said while sipping an iced coffee. "We were in the rehearsal room, and we'd all just pulled our wigs off, and we were standing in line, curtseying for the Queen in our pincurls."
"I hope you didn't come out here expecting the Queen or Duchess Kate and were disappointed finding me," I said as we sat down in the upper lobby of the Westside Theatre.
Laughing, the Golden Globe-nominated actress assured me she wasn't. Memories involving nobility are nothing new for Richardson, a member of a family of acting royalty. The daughter of Tony Richardson and Vanessa Redgrave, and granddaughter of actor Sir Michael Redgrave, she is the niece of Lynn Redgrave and sister of the late Tony winner Natasha Richardson.
Richardson began her acting career at age three, appearing in "The Charge of the Light Brigade," and has since starred on the TV shows "Nip/Tuck" and "The Tudors" as well as in the films "The Patriot" and "The Girl with the Dragon Tattoo." Some of her stage credits include Side Effects at the Lucille Lortel Theatre and Ivanov at Classic Stage Company.
Now Richardson is taking the stage solo to play famed poet Emily Dickinson, a reclusive writer who only achieved notoriety following her death at age 56. Richardson, who said she normally takes her time to make decisions, was immediately drawn to the script.
"Decisions take time and this one, my immediate response was, 'Yes, yes, yes.' Just because the script is so beautiful," she said of reading the play. "William Luce just did an exquisite piece of writing."
The Belle of Amherst was first performed on Broadway in 1976, starring Julie Harris and winning the legendary actress one of her five competitive Tony Awards.
Before writing the play, Luce said he researched Dickinson for a year, and the first time he met with original director Charles Nelson Reilly and Harris, he recalled, he walked into lunch with two bags filled with books on Emily Dickinson. "Julie was there, and she had read all of them," he said, laughing.
While doing her own research for the play, Richardson said she was surprised to learn more about Dickinson's personality, including her mischievousness and naughtiness.
"There was a lot about Emily, or The Belle's take on Emily, that I really got," Richardson said, mentioning Dickinson's views on religion as well as her love of nature. ("I feel she was one of the first to realize the importance of the bumblebee, which is now universally known," she added.)
"Emily's totally naughty," Richardson continued. "She's this mixture of opposites, of contradictions, and that was one of the things I loved about this piece. She can sometimes lead you down a path that you think is so sweet, talking about butterflies and bees, but then she comes in with a dagger."
Luce also commented on Dickinson's mischievous side, saying, "It was the side that she and her sister both entertained each other with. A lot of it was about the neighbors, who were very proper. She was a recluse, even at a rather early age for a young woman. People would spy as they walked by, or peek and see if Emily was visible. They wanted to see that spinster."
Learning the lines of the two-act one-woman play was challenging at first for Richardson, before she unwittingly received a tip from Fiona Shaw.
"I feel I'm particularly slow," she said of learning lines. "I think also because I started, and then I [thought], 'Oh my God — this is so much more difficult than I realized.' And so I started to panic a bit and I developed, I guess, a block, which I had to start chipping away at. Because for a while I felt, 'I'm never going to get this done in time.'"
Richardson cited an interview with Shaw about the one-woman play The Testament of Mary, in which the Tony-nominated actress said she learned her lines from her heart. This proved to be helpful to Richardson, who said, "The impact, in this play specifically, is to really communicate with the audience. It's like the audience is like a secret friend in her secret world, and she wants to tell them her innermost secrets and stories of what happened."
Richardson learned much of what happened in Dickinson's life through reading the poet's letters, from which much of the play is taken. "You think a play about Emily Dickinson would be worthier than thou, but it's not. There's irreverent naughty humor," Richardson said. "She was incredibly intelligent and brilliant, but she was also very hands on. She worked in the garden. She baked — again that brilliant contradiction."
Her research and work on the role of Emily has infiltrated her personal life, Richardson admitted. "I've always liked to think I can switch in and out. … Because the writing is so specific, I've found it slightly altered my wordplay, and I've been wondering if friends in e-mails are thinking that my little communications of late have been slightly different.
"I haven't been able to shake her off. But she's a lovely spirit to live with. The influence is a good one," she added, laughing, "long may it live." The revival of The Belle of Amherst has been brought to New York by Don Gregory, one of the original producers of the 1976 Broadway production. He remembered hearing the lines at the first table reading and still being moved by them.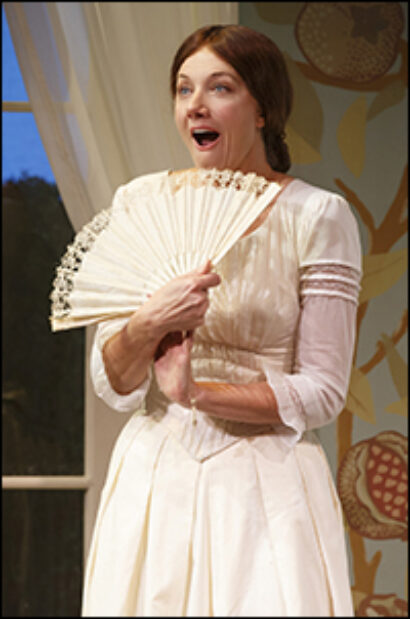 "There are lines that still put me away all those years later. At the initial reading that Joely did, I listened to the words. I didn't follow the script to see what she was saying," he said. "And some of those words struck me as so powerful. Some of the lines, some of the poetry, is so powerful."
While Harris' original performance as Dickinson has been recorded on film, Gregory also stressed he did not want to present a duplicate production of the original Broadway run.
"I didn't want a carbon copy," he said. "And Joely didn't want a carbon copy of Julie either. And I think that what we've done is we've really staged it anew without perceptibly changing it for change's sake."
Despite the memories and recording of Harris' performance, Richardson said she does not feel pressure in taking on the role. "Weirdly, I don't," she confessed. "I just feel wonderful admiration. She just seems like such a lovely, lovely woman," adding that she found a note Harris had written to her grandmother.
"They did such beautiful work, as many others here do," Richardson said of her family of actors. "I just feel so proud of them, but I also feel proud of them for who they are. They're just so loving. In terms of the legacies of this great work, I'm always just so admiring of other people's work. I'm a real fan. I'm a really gushy fan of other people's work."
(Carey Purcell is the Features Editor of Playbill.com. Her work appears in the news, feature and video sections of Playbill.com as well as in the pages of Playbill magazine. Follow her on Twitter @PlaybillCarey.)