***
In 1985, at its annual awards ceremony saluting the hallmarks of American fashion, the Council of Fashion Designers of America presented Katharine Hepburn with a Lifetime Achievement Award. Katharine Hepburn, you ask? She of the slacks and "so-what" school of fashion? You wouldn't be off base to wonder. And you wouldn't be alone. After all, when she accepted the award, she, too, sounded a humorous, puzzled note. "We're all in a serious spot," she said, "when the original bag lady wins a prize for the way she dresses."
But anoint her they did, with two of the most noted purveyors of American design, Perry Ellis and Calvin Klein, leading the applause and pronouncing her the epitome of style. Hepburn's acceptance of an award from the world of fashion (let alone her up-til-then unprecedented acceptance of any award) was a hint that she knew far more about that world than she let on. In her steadfast devotion to casual, comfortable dress — from her earlier well-tailored slacks and female versions of men's suits to the later-in-life scruffier, more lived-in "couture" — Hepburn crafted a style that was both uniquely personal and quintessentially American. She was one classy bag lady.
In life, she liked to look as if she didn't give a rap. "I think you should pretend you don't care," she told Klein in an interview for the CFDA's program. "But it's the most outrageous pretense. I said to Garbo once, 'I bet it takes us longer to look as if we hadn't made any effort than it does someone else to come in beautifully dressed.' . . . I enjoy line. I am very aware . . . although I dress in rags."
photo courtesy of Kent State University Museum
On screen or on stage, Hepburn's keen awareness not only of what looked good on her but also of how those clothes helped her define the characters she played contributed to dream collaborations with some of the profession's most gifted designers. She had a particular affinity for Adrian, Walter Plunkett and Valentina, artists who understood how to compliment her slender, model-like frame, and sublime examples of the latter two designers' work — as well as designs by Chanel, Irene, Muriel King, Howard Greer, Maggie Furse, Cecil Beaton, Motley, Noel Taylor and Jane Greenwood — are among the costumes featured in "Katharine Hepburn: Dressed for Stage and Screen," the sensational exhibition of Hepburn's performance clothes on view through Sept. 4, 2011, at the Kent State University Museum, housed on the KSU campus (in Kent, OH) in the Shannon Rodgers and Jerry Silverman School of Fashion Design and Merchandising. Almost 80 years ago a young Rodgers designed the ornamentation on the armor costume Hepburn wore in The Warrior's Husband, the 1932 Broadway vehicle that sent her off to Hollywood and a star part in her first picture, "A Bill of Divorcement." The thought that this extensive collection has come to rest and will be forever preserved in the institution for which he was a benefactor is a pleasing one. How this trove landed at the museum, which holds one of the country's most comprehensive teaching collections of fashion design from the 18th century to the present, and which is currently celebrating its 25th anniversary, is a classic case of timing and serendipity. In 2007, Gladys Toulis, the retired director of the school, took a call from a neighbor of Hepburn's estate lawyer. Charged by Hepburn before her death in 2003 to find an appropriate home for her performance clothes, her representatives were on the hunt for an educational institution that would accept her remarkable collection. The caller assisting with the search presented Toulis with a list of usual suspects, including such illustrious institutions as New York's Metropolitan Museum of Art and the Fashion Institute of Technology, and asked for her recommendation. Seizing the day, Toulis chimed in with "why not Kent?" The estate contacted the museum, and the offer was one that its director director Jean L. Druesedow simply could not refuse. As she explains in a promotional video for the exhibit on the Kent State channel on Youtube , "Katharine Hepburn's name is magic."
photo courtesy of Kent State University Museum
The magical collection the museum acquired spans over five decades of the star's career in the theatre, movies and on television — from the 1933 play The Lake to the 1986 television movie "Mrs. Delafield Wants to Marry." The exhibit is laid out, logically, with sections devoted to each area and era of Hepburn's long career. The clothes are displayed on platforms that undulate snakelike, leading viewers through the gallery, or on raised stages. Throughout there are eye-catching silk-screened banners and original posters and lobby cards that depict Hepburn wearing the costumes on display, as well as glass cases that hold hats (from "Alice Adams" and "Rooster Cogburn"), wigs, tons of well-used tubes of Max Factor makeup, shoes and even, appropriately, that CFDA Lifetime Achievement Award.
There are plans for the exhibition to tour the United States and abroad when it winds down at Kent State, notes James Harris, whose company H/L Communications handles the publicity and special programming concerning the show, which to date has included a gala opening in September attended by Turner Classic Movies host Robert Osborne (who declared the exhibit superior to the recent one for Grace Kelly at the Victoria and Albert Museum in London) and screenings of Hepburn movies like "Adam's Rib," "Summertime" and "Holiday." But for fellow fans who can't hold out til then, I recommend they either take a trip to Kent, OH — as I did in early December 2010 — or join me now for a walking tour of "Katharine Hepburn: Dressed for Stage and Screen."
photo courtesy Kent State University Museum
"This is a dress I have on."
—Lawyer Amanda Bonner (Hepburn) to lawyer husband Adam (Spencer Tracy) as they dressed for dinner in "Adam's Rib" (1949)
Though she was famously famous for wearing pants (everywhere) off screen, Hepburn wore any number of beautiful dresses on screen, and some of the ones with which she is most identified grace the exhibit. The first dress on display is one that fans will forever associate with the line, "The calla lilies are in bloom again": Muriel King's lovely gray marquisette and silk chiffon evening gown and underdress that Hepburn wore as aspiring actress Terry Randall in the final scenes of RKO's "Stage Door" (1937). Accenting the dress is a wide, buttoned, blue silk belt, which is a reproduction, made after images of Hepburn on the movie's poster. Aside from the bodice's lovely cascade of ruffles, what strikes one immediately is how slender Hepburn was. Looking at this dress and others in the exhibition, I found myself wondering how it was possible that internal organs resided in such a small frame. "Whenever you dress a mannequin," Druesedow relates in the video noted above, "you realize that you have to make the mannequin fit the dress, rather than the dress fit the mannequin, and when we first began to look at the Hepburn things we realized that she was extraordinarily tiny when she was a young woman and not very much larger when she was an older woman. It turned out that we had to carve a mannequin to match Katharine Hepburn's measurements as a young woman, which was a waist of about 20-and-a-half inches and a rib cage of about 23 inches."
courtesy of Kent State University Museum
Alongside the "Stage Door" dress is Hepburn's gypsy costume from RKO's "The Little Minister" (1934). It is one of two costumes in the exhibit created by the designer with whom Hepburn worked most often throughout her combined time at RKO in the thirties and M-G-M in the forties: Walter Plunkett. (Plunkett is perhaps best known for his costumes for "Gone with the Wind," though Hepburn fans will always be grateful for the bizarrely glamorous metallic moth costume he designed for her second picture, "Christopher Strong.") The "Little Minister" costume — a peasant-style silk blouse, brown china silk skirt with silk twill ruffle, and red cotton and china silk underskirt — features a dark brown velvet corselet. The wide corselet — or wide girdle — was a style favored by designers for Hepburn. At five-feet-seven-inches, she was considered tall compared to her contemporaries, many of whom just made it over five feet. The wide belts not only accentuated her small waist but also appealingly elongated her line.
Turn the bend and one is greeted by a tableau of three costumes designed by Motley for "Long Day's Journey Into Night" (1962). Hepburn garnered her ninth Oscar nomination for what many consider to be her greatest performance as drug-ravaged Mary Tyrone in the Sidney Lumet-directed version of the Eugene O'Neill drama. On display are the two dresses she wore in the film — one, a cream floral patterned cotton voile trimmed with decorative ball fringe; and the other, a lavender linen creation bedecked with crocheted lace — as well as the white cotton robe with red and black pattern that she wore in the final scene where at her nadir, Mary wanders around the Tyrone house, her wedding dress in tow. One of the most enjoyable aspects of this exhibit is that it affords fans an opportunity to see what these costumes looked like in color. Prior to 1967's "Guess Who's Coming to Dinner," Hepburn had only made a handful of movies in color (1951's "The African Queen" and 1955's "Summertime" are standout examples), and the colors of the "Journey" costumes, in particular, were a complete surprise.
Another great American playwright in whose work Hepburn appeared was Edward Albee. In 1973, as part of the American Film Theatre series, she starred with Paul Scofield, Kate Reid, Lee Remick, Joseph Cotten and Betsy Blair in A Delicate Balance, Albee's brutal examination of a discontented and dysfunctional upper-class suburban family, directed by Tony Richardson. Hepburn's suburban matron, for whom maintaining order was paramount, was outfitted superbly by Maggie Furse and three of those character-driven costumes are on display: a leopard print synthetic caftan and jumpsuit, a black patterned velvet robe over black jersey jumpsuit, and a red wool bathrobe and tie with off-white silk satin gown. Another Walter Plunkett creation is represented not by an actual costume, but by a painting. Collaborating with Hepburn, Plunkett created a meticulously researched and devastating collection for the star's role in "The Sea of Grass" (1947), the fourth of nine films she made with Spencer Tracy, and he commissioned artist Paul Clemens to paint her wearing one of the costumes. The original oil on canvas work, on loan to the museum from collector Christopher Sullivan, depicts Hepburn in a velvety green creation accented with a stylish bustle and matching parasol.
photo by Herbert Ascherman/Jeannette Palsa; courtesy Kent State University Museum
The second Plunkett costume in the exhibition — and my personal favorite — is the black silk evening gown he designed for Hepburn's Amanda Bonner in "Adam's Rib" (1949). In her interview with Calvin Klein, Hepburn often returned to the subject of "line" and her feeling that it was more essential to the attractiveness of a garment than any other detail. "I think the short skirt is really fundamentally hideous," she said. "I mean you are breaking the line that should be carried to the ground. I love things that trail." Plunkett's "Adam's Rib" dress is an off-the-shoulder study in unadorned elegance, expertly draped across the bodice, around the back and down the front and — giving the lady what she loved — trailing off in a very long train that I noticed as I looked around the back of the dress to see why Spencer Tracy's Adam seemed to have so much trouble fastening it.
Hepburn and Plunkett worked on 11 pictures together, 12, if one counts that glorious moth costume in the otherwise Howard Greer-designed "Christopher Strong." Most of those pictures demanded period costumes, such as those he designed for "Mary of Scotland"(1936) or "Little Women" (1933) or very specific character clothes, such as those in "Morning Glory" (1933) or "Alice Adams" (1935). But the clothes he designed for "Adam's Rib" could have stepped off the screen and strolled down Fifth Avenue. In the mid-'70s Hepburn spoke to former Playbill senior editor Louis Botto and fondly recalled Plunkett's work on the film and their relationship: "Walter did a marvelous job on that and he hadn't done modern clothes for years because all the things he did at Metro were costume. . . . and he made me some absolutely marvelous dresses that were quite unlike anything that I'd ever worn. . . . [We] just got on splendidly. He could use me and I could use him and that's the great combination. . . . One has the same smell. This is what's important, so that the chances you take are fun."
"Color powder blue, skirt simply floated, made in strips of slate gray, rose, white and powder blue . . . I don't know whether it was organdy or starched chiffon, but it sure was heavenly."
—Hepburn's handwritten note scribbled on her own pencil sketch of a Valentina costume for her Broadway role in Without Love
If in Walter Plunkett the screen Hepburn had found her most simpatico movie costume designer, surely the Russian-born Valentina Nicholaevna Sanina Schlee — aka Valentina — was his counterpart for her in the theatre — designing the costumes for Hepburn's great stage success, The Philadelphia Story (Shubert Theatre, 1939) and Without Love (St. James Theatre, 1942), both written by Philip Barry. According to a Forbes.com review of the 2009 exhibit of her clothes at the Museum of the City of New York, Valentina, whose clients included Garbo, Lynne Fontanne and Gertrude Lawrence, took full credit for transforming Hepburn "from a tomboy to a siren in The Philadelphia Story using a white crepe dress with a belt that laced up like a mini-corset. She would later say of that effort, arguably her most famous creation: 'At last, I have made [Hepburn] look like a woman.'"
Hepburn swore she never wore dresses in her private life, but there is pictorial evidence to the contrary, and in her interview with Louis Botto, she surprised him by saying that the designer made some of her personal wardrobe as well. "Valentina was brilliant and good for me," she said, "and I just latched on to her." Hepburn deemed Valentina "a genius" — and there are a number of costumes on display that attest to that declaration.
From the stage production of The Philadelphia Story there is the glamorous red silk coat that she wore over a white pleated dress. Botto, who saw Hepburn in the play in 1939, recalled that the outfit elicited an excited, audible gasp from the audience when Hepburn stepped on stage in it.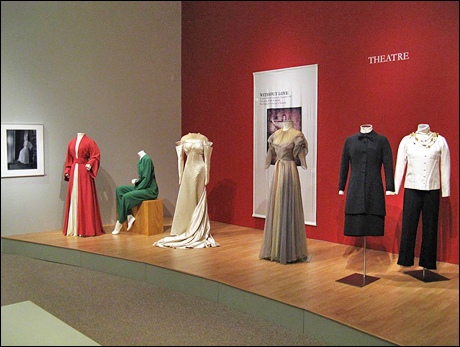 photo courtesy Kent State University Museum
photo courtesy of ABC Television
Displayed next to the coat is a green linen jumpsuit from the play and opposite it stands another lovely Valentina creation with an interesting history: Tracy Lord's wedding dress, a silk chiffon with crepe de chine underdress. Hepburn's Tracy got married in it in 1939 and 34 years later her Amanda Wingfield welcomed a gentleman caller wearing the same dress in a 1973 television movie of Tennessee Williams' "The Glass Menagerie." Hepburn told Botto that the dress had been "let out quite considerably" for the latter film (which museum director Druesedow found little evidence of) but called the dress "charming." It is displayed on a mannequin wearing a reproduction of the laced-up belt and a flowered neckpiece similar to the one Hepburn added for "The Glass Menagerie."
Another Valentina dress that Hepburn seemed to have adored shares the platform with The Philadelphia Story's gasp-inducing red coat: Without Love's gossamer organza gown in pale blue, rose, white and gray. Among Hepburn's theatrical papers in the Billy Rose Collection at the New York Public Library for the Performing Arts at Lincoln Center is a sketch she made of the dress during rehearsals on which she noted it was "heavenly." Behind the displayed dress hangs a banner of the star on stage wearing the costume, and one would have to agree. It was.
"Do all your copies wear as well and last as long as a real Chanel?"
—Coco Chanel (Hepburn)'s musical query of her American saviors — the messrs. Ohrbach, Bloomingdale, Best and Saks — in Alan Jay Lerner and Andre Previn's 1969 musical Coco
The oldest costume in the exhibit wore so well it looks brand new. Having become a movie star practically overnight and with an Oscar for her third film, "Morning Glory," in hand, Hepburn returned to Broadway to star in a play called The Lake (Martin Beck Theatre, 1933), directed by Jed Harris. It was a widely reported failure, but a resilient Hepburn managed to survive scathing reviews and sarcastic quips from Algonquin Round Table types. Another survivor is the little gem Hepburn wore in the play, nestled on stage between the Philadelphia Story and Without Love clothes in the theatre section of the exhibit: Howard Greer's beautiful white satin bridal gown. In the 35 years that followed that early disappointment, Hepburn's professional path had covered a lot of ground. She'd braved leopards in the Connecticut countryside, rapids in Africa and canals in Venice. But in the winter of 1969, after three Oscars and 40 years on stage and screen, she faced one of her most daunting challenges: an orchestra pit. In a Nov. 10, 1969 Newsweek interview, Hepburn told reporter Hubert Saal, "I must have been drunk to say yes to this." But, typically, she met the challenge head on, and Coco, her first and only Broadway musical, opened at the Mark Hellinger Theatre on Dec. 18, 1969. The musical, which centered on Gabrielle "Coco" Chanel's attempt at a comeback at the age of 71 in 1954, was not greeted with universal praise. But Hepburn's star wattage made it critic-proof, and it was a rousing personal success for the star.
Herbert Ascherman/Jeannette Palsa; courtesy Kent State University Museum
When Alan Jay Lerner (Coco's lyricist and book writer) and his star flew to Paris to meet the great Gabrielle in order to obtain her approval of the casting, "She looked me up," Hepburn told Saal, "and she didn't bother to look me down." As it happened, the 86-year-old Chanel was far less concerned about the way Hepburn dressed than she was about her age. "She's much too old to play the part," noted Chanel, who viewed herself as forever young. "Why she must be nearly 60."
The notion that the actress for whom casual comfort in her personal wardrobe was something of a signature would attempt to essay the titan of high fashion initially stuck some as odd. But Lerner cut to the heart of the matter when he had this to say about his subject and his star: "Not only did Chanel emancipate women, she herself was the most emancipated woman I'd ever met — until I met Katie Hepburn." And, ultimately, Hepburn agreed. "I've felt all along that Coco and I were alike," she told Saal, "that we're two females who have never been intimidated by the world who never shifted our styles to conform to public opinion. She is practical, vulnerable and a fighter."
Cecil Beaton, with whom Hepburn had a contentious relationship, designed the clothes for the musical (and won a 1970 Tony Award for Best Costume Design for his efforts), but Hepburn also had two genuine Chanel wool suits fitted for her in Paris, which she purchased: one in black and one in white. The black one (jacket and skirt), which shows considerable signs of having been worn under hot stage lights, is one of three Coco outfits on display. I was privileged to be allowed a peek at the white one — which is identical in all but color — when Jean Druesedow took me down to the museum's storage rooms and showed me racks and racks of clothes and boxes of hats and shoes that for space reasons were excluded from the current exhibit. It was the closest I'd ever been to a real Chanel suit and it was thrilling. (The other item in the storage space that struck joy in the heart of this Hepburn fan was a long duster, an antique item of clothing that Druesedow places in the early part of the 20th century. It is the coat that Hepburn wore in the Cecil Beaton photo that graced the Coco Playbill cover.)
The two other costumes on display from the musical are a white silk jacket (bearing the typed label of designer Ray Diffin), black wool slacks and necklace; and the black gown of silk chiffon with velvet dots in which Hepburn was exuberantly tossed about the stage in the musical's penultimate second-act show stopper, "Ohrbach's, Bloomingdale's, Best & Saks."
Rounding out the exhibit's theatrical costumes are one each from Hepburn's last two Broadway plays, both designed by Jane Greenwood. From A Matter of Gravity (Broadhurst Theatre, 1976), there is a black silk caftan with chain-stitch embroidery and cream silk gown and from The West Side Waltz (Ethel Barrymore Theatre, 1981), there is a cream matelassé robe lined with silke crêpe.
"Grow old along with me. The best is yet to be."
—Barrister Arthur Granville-Jones (Laurence Olivier) to actress and long-lost love Jessica Medlicott (Hepburn) in "Love Among the Ruins" (1975)
Hepburn was 66 years old when she made her first television movie in 1973, "The Glass Menagerie." Having taken the plunge, she devoted a good portion of the latter part of her career to the small screen, ultimately starring in another seven made-for-television movies, and at 87 making her final appearance on any screen in 1994's "One Christmas." Four of those television productions are represented in the exhibit.
From "Mrs. Delafield Wants to Marry" (1986), there are two outfits designed by Noel Taylor: Mrs. Delafield's wedding costume, a magenta silk sari, with silk dress patterned with metallic thread, and a pale pink silk chiffon dress with sequins.
In "The Corn is Green" (1979), the tenth film in which she was directed by lifelong friend and the man who cast her in her first picture 37 years before, George Cukor, Hepburn played Emlyn Williams' Miss Moffat in costumes designed by David Walker. On display are three of them: a black wool vest and skirt with white long-sleeved cotton blouse; a brown corduroy vest and skirt with white long-sleeved blouse; and a black cotton smock, wool skirt and white cotton blouse. In her 1991 autobiography, "Me: Stories of My Life," Hepburn self-mockingly described her fittings with Walker and Miss Hunneysett, the woman who was to construct the costumes: "She was to take my measurements. She opened a sort of bag and took out a very small corset. I gave the corset a quick look. About a 20-inch waist, I thought. She took one look at me. . . . She tried to cover her dismay. 'I always thought you were very . . . I mean. You seem on the screen to have such a small . . .' Well, of course, she had been looking at the late late show full of me 30 or 40 years ago."
It's a funny scene, but looking at the costumes on display, one wonders what Hepburn was talking about because they don't seem very much larger than the dress she wore when she was carrying those calla lilies 40 years before, though I suppose when one's waistline balloons to, say, 24 inches — let's see; that's an inch a decade — it's all relative.
There are two luxurious costumes from "Love Among the Ruins" (1975). Hepburn's second television movie was also directed by Cukor and was her first professional appearance with Laurence Olivier. All three of them won Emmy Awards for the romantic comedy. Set around the end of the Edwardian Period, Hepburn's character, a renowned actress being sued for breach of promise by a young fortune hunter, can't quite remember that her barrister (Olivier) was her long-ago stage door Johnny and ex-lover, frustrating him to distraction. The two Maggie Furse costumes on display are a glorious red synthetic knit coat, white silk dress, feather boa and feather-trimmed hat, which Hepburn's character wore in court, disobeying Olivier's admonition to dress her age, and a green silk shantung overdress with matching shawl and white underdress, lace neck ruff and sleeve cuffs that she wore in one of the movie's more comic scenes as she tried to convince Olivier that the relationship with her young suitor had been chaste.
"They're not pants, they're slacks. Watch your language."
—Pat Pemberton (Hepburn) correcting her overbearing fiancé Collier Weld (William Ching) in "Pat and Mike" (1952)
photo courtesy of Kent State University Museum
No exhibit of Katharine Hepburn costumes would be complete without a few pants . . . um, I mean, slacks. Some are film costumes, such as the brown wool uniform (jacket and pants) with hat from "The Iron Petticoat," the 1956 twist on "Ninotchka," in which she starred with Bob Hope (yes, Bob Hope); or the khaki cotton twill slacks with blue polyester blend button-down shirt and white cotton turtleneck that the museum catalog identifies as having been possibly worn in "On Golden Pond" (1981); or the jodhpurs that resemble those worn by Hepburn in the 1946 thriller, "Undercurrent." Hepburn can be seen wearing others — like the brown linen vest, khaki wool slacks and black cotton shirt; or the natural linen blazer, black silk button down and khaki wool pants — on the set during the shooting of "Guess Who's Coming to Dinner" (1967).
And still others that were part of Hepburn's personal wardrobe (the museum's acquisition includes 31 pair) are displayed on partial mannequins in active poses — running, lying down, sitting cross-legged, even standing upside down! They are all almost identical, well-tailored khaki wool slacks. As Hepburn said to Louis Botto 35 years ago, "I've never had the patience to have a variety of clothes. I get 25 of the same thing and have them made. I just get used to a color scheme and I just don't change it."
In that same interview she marveled at the way fashion had come full circle. "They all dress the way I dress, now. They've come around. They're very sensible, you know. Big arm holes, all the things that I knew 40 years ago. Took them a long time to wake up, I think. I can remember when people thought I was absolutely idiotically gotten up and now they've all come around. Sleeveless coats. I used to buy coat linings at Burberry's in London. I had a sleeveless mink coat . . . And then everybody else started to wear sleeveless coats. My costume is comfortable."
The woman made the clothes — on stage and off. Her independent spirit, belief in herself and adherence to a personal style from which she never veered were her trademarks. For Hepburn, the notions of being feminine while dressing practically and comfortably were not mutually exclusive. In an earlier era her style was considered eccentric. In time, we all caught up, and it became classic, the definition of genuine elegance. Or, as Calvin Klein put it, "you have set a style and you've set a tone for what is the modern American woman."
"Katharine Hepburn: Dressed for Stage and Screen" is on view at the Kent State University Museum through Sept. 4, 2011. For more information, visit the museum's website.
(Judy Samelson, production manager for Playbill magazine's West Coast region, was editor of Playbill 1993-2009. She contributes occasional features to Playbill.com and is a member of the museum committee of the Katharine Hepburn Cultural Arts Center in Old Saybrook, CT. Write her at jsamelson@playbill.com.)