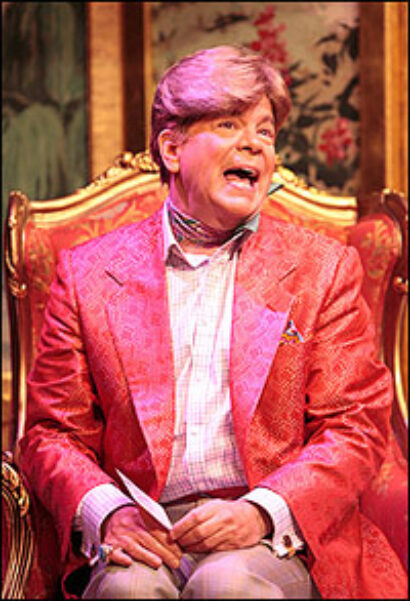 *
He's baaack. Perched imperiously on a gilded, thronelike chair in a seedy TV studio in South Florida — caftan-clad and martini in hand — is the title character of Mr. Charles, Currently of Palm Beach, one of the four Paul Rudnick playlets that constitute The New Century, dawning April 14 at the Mitzi E. Newhouse Theater. Effete doesn't begin to cover it. The man embodies the question, "Is it possible for someone, born of woman, to be too gay?"
He has already been drummed out of NYC on that score — to give you an idea (!) — and is now master of a much-diminished domain where he hosts a cable-access Q&A show "at 4:00 AM on alternate Thursdays, in between 'Adult Interludes' and 'Stretching With Sylvia.'"
It's called "Too Gay," and the first query out of the hopper is: "What causes homosexuality?"
Mr. C. is devilishly direct on this point. "I do," he answers with smug self-satisfaction. "Sometimes, for a lark, I like to stroll through maternity wards, to upset new parents." What Kowalski was to Brando, Mr. Charles is to Peter Bartlett, a one-of-a-kind theatrical creation that never wears as well on anybody else. To the actor luckless enough to have to follow Bartlett in the part, Rudnick has three words of advice: "Imitate Peter Bartlett."
Acknowledging his inspiration, the author dedicated the published play to Bartlett, who came across it while browsing at Barnes & Noble and immediately burst out bawling.
Cadence for cadence, nuance for nuance, the role was written for him. He plays it with a martini-dry, from-on-high matter-of-factness that makes his skewed view of life seem the most natural and logical thing in the world. Actor and author were joined at the hip 15 years ago when Bartlett stepped up to the plate to replace Edward Hibbert in Jeffrey. Ever since, Rudnick has had him originate roles — in 1994's The Naked Truth (a leather-clad suburban dad) and 1998's The Most Fabulous Story Ever Told (a flouncing pharaoh).
But Mr. Charles, Currently of Palm Beach is their crowning collaboration, and this is its third New York coming. It debuted in an evening of one-act plays at Ensemble Studio Theatre in 1998, then resurfaced in 2001 as one third of Rudnick's Rude Entertainment for the Drama Dept. and is now one quarter of his current bill of fare at Lincoln Center.
Bartlett shares his scene with Mike Doyle, who is a long way from "Law & Order: SVU" and plays Mr. Charles' tank-topped "ward," Shane. Splitting the other scenes are Linda Lavin (as a Long Island matron with at least three gay children) and Jayne Houdyshell (as an accomplished Midwestern craftswoman who competes in cake-decorating and embroidery contests).
All the above converge for the fourth play, set (is Mr. Charles making good his threat?) in a hospital maternity ward. It's the first new Mr. Charles sighting since his inception. He has bolted from exile and returned to New York — "but," says Bartlett, "he wonders what's become of it. 'It's so everywhere now. Everyone is equal and normal and happy. What kind of life is that?'" He asks this question with the emotional energy of a deflating inner tube.
Bringing Mr. Charles to the stage was an anguished delivery, Bartlett recalls. "I was just wrecked. I thought, 'Omigod! What are people going to make of this?' I thought they'd go ashen with shock. I was near tears that first day — then I went out and did it, and it was great from the get-go. What a response! I said then: It was like wall-to-wall sex!"
Modestly, he doesn't believe he has a patent on the part. "It's so brilliantly funny that you have but to read one word after the other and it pretty much works. I guess Paul does appreciate my coloring of it." He and Rudnick have a high level of simpatico going. "His work, I never have any questions about. It always seems in the right key and true to who the character is. That's certainly true of Mr. Charles. I'm honored he wrote it for me."
If you're not laughing at this euphorically funny stuff, then your agenda is showing. "Mr. Charles speaks of politically correct gay men," he points out. "I'm sure some of them are horrified, but a lot of the play talks right to them. Let's not be hopelessly homogenized."
Bartlett's "day job" — butlering for Asa Buchanan (Phil Carey) on "One Life to Live" — has gone on 17 years and helped him be a late-blooming Broadway music man at night; he's appeared in The Drowsy Chaperone (replacing Hibbert again), Beauty and the Beast and The Frogs (with the last line you'd ever expect to come out of Peter Bartlett's mouth: "Get outta town!").
It has been a long lavender line since his Broadway bow in 1969's A Patriot for Me, where he participated in a drag ball and understudied a Harvard grad, then named Tom Lee Jones. At 65, he has grown into what he grew up loving: an idiosyncratic character comic. His pets are Jack Benny and Ed Wynn, so he's an amalgam of droll deadpan and surreal excess.
Rudnick's On the Fence gave him a shot at the ghost of Paul Lynde. In Never Gonna Dance, he put priss to fuddy-duddy and came up with a fessy-duddy: "Eric Blore played that part in Swing Time originally, but, even for Eric Blore, that performance is rather tame. Then, the book writer decided to call the character Mr. Pangborn, and I was off.
"Some people thought it waaaay over the top, but I really based it on Franklin Pangborn in 'Rebecca of Sunnybrook Farm.' All those guys were great — Edward Everett Horton, Pangborn, Blore. I think Clifton Webb is terrific, too, but I'd have been better in 'Laura.'"