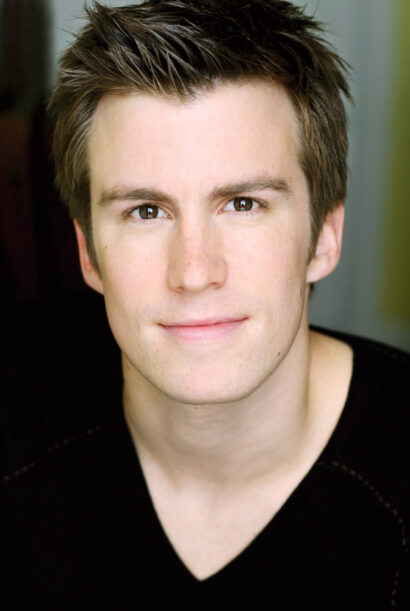 Creel made his Broadway debut as romantic lead Jimmy Smith in Thoroughly Modern Millie — which also featured Tony-winning Book of Mormon co-director and choreographer Casey Nicholaw in its cast. The performance earned Creel his first Tony Award nomination, a second would come when he starred on Broadway as Claude in the Tony-winning revival of Hair, a role he repeated in London. Playbill.com caught up with Creel as The Book of Mormon cast was preparing for their first performance in front of a Denver audience (the tour launched Aug. 14 in the Mile High City).
You're really suited for this role. I'm surprised that you weren't attached to The Book of Mormon long before the tour. Did you ever workshop the show?
Gavin Creel: No. Truthfully, I auditioned for it 100 years ago when there were different directors. I went in just once, and nothing came of it. It was just something that never came up for me, and when they were auditioning for the Broadway company for this part, I think I was in Hair at the time, so I was busy. But one of the greatest human beings on the planet ended up getting the part, so I was pretty proud of him.
Was Elder Price a role you wanted? Were you really hungry to take on this part?
GC: No, actually, I was blown away by my friend. Andrew [Rannells] is one of my close friends, and I love him. I was blown away by Josh [Gad] and him, and Nikki [James] and Rory [O'Malley] and the whole cast. When I first came to the city, one of the workshops I did was Hairspray, and I remember going to the invited dress rehearsal of Hairspray. It was my first time as a young professional actor, watching all the actors on stage and thinking, "I know everyone on the stage! This is so weird. I'm not able to watch the show because I'm just staring at all my friends. I'm so proud," and I felt the same way when I saw [The Book of Mormon] in previews. Andrew got us tickets in March 2011. There was no recording. We had no idea what was coming up. I just sat there and was blown away. I never even thought it was something that I would do. I didn't really want to go on a tour, and I was intimidated by it because it was a crazy part, and Andrew was so genius in it.



photo by Joan Marcus
And then I met with Casey Nicholaw, and he's an old friend. His last Broadway show as an actor was my first. We did
Thoroughly Modern Millie
together, and I've been a friend with him for ten years. I just love him, and he sat me down at a bar and was like, "Look, here's the script. Read it, and let's talk about it." And, I read it without any stage directions. He just gave me the lines, and I read the whole thing, and I was still kind of scared, but I thought, "I can do this, and I can do my own thing with it." And, one thing led to another, and here I am.
You mentioned you're close with Andrew Rannells who originated the role. Did you have to work to get his voice — or his take on the role — out of your head?
GC: Thankfully, I didn't. I didn't because I saw it in previews, and like I said, I wasn't watching the show. I was just thinking, "Oh my gosh. Look at all my friends, who are amazing! They just said 'fuck'! Oh my gosh!" [Laughs.] You know? I only saw the show twice, and I saw it with my sister the second time. And, that was like riding a rollercoaster that you've ridden 900 times, but the person you're sitting next to has never ridden it, and you're staring at her the whole time. And, I'm saying, "Do you like it?! Isn't it amazing?" So I really wasn't examining, and I wasn't watching the piece thinking I'd ever do it. I was just watching my friends. Even that said, he's so specific and singular and brilliant that when I read the script — when I was thinking about doing it — I could hear him. And, I was worried about that because I thought, "Oh gosh, I don't want to be imitating him." And, I know him so well and what makes him great is that he brings himself to the part. There were parts of the show where I was the only person laughing in the theatre — out loud — because I thought, "That's Andrew! He does that when we're at dinner!" It's him. So it was a bit of that at the beginning, but then I realized it's a genius part, it's a genius show, and I'm honored to be the first person to play it in the country, outside of New York. It's a complete honor.



Photo by Joseph Marzullo/WENN
The Book of Mormon is a perfect comedy-machine. There's no fat on it. They don't have to stunt cast the show to sell tickets. What has it been like working in the room with all the writers and the original creative team who are taking a second crack at it?
GC: A lot of times with a tour, the associates will set the show with the cast — and the associates we have are unbelievable. But we have the luxury of having all of them and the creative team there, so we can expedite. We worked so fast because we had everybody in the room learning and working. The associates were able to set while Casey was able to work too. We could work three different parts of the show at once, and then Trey [Parker] would come in. We were getting so much done. That said, It's the Broadway show. It's Broadway caliber of performers, of course, and then [scenic designer] Scott Pask is here and [lighting designer] Brian MacDevitt is here, and [sound designer] Brian Ronan is here. It's like basically staging the Broadway show in Denver. We did a a run-through for the original Broadway company in New York and the comment I got from so many of the Broadway cast was, "Oh my God. You've made it your own." And I said, "Really? I feel like I'm saying the lines and walking around." [Laughs.] But I think what that is is just being yourself. Like what Andrew did, that's what made it so singular. I hope I'm able to get even just a fraction of that by bringing what I do and who I am as honestly as I can to play the part, so it's fun. It's a challenge as an actor, and I'm up for it.
Are there things that Trey or Casey have said to you that have been key or elemental to making these characters or The Book of Mormon work?
GC: What I'm surprised and delighted by is Casey and Trey are always about the honest choice. There was one day where we were in rehearsal, and Trey just looked to me, and he goes, "You know the part where you say, 'But we're men now. We're worthy.' And, [Trey asked me], "Worthy of what?" And, I said, "Of everything that had been promised in the afterlife." And, he said, "Gavin, you look out and you see it, and it's just so real. You want it." And, I thought, "This dude is all about the story." And, you think Trey Parker being from "South Park" is going to be about punchlines and gags and whatever. But it's always about heart, and it's always about honesty, let it be funny. Let the fat-free machine of the script and the lines be funny. Just me standing there with the pompadour haircut and these rosy cheeks and this square jaw and this fantastic outfit next to Jared Gertner, who is brilliant in this part. Josh Gad was incredible, and I loved him. Jared is completely different and completely heartwarming and incredible. And, he keeps growing. We're growing together. We're forming this great bond and this team. I'm so grateful that he's out here, and just by me standing with the costume and him with the costume and looking the way he looks. He's so much shorter than me, so he makes jokes like he's screaming up to my face because I'm so tall, and my hair is even taller. But just him doing just that — 90 percent of the work is done.



photo by Joan Marcus
I loved the show. I haven't met anyone who hasn't loved The Book of Mormon. But it really does push some boundaries as far as comedy goes. A standup comedian can't get away with a certain joke that something like The Book of Mormon can. Do you ever have a moment where you think, "Oh my God, we're doing this?"
GC: Well, as far as I'm concerned — selfishly speaking — my character, my journey and what I'm responsible for communicating to the audience, I'm sort of the safest character of all of them because I am virtuous, and I believe, and I do not curse, so I don't have the challenge. I ask the [actors playing the] Ugandan characters, "How hard is it to sing that one song?" And, they said, "It's hard, but I'm an actor, and I'm playing a part." And, the difference between Tracy Morgan standing on stage and saying something off-color, to me, is the framework. Tina Fey writes crazy off-color, racist, hilarious stuff for "30 Rock," but it's always funny because you're in this almost two-dimensional world where there's Jenna Maroney and these over-the-top characters. That's the framework. With
The Book of Mormon
's musical framework, we're completely distanced. We're in this high-haircut and rosy-cheek world, and we're saying, "Fuck yeah!" [Laughs.] I think the dichotomy of the two worlds makes it tolerable, whereas when it's just a guy standing there with a microphone, you're offended by him because it sounds like his views. That aside, anybody who has a problem with a song or a word, I say, "It's a musical. They're not just getting up and singing one song, and then that's the end of it." That one song at the beginning that shocks the hell out of people has a journey and a resolution, and at the end we say "Maha Naibu Eebowai," which is "Thank you, God" in the bows.
So in a beautiful way, it's like we say it with all with honesty and reverence. It shocks people into thinking, "Oh my gosh, I had no idea that I was going to be so moved — so provoked." It makes them think, "Well, how do I feel about this?" and "Gosh, I had no idea that is going on in Africa," and I say, "It is, and it's in a musical comedy, and you've got to deal with it." George Clooney can say, "You guys, Darfur. Darfur. Darfur. What the hell is going on in Africa? We have got to do something about the genocide." But for some reason, you can go see a musical comedy that's written by the writers of "South Park" — and, yeah, you might be laughing — but what they're talking about is really happening in Africa today, and I've seen people leave, and they think, "My gosh, I should want to get involved or think about what's going on there." That's the political side of me getting fired up.
Speaking of your political side. You're actively involved in Broadway Impact, which is helping get Dustin Lance Black's Proposition 8 gay-marriage play 8 produced around the country. Do you think that you might do a reading of 8 while you're on the road? You're going to be in so many cities.
GC: Jenny Kanelos is our executive director of Broadway Impact now, and she runs the organization full time. She's got over 200 performances in this year all over the country. It's literally being done everywhere. So if we intersect, if I find I'm in a city, and they're staging it, I might go do a talkback or go see it or support or talk to the students before they do the show or something. But it's a machine now that is running, and what's amazing is that it's really affecting people. She keeps telling me stories about people who tell her, "I'm getting involved. I saw 8, and I didn't know. I want to know the progress of the court cases." And, the exciting thing is we'll know by September or October at the latest — whether or not the Supreme Court is going to hear the case, and if they do hear it, they'll hear it by June, and we'll know whether or not they'll rule in favor or rule against by June. So we'll know this year.



Photo by Monica Simoes
What are you looking forward to on tour? You have your dog Wally with you, right?
GC: I do! I'm excited about San Francisco — really excited. I've never been, and I'm excited to have five weeks there and explore. I think L.A. is going to be really fun — we'll be there for a few months. I'm really excited about going to Portland, I've always wanted to go to Portland, Oregon, and explore the town. I'm also excited to go back to Detroit, even though everyone on the tour said, "Uh. Detroit." My best friend, Celia Keenan-Bolger, is a Detroit native, and she said, "No. I don't accept that. I'm going to put together a little packet, and people are going to go where I tell them." So she's going to come out and tell us where to go.
Any must-haves that you can't live without on the tour?
GC: I can't live without my music player. I have to be able to have music at all times — to shower to, to listen to, to warm up, to dance. I also can't live without my steamer. I bought it in London because it's a Dr. Nelson steamer, and it's something that just gives me comfort. I don't always use it, but I just like knowing it's there. [Laughs.] I'm pretty easy. I can't live without Wally. He's making the tour not feel like a tour because, you know, I have to go home and walk him, and we get up in the morning, and I just put the leash on him, and we head in a different direction. I'm thinking, "I don't know this city, so we'll walk this way now." And, I found all kinds of stuff — an art museum and an aquarium and a park and flower gardens. And then we go out, and the next morning we head the other direction. He's my tour companion.
You're also a songwriter. Does being on the road and changing up your environment inspire you to write?
GC: Yeah. Absolutely. When I have a different environment, I start thinking about different things and writing different stuff. My hope this year, that I'm trying to hold myself to, is to keep collaborating with Robbie Roth and Jonathan Bernstein. We're really going to try and dig in and write this musical we've been working on. We won't always all be together. It's an opportunity for me to get out of New York and the distractions of New York, and once we open the show and I have my days free, I can sit and start. I bought a keyboard, and I'll be able to record stuff and write lyrics and get back to the book and stuff. That's the goal.