*
Just Another Day (On Broadway, With My Wife)
Lots of folks might love their spouses very much but not relish the idea of working with them each day at their job. For Jason Danieley, the chance to work with his wife Marin Mazzie on a Broadway show has been pure bliss. The couple recently joined the cast of Next to Normal as the dysfunctional heads of a family trying its best not to implode. Danieley spoke with me about what it has meant both personally and professionally to spend evenings onstage with his wife — who plays his character's wife. (You'll also learn the correct pronunciation of his name by way of a limerick composed by David Hyde-Pierce.)
How is your Next to Normal life going?
It's been going great. We're about four weeks into our run. It's challenging and exciting. It is a lot of fun to play with this company, particularly the leading lady. [Laughs.]
Do you find you and Marin bring work home with you at all?
Depends on the day. We don't bring home any of the issues of the complexity of what our characters Dan and Diana go through, but we do have the luxury of bringing work home to a certain extent. With the short rehearsal period that you have going into a show that's already running, the more time you have to work, the better, so while we were rehearsing with [director] Michael Greif at the theatre, we would come home and either not talk about the show at all or go, "Hey, I discovered this today," or "I was thinking, when we did this…what do you think about that?" We were able to continue our dialogue at home and then come to work having done homework as opposed to thinking about it, coming back and then seeing your leading lady and going, "Hey last night I was thinking about this scene…" That really shortened up the rehearsal period a bit. It would seem that working with someone you know so well would make it easier in some ways for you to access certain emotions.
Oh, absolutely. I haven't experienced anything like this in a role with another actress. It's very unique. It's so much easier to get to that emotional point that I need to be at because it is Marin. When she sings, "So Anyway," and is getting ready to walk out the door, all I have to do is just watch her say that she's leaving and walk off the stage, and it's enough to crumble any sort of emotional wall I might have. It makes you very vulnerable, but it is exciting because you're able to be in the moment for every moment of the show. I just let her say her lines and the emotions flow.
From a purely romantic standpoint, how nice is it working alongside Marin?
It's a dream come true. We met doing a play Off-Broadway 14 years ago. We have worked together since. We did 110 in the Shade and Brigadoon, so we've been onstage together and knew our work sensibility was great. But to do it on Broadway with your names above the title and to walk into the stage door together, to walk out of the stage door together, to do something that touches so many people so deeply, it's a very personal and joyful experience. To share it together, it just doesn't get any better. I have to say this is going to be a hard act to follow from here on out. [Laughs.]



photo by Joan Marcus
Your character, Dan, he's doing his best to hold his family together. Do you think of him as optimistic or a little in denial?
I think he has an optimistic streak, but I think he's just trying very hard to make things work. He doesn't have any of the pharmaceuticals that Diana has to help her get through. At the top of the show, after 18 years of marriage, he's starting to crumble under the pressure of "Oh my gosh, she's having another breakdown. How am I going to handle this one?" And [his daughter] Natalie's becoming a young woman and is she going to be scarred by the way we're all functioning as a dysfunctional family? I think he's feeling the pressure and trying to make the best he can of it. His way of making the best of it, as a lot of people do — I've seen it, being from the Midwest — is he suppresses the issues as opposed to looking them in the face. I think he's an optimistic delusional.
Which was harder for you when going into this show: the emotional component of feeling out the character, or the practical stuff like knowing where you had to be at each instant and learning all the material?
It was a little bit of both because a lot of the time, when you are being put into a show that already exists, you don't have a lot of freedom by way of, "You know, I'd like to sit during this part." Your light is in a certain spot, so that's where you're going to deliver the song. Sometimes that can be restrictive. There is a bit of a disconnect between the logistics and the emotional journey. I think that's where working with Marin helped. For the emotional stuff, all I had to do was stand in that light and turn to her and say the lines. We anticipated that our relationship would condense the journey you have as an actor with another actor where you have to come up with a relationship, and it really did.
That set you are on, the big scaffold-platform, it looks kind of simple, but is that deceptive? It looks like you could fall off pretty easily.
[Laughs.] Very perceptive! I mean, especially on the second level, when the set panels are centered, it gets pretty narrow up there. I have broad shoulders and sometimes when I turn sideways, my shoulders hang over the edge, so it has that kind of deceptiveness. When I watched the show [from the audience], I thought the set looked big. On the stage, it feels a lot smaller. [Laughs.] Fortunately, I'm not turning pirouettes up there.
How has it been joining the stalwarts of the cast? Louis Hobson, for instance, doesn't get enough credit for the job he does in multiple roles.
He's fantastic. The whole company has been nothing short of warm and embracing. We really felt like we were brought into a family. There was no questioning or second-guessing. It was just a big welcome mat. Something astounding about this company, every one of them, Louis, Adam [Chanler-Berat], Kyle Dean [Massey], they are so giving onstage and never said, "Well this is where the actor that was here before stood." Or, "This is what they gave me, so this is what I want you to give me." We came in with Meghann Fahy, who plays our daughter; the three of us went in at the same time, so we had a family dynamic that Michael Greif allowed us to cultivate. He said, "It's a brand new cast, so come up with your own thing." And Kyle Dean and Adam and Louis saw that, took it, and ran with it. You can do anything on that stage with them and they are ready to go, it's really acting at its easiest.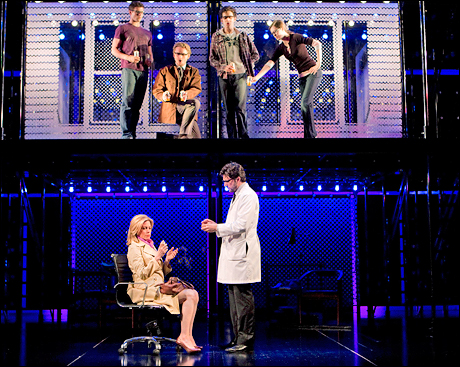 photo by Joan Marcus



photo by Joan Marcus
What is the origin of the Danieley name?
Danieley is Irish. Probably from the north of Ireland. Pronunciation-wise, everyone wants to make me Italian. But when I did
Curtains
with David Hyde Pierce, he wrote me an off-color limerick, including probably the only three rhymes for Danieley in the English language, "annually," "manually," and "cocker spanielly."
You grew up in St. Louis. What got you involved in theatre?
I started singing when I was four. My dad is a Southern Baptist preacher. My mother played the organ at church and my grandmother played the piano, so I come from a very musical family. My family had a band when I was growing up. It was grandparents and uncles and parents playing their instruments and singing, and I would sing at church from the age of four. I was really just singing until high school. Like a lot of people, I got the bug in high school. Got the lead as a freshman, then I said, "Hmm, this is fun, and the girl-to-guy ratio is pretty fantastic, so let's explore this a little bit." [Laughs.] I really wasn't sure about going into musical theatre until later in high school. I was always singing professionally, like with the St. Louis Symphony on a riverboat or at Six Flags, things like that. I think I get the musical influence from my mom and the theatrical from my preacher dad.
You had your Broadway breakthrough in The Full Monty. How do you look back on that?
It was a fantastic experience. Another great company of people, specifically the six core guys. We were so close and they were such extraordinary actors as well. You could do anything you wanted onstage. It was such a great book and a great score, it was very thrilling to be a part of that.
What can you tell me about your band, the Frontier Heroes?
The band is based on my family band growing up. I call it "back porch Americana" only because it is very eclectic, and I don't think there is a real category for it. Basically any kind of American popular music. Old-time music like Stephen Foster, to country, to blues, to jazz standards to Broadway. We'll do some country, and we'll do Sammy Cahn and Jimmy Van Heusen and Stevie Wonder. Anything and everything that is American popular music, but done in a homespun, back porch, St. Louis kind of feel where there's a piano and bass and fiddle and mandolin and guitar. We've been playing for a few years now at Joe's Pub, and Birdland and Feinstein's... It's great because the way I heard Broadway music for the first time was piano and a banjo and a washtub bass. There's something really kind of wonderful to hear music stripped down to this Americana roots sound. We're starting a once-a-month gig, we'll be at a theatre called 45 Bleecker which is down on Bleecker and Lafayette. One day a month, we'll come down after our stage shows and do an hour-and-a-half set, get the music out there a little more.
One other side benefit of being in the show with Marin, I imagine, is — for a change — you aren't missing each other's performances.
Usually, the way it has kind of worked out so far [in prior shows], either I'm in rehearsal, so I can see a preview of hers, or vice versa. Definitely we're always at each other's opening nights, whether we're in another show or not. We try and get that in our contracts. When I had an opening night in Curtains, she got a night off from Spamalot to be there for me. But one great thing with this show, we don't have to come home and relive what happened in our day. When she was doing Kiss Me, Kate and I was doing Monty, we'd come home and I'd say, "John Conlee did this tonight. It was fantastic!" And she'd say, "Oh, Brian Stokes Mitchell did this…" you know, we'd relive our whole evening and it was kind of exhausting. With this show we go, "Oh. You were there, so I don't have to tell you anything." [Laughs.] "Pass the red wine please."
PS Classics recordings featuring Jason Danieley ("Opposite You" with Marin Mazzie, and "Jason Danieley and the Frontier Heroes") are available for sale at PlaybillStore.com. [Next to Normal is at The Booth Theatre, 222 W. 45th Street. Go to www.nexttonormal.com for details.]
*
Inspirational, Muppetational
If you were like me as a kid, "The Muppet Show" was a big influence on your appreciation of musical theatre. The pseudo-theatrical elements including the heckling from the audience by Statler and Waldorf and the backstage dressing-room dramas Kermit was always trying to manage, combined with the show's creative musical numbers to make each episode a standalone entertainment. On Aug. 8, we lost the show's real-life bandleader, Jack Parnell to cancer at the age of 87. The British jazz drummer led the great grab-bag of music on the show for the five-year run. Parnell likely honed his sense of eclecticism overseeing music for "Sunday Night at the London Palladium," which ran on British TV in the '50s and '60s. Parnell also played in Ted Heath's jazz band, and produced TV variety specials for Barbra Streisand and Tom Jones. It would be hard to quantify how much music Parnell turned the world onto, but watch any "Muppet Show" DVD and be astounded by the breadth and quality in each episode.
(Tom Nondorf can be reached at [email protected])