*
Imagine being in a college acting program, sitting up at nights with your roommate and dreaming what could happen after graduation. Wouldn't it be great if you both came to New York and became working actors? Maybe fate would have it that you both got roles as replacements in the same show, then later, you are randomly cast again in another show, one of the most buzzed-about musicals in recent times; the show becomes a massive hit and both of you are even nominated for Tony Awards. O.K., maybe that's getting carried away...
Unless you are The Book of Mormon's Josh Gad and Rory O'Malley, former college roommates at Carnegie Mellon University. This is exactly what happened to them — and it's far beyond what their wildest imaginations ever would have allowed. They first shared the Broadway stage together in The 25th Annual Putnam County Spelling Bee, and now, with The Book of Mormon, they are sharing the stage and 2011 Tony nominations (Gad for Best Actor, O'Malley for Best Featured Actor). Also Tony-nominated are their co-stars Andrew Rannells (Best Actor) and Nikki M. James (Best Featured Actress) and just about everyone else on the show's creative team.
IN GAD WE TRUST
Josh Gad is the ne'er-do-well Elder Cunningham, the lovable loser Mormon missionary with a pathological lying streak who stands little chance to win converts next to Rannells' über-Mormon Elder Price. In reality, Gad is an actor already tapped into success. Rory O'Malley claims that post-Carnegie Mellon, he was so sure of Gad's talent, he looked to him as a gauge. If gifted Gad wasn't working in the biz, then O'Malley didn't feel bad about his own chances. Sure enough, the Florida-born Gad's become a rising force — as a correspondent on "The Daily Show," in the film "Love and Other Drugs" and, in Book of Mormon, delivering the type of physical comedy that energizes the whole theatre. A week away from the Tonys, how are you feeling?
I am feeling blessed, is what I'm feeling. It's just craziness. I've never experienced anything like it. I know most of my co-stars haven't. We're all pretty much in shock and awe right now and enormously grateful that we get to come on for the ride.
As you were getting a sense of the show during rehearsals and pre-production, were you on the fence as to how it would go over, or did you know this is going to kick ass — that everyone was going to love it?
Certainly the first time I heard "Hasa Diga Eebowai" out of context, I said whoa, this is going to be an interesting experiment that could result in gunfire. But it immediately became clear to me after the first reading that what [creators] Trey [Parker] and Matt [Stone] and Bobby [Lopez] had accomplished was nothing short of extraordinary and that there would be an audience. I never anticipated that it would be this big, but I did believe in it at that point.
It's fun to look around the audience and see old people, young people, different kinds of people. Could you have ever imagined this type of show bringing people together and filling the house?
That's the thing I've been enormously and pleasantly surprised by — the demographic embrace of this show across the board. Young and old, everybody's finding something about it…that kind of speaks to them.
Congratulations on the Tony nomination for Best Actor in a Leading Role.
Thanks. It's really, really remarkable. It's pretty damn cool. I feel like it really gives me a bit more weight at home now, so I have more of a say with my wife. That's the nicest part about it.
"The Tony nominee wants chicken for dinner."
Yeah, or she says, "I thought I told you to clean the kitchen." I say, "I thought I told you I was a Tony nominee."



photo by Joseph Marzullo/WENN
In a March Playbill Cue & A column, you said one thing people would be surprised to know about you is that you are a father. Why do you think that is surprising to people?
Because I'm such a hot, young bachelor kind of guy that you would expect to be single and available for all the beautiful women out there... No, I just figured that people would be surprised that I'm a dad because I think they think I'm younger than I am and schlumpier and probably less responsible than I am, which is all partly true. But, I have a kid who is remarkably cool and the greatest thing ever.
Did you and your wife meet in the biz, in a cute way?
We did, we met during a production of All in the Timing by David Ives in a black box theatre in Los Angeles. We played husband and wife, Mr. and Mrs. Trotsky, and we fell in love with each other.
Your first-act closer in The Book of Mormon, "Man Up," requires vocal gymnastics and physical energy. Is that a tough one to prepare for?
It is, by virtue of the kind of rock nature of the song. It's definitely difficult material, and it can easily thrash your voice if you're not prepared.
Your character comes up with various names for your romantic interest, Nabalungi [played by Nikki M. James], calling her every name except that one. Are you allowed to improvise?
They give me incredible freedom, and it's been amazing. I have had so, so, so many creative opportunities to explore different names for her. Generally they let me get away with it, but I called her "Nathan Lane" once, and that didn't go over too well.
What were Parker and Stone like to work with?
For me, these are two of the top five working comedy people in the business right now. I grew up so in awe of what they did with "South Park" and "Team America." But to actually collaborate with them from the get-go was one of those experiences that you can never fully prepare for. It's truly been a master class of comedy. They are so good at what they do, and the frustrating part is how easy it comes to them. They will spit this stuff out so fast. Bobby Lopez does too. The three of them are at the top of their game.
What did Carnegie Mellon mean to you as a training ground?
Carnegie is, it goes without staying, one of the best conservatories in the nation, but for me, it was a place to not only grow as an actor and a person, but create incredible relationships that stand well beyond my four years at the school. One of which is my fellow Tony nominee and freshman-year-through-senior roommate, Rory O'Malley. We've known each other now for over ten years. We've been on Broadway before together, and now to be able to do this together and both celebrate with nominations is a pretty damn cool exercise.



photo by Joseph Marzullo/WENN
I am speaking to him next, so I was going to ask you for a good Rory O'Malley story.
Well, there was a day in freshman year of college when he and I had just become roommates. He had had issues with his former roommate, so he asked to move in with me and I said O.K. Early on during that process, we got back from a raging party, and I went to sleep and I woke up and I had this body hanging on top of me. He had fallen asleep standing up, on me. I was like, "This is going to be a long four years." I had to pick him up and take him back to his bed and then lecture him the next morning that it was not O.K. to fall asleep vertically on your roommate.
Now, you know he's going to get asked a story about you, so I don't know if you want to anticipate in advance what that might be.
No, I think I know what it is, but we'll see how vicious he can be.
What about Andrew Rannells, such a great foil for you in the show? He joined the cast later in the developmental process.
Yes, Andrew came on at the last minute. He was the very final piece of the puzzle, and for the three-plus years that we've been doing it, we had great Elder Prices along the way, but none of them had that extra thing that Trey, Matt and Bobby knew that they needed. The character just kept coming off as cocky and arrogant without much redemption, and a lot of that was the writing, but a good amount of it was finding the right person to fit that character. In walks this guy that hadn't had much of a résumé at that point, and I remember they brought him out to do a "chemistry read" with me in L.A., and I remember just being so blown away by him, and intimidated. And I was like, "This is the guy." Apparently I have good taste because that's the guy that they hired. It's been such an unbelievable, unbelievable experience to be able to work alongside him. We really are playing two sides of one coin, and I could not do what I do without him.
Unlike Rory, you and Andrew are nominated in the same category. Is it competitive between you guys at all, or just fun?
No, at this point, it's so, so fun. The big thing was getting [to Broadway], and anything after this is just icing on the cake. The fact that I'm even nominated alongside him is so incredible to me. I'm so unbelievably grateful to be included with all these remarkable people I look up to and admire the hell out of. It's going to be a fun night. I'm bringing my wife, and my parents are coming. It's going to be fun to sit back and relax and enjoy that show that I've watched for all these years on TV.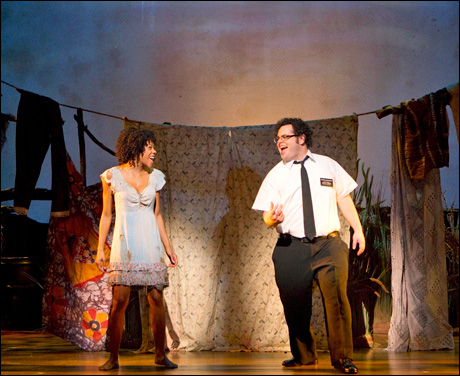 photo by Joan Marcus



photo by Joseph Marzullo/WENN
A BROADWAY IMPACT
It's easy to see why Rory O'Malley is such a fit as the passionate Mormon mission leader Elder McKinley. He's friendly and ingratiating, as missionaries need to be, but he also has a missionary's zeal when it comes to off-stage issues that he believes in. The Cleveland-born O'Malley helped found the marriage equality group Broadway Impact (broadwayimpact.com) with Jenny Kanelos and fellow Ohioan Gavin Creel.
With Gad and Rannells' playing the over-the-top, high-energy leading men, it's hard to imagine how a supporting actor could have much room to be noticed, much less shine — but O'Malley's comically repressed Elder McKinley is quirky, endearing and unforgettable.
Aside from Broadway's Spelling Bee, for which he was a triple understudy, O'Malley was seen regionally as Richie Cunningham in the Happy Days musical. His acting epiphany, he tells us, came when he played Joseph in a school Nativity play, in second grade. Now he's making headlines in another religious play. Read all about.
This must be somewhat of a magical time for you, yes?
Yes, that is definitely the best way to put it. It's unreal.
When you first read through the show, were you like, "this could be huge," or were you like, "this could be the last I'm ever heard of"? I knew it was going to be awesome. I was such a huge fan of Bobby Lopez, Matt and Trey for their previous work with "South Park" and Avenue Q. I'd do anything that they would write. I think they are just totally satirical geniuses. Getting to read that first draft, which was probably just about one act — my character didn't even exist at that point — was so amazing. It was exciting to think, "Are people actually thinking about doing something this cool on Broadway?" How did you relate to Elder McKinley as that character began to develop?
On so many levels: one being the fact that I was in the closet and came out when I was 19, and being raised Catholic — that was certainly a factor. Getting to sing and dance in a tap number about being openly closeted ["Turn It Off"] is the most cathartic experience ever. Taking something that could be so sad and turning it into a happy, joyous and free musical number on Broadway is about as cool as it gets. It's amazing. I count myself very lucky because I certainly was not as tortured as Elder McKinley obviously is. Once I knew who I was, I felt safe and embraced by my family and friends to live my truth and be who I was freely. I didn't feel any need to turn it off. That to me is a very sad part because I think there are so many McKinleys out there who have a beautiful face and love their religion and don't want to be hurt because of who they are.
It's totally thrilling…getting to meet other people of faith — especially Mormons who are gay who have gone through that [closeted] experience — at the stage door and hear them say, "Oh you got it. You nailed it," and, "That's exactly how it was for me on my mission." That is a total honor to hear people say that. I think that for them to get to sit through a huge Broadway tap number that is talking about it but making them laugh is part of the healing. It certainly is for me. It's looking back on a time that was difficult for me and sad and getting to laugh about it. Laughter is the best medicine. That's a phrase for a reason.



photo by Joseph Marzullo/WENN
A Tony nomination for Best Actor in a Featured Role has come your way. What went through your head when that happened? Did your mind explode?
It did, yeah. I was listening to all my friends and colleagues get their well-deserved Tony nominations and they read my name and my brain went dead. I could not believe it. This has been a three-year period where my part has come together line by line. To have this be the end result is just so insane to me. I'm just thrilled. Watching the Tonys was how you get to see Broadway shows when you grew up in Cleveland, and to get to actually be at the Tonys as a nominee is a dream come true that I will never, ever forget.
You and Josh: college roommates and now in shows together. Why can't you seem to separate?
[Laughs.] It's like some great big cosmic joke. It was hilarious when we were in Spelling Bee together, but to be in this show together for all three years [of its development]... We found out that we were in the show together when we got an email the first day. For that to be the case is insane. And to be nominated for a Tony together! Our moms are going to be sitting next to each other at the Tony Awards. To be able to share a moment like this and have somebody who knows exactly what you're going through and to be able to talk about it with them, what an amazing thing! It's like, is this a coincidence, or is the universe really responsible for this?
Which do you think?
It's funny that our show is about faith. I think that I've certainly had faith in Josh. Josh, I just always knew was going to be a huge, big deal. I always knew that he is a comedic genius and it was just a matter of time. I was in his wedding — I respect him so much for his talent and who he is, and he drives me insane, don't get me wrong. We've been together at the hip basically for 12 years. We joke that we're also like an old, married couple. It's such a damn gift to get to have a friend be with you in these moments.
That's amazing and heartwarming. Could you have foreseen this?
No, that's what is so crazy. I think that if I sat down and said, "Let's plot out our wildest dreams, when we were in freshman year of college in a little room in Hamerschlag dorm, I don't think that we would have come up with how great this is. First of all, neither of us was in the musical theatre program, so the fact that we're in a big musical is pretty crazy. I ended up getting into the musical theatre program because Josh Groban dropped out and became a big superstar. Josh [Gad], he never was in it. He would just sing on the side. He's just such a great talent that he and I are truly blessed to have this happen.



photo by Joseph Marzullo/WENN
Speaking to him, of course I had to get a story about you from the old days. It ended up with you falling asleep standing up on top of him.
Oh, good. He brought that out. That's really sweet. [Laughs.] I love that I find this out now after I've been so sweet in this interview. He goes right for the jugular. I was so nice, saying all these nice things... Yes, that is true. He woke up and I was passed out, lying on the end of his bed, while I was standing up. I don't know how that happened.
I did tell him that you would be given a chance to rebut, and he seemed to already know what story you would tell.
I'm not going to go full on and tell every detail of this story, but senior year, we had our big showcase for the whole school where it's like a tradition where you make fun of the teachers. He was supposed to make an entrance as the teacher, and he fell down the stairs in front of our entire school because he had just drank a whole bottle of vodka. Josh does not drink. He is not somebody who should be drinking like that. So, yeah. And then, we had to — I'm so glad that I get to tell you this — do one part where people make fun of each other and it's like a roast, if you will. Then we have a sweet moment when we light a candle for every single person who is, or was, in our class. We get to Josh Groban, and we light the candle. We're all friends still, and we still talk to Josh. So we light the candle for Josh Groban, and Josh Gad, still drunk, runs up to the candles and blows all of them out, and goes, "Who the hell is Josh Groban?!" Yeah, that pretty much ended the sweet moment. [Laughs].
Wonderful. Thank you for that! Finally, what is it that pushed you to this point in your career?
It was the passion. I just recently put all of my family's VHS tapes on DVD. I watched a performance of me, eight years old, playing St. Joseph. The dedication and seriousness in my face, I don't think I've matched that since in my career. How important that performance was to me and what it meant to me. Our lines were being read offstage by other kids in our class. We were just doing the motions. I memorized every single line and mouthed all the words as my counterpart would read the lines, because there was no way he was going to take those lines from me. I had to keep my hands together in the prayer positions. I saw at the end of this tape me blowing on my hands because I don't want to move them, but they must have been incredibly sweaty and pressed together for the full 20 minutes of this Nativity play. That's passion. That is the greatest gift you can be given. I realize now that being given a dream to pursue is the greatest gift you can ever be given. So if you don't go for it, you are truly wasting a gift from God. It's not the talent, it's that drive. A lot of people have talent. A lot of people half-ass a lot of things. Being given that passion is so important. I had a lot of auditions I didn't get, and a lot of unemployment moments. That feeling that I had in second grade, that is what has helped me through. To me, it is glorious that I get to be a part of this show. To me, it is holy theatre. It's original, it's groundbreaking and it's joyous. If I don't get to do anything else ever again, I will be so proud of the fact that I was able to be a part of this because it's a dream come true.
(Look for more Mormon coverage in Playbill Leading Men columns in the coming weeks. Tom Nondorf can be reached at [email protected].)