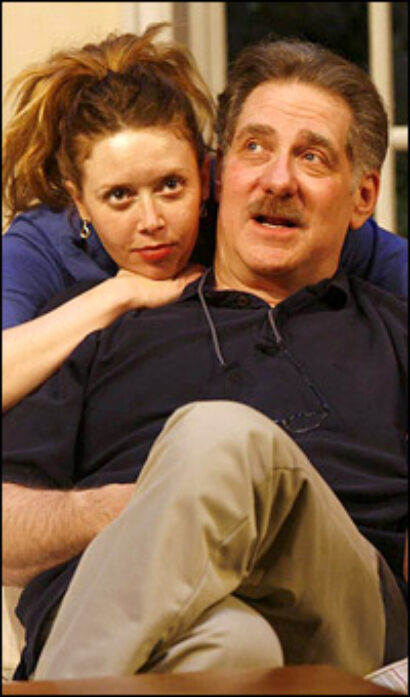 Artistic director Scott Elliott stages the Leigh work, which began performances Jan. 15 at Theatre Row's Acorn Theatre for a run through March 8. Set in suburban London (2004-2005), Two Thousand Years centers on "an assimilated Jewish family [whose] quiet life gets turned upside down when their son becomes seriously devout," according to press notes.
Lyonne is featured as daughter Tammy opposite Laura Esterman (Marvin's Room, Terrorism) as matriarch Rachel and Richard Masur (Democracy) as father Danny. Jordan Gelber (Avenue Q) plays the newly-religious son Josh who finds himself at odds with his grandfather, Merwin Goldsmith (Me and My Girl). David Cale (Floyd and Clea), Yuval Boim and Cindy Katz (Well) round out the ensemble.
The design team includes Derek McLane (set), Mimi O'Donnell (costume), Jason Lyons (lighting) and Ken Travis (sound). The production also features original music by the band The Klezmatics ("Wonder Wheel" - 2006 Grammy Award for Best Contemporary World Music Album). Stephen Gabis served as dialect coach.
Known for her film work in "Slums of Beverly Hills," "American Pie," and "But I'm a Cheerleader," Lyonne also co-starred in Charles Busch's "Die Mommie Die." Other credits include "Goyband," "Party Monster," "Kate & Leopold," "Detroit Rock City" and "Pee-Wee's Playhouse."
Director Elliott continues his collaboration with the work of playwright Leigh following his New Group stagings of Abigail's Party, Smelling a Rat, Goose-Pimples and Ecstasy. Two Thousand Years was previously seen in 2005 at London's National Theatre.
Tickets to Two Thousand Years at Theatre Row, 410 West 42nd Street (between Ninth and Tenth Ave.), are available by calling (212) 279-4200. For more information visit thenewgroup.org.