In February Playbill announced the return and reinvention of its underground theatrical tradition, the Spelvin Luncheon. Created in 1966 by former Playbill editor Leo Lerman, these luncheons allowed members of the theatre industry and surrounding disciplines to get together with actors, writers, directors, designers and other creatives and break bread, indulge in a glass of wine (or three), and share their candid and honest views on art in an open air forum free from the prying eyes of the press or nosey marketers. Frequent guests included Truman Capote, Tennessee Williams, Elaine Stritch and many more.
Playbill reinvents the wheel with The Spelvin Society, which offers theatregoers a unique night out on the town. The evening begins with dinner at a local restaurant, a preview performance of a current Broadway production and ends with a post-performance talkback and nightcap. Learn more about the Spelvin Society at spelvinsociety.com.
But how did Leo Lerman first arrive at the name "Spelvin"? Who is Spelvin and why is he the society's namesake? The mysterious name first appeared long before these legendary luncheons began. It was discovered in an 1886 program for Karl the Peddler, a play by Charles A. Gardiner. Used to hide the identity of an actor playing multiple roles, or the secret of a character never to enter, "George Spelvin" quickly became the most-used pseudonym in American theatre.
With help from The Playbill Vault, Playbill.com readers can go back and see "George Spelvin" in dozens of classic Playbills.
Here are just a few looks at George Spelvin through the years:
In 1927 "George Spelvin" appeared as a A Poor Debtor in Pickwick by Cosmo Hamilton and Frank C. Reilly. The play, loosely based on Charles Dickens' "The Pickwick Papers," opened at the Empire Theatre. Located at Broadway and 40th Street, the Empire was demolished in 1953 to make way for an office tower.
Later in 1927, George Spelvin appeared as First Alderman in the short-lived musical Just Fancy by Joseph Stanley, Joseph Meyer, Philip Charig and Leo Robin. The musical played Broadway's Casino Theatre, which was demolished in 1930.
In a 1928 Playbill for The Command Performance, George Spelvin was once again found treading the boards as a Sergeant of Police. The comedy by C. Stafford Dickens, which ran for only 29 performances, played Broadway's long-gone Klaw Theatre, now a parking garage on 45th Street.
While the roles weren't getting any more exciting, the work was steady. Between 1927 and 1932, George Spelvin appeared in the cast lists for over 20 Broadway productions. In 1933 he "returned" to the stage as A French Gentleman in Laura and S.J. Perelman's All Good American at Henry Miller's Theatre, now home to The Stephen Sondheim Theatre.
By the year 1933, use of the name had become a tradition, and audiences were quickly picking up on the act. To continue keeping secrets from audiences, some producers playfully altered George Spelvin's name to fit the world of their production. The Players Theatre's 1933 production of They All Come to Moscow, by John Washburne and Ruth Kennll, featured "George Spelvinsky" as an O.G.P.U. Officer at Broadway's Lyceum Theatre.
Not everyone tried to hide the joke from audiences. The producers of Gertrude Berg's Me and Molly needed a pseudonym for a piano player in one short scene of the comedy. George Spelvin was waiting in the wings and played all 156 performances at Broadway's Belasco Theatre.
The roles certainly weren't exciting, but the co-stars were. Over the years, George Spelvin would share billing with Charlotte Granville, Christopher Plummer, Stella Adler, Fanny Brice, Bob Hope and many more. 1952 would bring Uta Hagen in In Any Language, along with another new name for Spelvin. "Giorgio Spelvino" was credited as playing the Second Porter.
In 1966 Leo Lerman began the Spelvin Luncheons. Always planning the luncheon around a show in previews, Lerman would invite the cast, crew and creative team for the Four D's: Dinner, Drama, Drinks and Discussion. Unfortunately, not everyone could always attend. Legendary producer and director Harold Prince was unable to join the Dec 15, 1994, luncheon celebrating Kiss of the Spider Woman. Alas, he was in rehearsals for another new musical making its debut at The Public Theater: Michael John LaChiusa's The Petrified Prince. Here's a look at his regrets.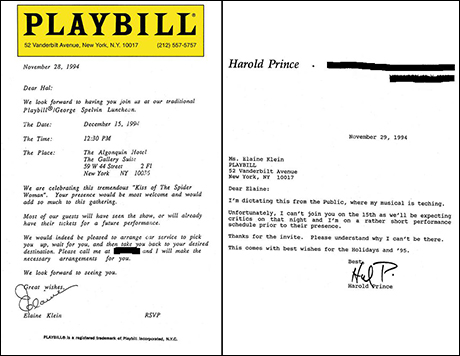 Still having fun with poor George's name, the producers of the short-lived musical Cyrano, starring Christopher Plummer, faced a tricky situation. The 1973 production required a great deal of doubling, some of which would make for difficult storytelling. They needed George, and they needed him desperately. But to help him fit in among the courtesans and counts of Cyrano, his name was quickly changed to "Georges Spelvinet." The musical closed 49 performances later.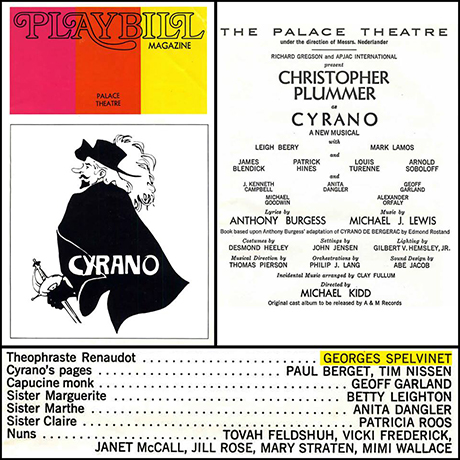 While George Spelvin's frequent appearances on Broadway have greatly diminished since his stage debut in 1886, the name will still occasionally appear in lieu of an accurate credit. A small company in Michigan credited a pit member as George Spelvin for its 2009 production of The Full Monty since he did not want his church to discover his participation in the musical about male strippers. And in 1980, 14 years after the first Spelvin Luncheon, George appeared as a Deputy and, ironically, as a Luncheon Guest in a revival of Kaufman and Hart's The Man Who Came To Dinner at Circle in the Square.