One of the worst things about my parents moving our family to California when I was five years old was that our trips back East to visit my grandparents were not always timed to see the original casts of the Broadway shows in a given season. For example, I saw Nathan Lane's replacement in Guys and Dolls and missed out on Colm Wilkinson in Les Miserables. Conversely, one of the best things about my years spent living in New York (since moving back here after college) has been the opportunity to catch so many wonderful replacement performances on Broadway.
Click through to read the list of favorite star replacements.
photo by Joseph Marzullo/WENN
Jennifer Jason Leigh as Sally Bowles, in Cabaret
Like most people, my idea of Sally Bowles (or at least a musical Sally Bowles, all due respect to Christopher Isherwood and Julie Harris and everybody...) begins and ends with Liza Minnelli's Oscar-winning, career-defining triumph in Bob Fosse's landmark 1972 film "Cabaret." Most actresses I've seen as Sally Bowles either lose me by failing to live up to the Minnelli mold or by going in a different direction in which I do not care to follow. I happened to move to New York right after Natasha Richardson left her Tony-winning run as Sally in the Roundabout theatre Company's hit 1998 revival. I did, however, manage to see Jennifer Jason Leigh who took over and for the first time, my preconceptions about the character were circumvented. Forget about living up to Liza's legendary versions of the songs, Leigh's Sally was almost anti-musical, a punk take on the score. Her approach to Sally's transparent, cloying neediness was fascinatingly guarded and ultimately, surprisingly moving. I walked away thinking this take on the part balanced the show better, particularly opposite such brilliant co-stars as Alan Cumming, John Benjamin Hickey, Mary Louise Wilson, Ron Rifkin, Denis O'Hare and Michele Pawk. Leigh's Sally lingered in my mind.
Photo by Joseph Marzullo/WENN
Vanessa Williams as Aurora/the Spider Woman in Kiss of the Spider Woman
I was lucky enough to see Chita Rivera in Kiss of the Spider Woman several times. In a way, it spoiled me by raising my expectations of what a star could do and be, to the point where most performers disappoint me, as so few can equal Rivera's agile command of the stage and generous commitment to her audience, let alone her talent. Vanessa Williams cannot give Rivera a run for her money in any of those categories and, not being a fan of the kind of pop music Williams is known for, I was extremely skeptical going to see her acclaimed performance in Kiss of the Spider Woman. I wound up becoming a major fan. Williams is a gifted actor and singer and, as she later proved to a wider audience on television in "Ugly Betty" and "Desperate Housewives," she is a fabulous diva who can integrate camp, glamour and high style into her work without any compromise of her character's integrity and without any sacrifice of believability or truth. This was on wonderful display in Kiss of the Spider Woman, along with excellent dancing and a dynamic sensuality that helped Williams make her own mark.
Carolee Carmello as Donna Sheridan in Mamma Mia!!
I am not a huge fan of Mamma Mia!! I love all those ABBA songs and appreciate the self-mocking, light-hearted manner in which the show incorporates them, but even with a terrific original cast including Louise Pitre, Judy Kaye and Karen Mason, I was unmoved and bored... and downright Grinch-like during the extended curtain call mega-mix! I couldn't resist a return visit, though, when Carolee Carmello took over as Donna Sheridan. Carmello's gorgeous, supple, wide-ranging voice defies categorization and is rarely less than thrilling. What's more, she exudes a warmth in her stage presence that is extremely appealing. I imagine if she'd been around in the 40s and 50s, Rodgers and Hammerstein might have thrown her a couple of roles. It's a testament to her vocal versatility that ABBA's 70s disco pop is equally in her wheelhouse. My interest in Carmello deepened my investment in the story and gave me a more satisfying experience of Mamma Mia!! than the first time I saw it (or the movie starring Meryl Streep!) straight through to my goose bumps at Carmello's stunning "The Winner Takes It All." I even tapped my toes during the mega-mix!
Photo by Joan Marcus
Harvey Fierstein as Tevye in Fiddler on the Roof
Harvey Fierstein is an icon and a legend and, with numerous illustrious credits both onstage and off, he is a true man of the theatre. A singer he is not and even in his inspired, triumphant performance as Edna Turnblad in Hairspray (a role conceived and tailored for him) his vocal limitations were glaring. Maybe his voice reminds me too much of my own gravelly rasp, but I know I'm not alone in finding his singing grating. Perhaps it's needless to say, but I was concerned about the prospects of his Tevye when he was announced to succeed Alfred Molina in David Leveaux's 2004 revival of Fiddler on the Roof. I needn't have worried. Fierstein's Tevye was a grand victory of character and style over pretty singing. Just as in Hairspray, Fierstein's larger-than-life stage presence filled the theatre and the bigger size of the part of Tevye (compared to Edna in Hairspray) meant more songs and more time to adjust and settle into Fierstein's almost absurdly bereft vocals. I even began to think Fierstein exhibits a unique musicality, along the lines of similarly limited, yet effective singers like cabaret legend Julie Wilson, or even Bob Dylan. Like Wilson and Dylan, Fierstein's no-frills singing creates an intimacy, which really drives home the intention and feeling behind the lyrics.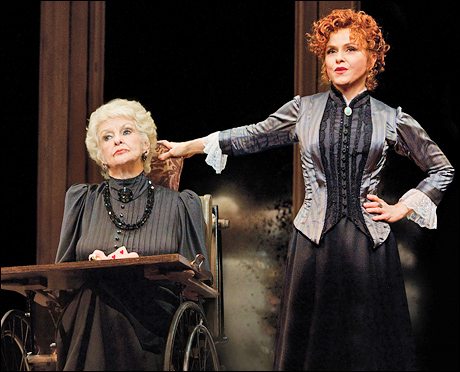 photo by Joan Marcus
Bernadette Peters as Desiree Armfeldt in A Little Night Music
If a few years ago, you had asked me to pick a role I'd like to see Bernadette Peters play, it would not have been Desiree. (I would have chosen Sally Durant Plummer in Follies, which role I did get to see Peters essay in the recent revival, but that's the subject for another column...) I don't know that I would have thought of Catherine Zeta-Jones for Desiree either, but as a beautiful, if salty, 40-something actress, Zeta-Jones came much closer to the mark. Unfortunately, the performance Zeta-Jones delivered didn't do it for me. I felt like she wished she were doing Guys and Dolls or Hello, Dolly! or something, like she was so eager for the chance to belt and show off the musical skills she proved in (the film) Chicago that she missed the boat completely on Desiree's world-weary wistfulness and overshot Desiree's resourceful pluck. Peters, on the other hand, was enchanting. Ravishingly believable as a woman decades her junior, she effortlessly encapsulated Desiree's lot in life with the smallest of gestures, read large thanks to Peters' rare authority on a Broadway stage. And if anyone has the career history to resist the temptation to oversing "Send In The Clowns," it's Peters. Surely she's already had her share of chances to sing Sondheim straight to the rafters, and so, unlike Zeta-Jones, she was able to play her big song with the economy and simplicity necessary to keep it grounded within the anti-climactic scene in which it appears. Furthermore, Peters' trademark vulnerability added a layer of emotion to what had previously been a somewhat cold production. And it was a double star replacement because Peters went into the show alongside Elaine Stritch taking over for Angela Lansbury as Madame Armfeldt. It was an extremely noteworthy recasting and a wonderful night at the theatre.
photo by Kent Smith/SHOWTIME
Mandy Patinkin as Marvin in Falsettos
Mandy Patinkin's replacement turn in Falsettos was something of a double switcheroo for me. First of all, I'm a huge Falsettos fan. In many ways, it's my favorite musical. As anyone who's seen my autobiographical solo play Patti Issues can attest, the story of a 1980s New York Jewish family split apart by the father coming out of the closet resonates very strongly for me! Even more than that, though, I find William Finn's eclectic, conversational, frenetic (and then suddenly, lyrical) songwriting style, particularly in Falsettos, thrilling and delightful. I'd already seen the original cast four times, plus once more with Maureen Moore as a fabulous replacement for Carolee Carmello in the role of Cordelia. With the news that Mandy Patinkin was replacing Michael Rupert as Marvin, I was very excited to go back a sixth time, being a lifelong fan of Patinkin from Evita and Sunday in the Park With George (two other favorites), not to mention "The Princess Bride" and "Yentl." The first switch happened for me very early during Patinkin's performance in Falsettos. I found his personal mannerisms distracting. Maybe I had just listened one too many times to his albums, but I couldn't shake the idea that it was Mandy Patinkin up there. Just as I'd be getting drawn into the forward-moving flow, the driving train that is the sung-through (and somewhat hyper-active) Falsettos, there would be Mandy dragging me back down to earth. And then I realized, this is Marvin's story. The plot of the entire first act revolves around what a selfish and demanding narcissist he can be. It wasn't that Mandy Patinkin was distracting me from enjoying the other characters' delicious moments; it was the other characters who were distracting me from Marvin's breakdown. My epiphany came just in the nick of time for Patinkin to scale back and have the whole audience in tears at his moving apology in song, the first act closer "Father to Son."
photo by Paul Kolnik
Fantasia Barrino as Celie in The Color Purple
I can remember so well my vivid experience reading Alice Walker's The Color Purple when I was just 10 years old. Most people would say I was too young for the graphic violence and dark turns of the story. I was, to say the least, riveted. Perhaps it was my youth and inexperience that engendered my understanding of the main character, Celie, with an absolute innocence and sweetness. The book is written with great compassion and makes the story extremely accessible, and so I related to all parts of Celie and found Whoopi Goldberg's Oscar-nominated portrayal of Celie in Stephen Spielberg's 1986 film a completely satisfying screen realization of the character. I was far less moved by the 2005 Broadway musical version and it was somewhat begrudgingly that I returned to the show when Fantasia Barrino was playing Celie. Barrino's wide-eyed openness and lived-in voice immediately commanded my attention and pushed emotional buttons in a way no element of the production had even come near on my first viewing. Fantasia's singing had a visceral gospel quality that imbued all her songs with a tremendous sense of urgency and importance. She had me in the palm of her hand long before she got to her impassioned 11-o'clock number, "I'm Here."
Photo by Uli Weber
Sandy Duncan as Roxie Hart in Chicago
I was devastated that by the time I got to see the 1996 revival of Chicago, Ann Reinking had already left the role of Roxie. Over the first few years I lived in New York, I "second acted" Chicago many times, catching excellent performances (or partial performances) by a host of different Roxies and Velmas, including Bebe Neuwirth in both roles. I was smart enough to buy a ticket and see both acts when Sandy Duncan played a short run as Roxie. Duncan was, without question, my favorite Roxie. She was the only Roxie I saw who really seemed like a housewife gone wrong and she had just the slightest twinkle in her eye indicating that throughout, she was delighted to be doing it. Her dancing and singing were wonderful and expressive and seemed to overtake her like some kind of demonic possession and she remained always lovable. I was also lucky enough to see her amazing performance as Peter Pan on Broadway in 1980 (before Cathy Rigby began her endless tour). I wish Sandy Duncan did Broadway more often!
Betty Buckley as Norma Desmond in Sunset Boulevard
One of the biggest disappointments in my life as a theatregoer is the fact that I missed Patti LuPone as Norma Desmond in the original London production of Sunset Boulevard. Still, though, I was excited to see Glenn Close perform the role on Broadway. I've been a huge fan of Close's for years, and count her turns in "The World According to Garp" and "Dangerous Liaisons" among my favorite movie star performances. Unfortunately, Close's performance, for me, was the rotting core in an overall disappointing musical. I won't even get into what was sorely lacking in her singing. Her Norma was a gargoyle, an oversized loon, vamping and camping around the stage like a undead hologram in the Haunted House at Disneyland. Still, I returned to the show to see Betty Buckley as Norma Desmond and I was so glad I did. Buckley's Norma transported me. Her high cheekbones and penetrating eyes perfectly suited the silent film diva Desmond and Buckley sang the score exquisitely, offering her own inimitable introspective depth by way of truly grand vocals, both thrilling and haunting. I only she wish she'd been given the opportunity to sing in LuPone's exciting original keys. Nonetheless, I treasure my memories of Buckely's performance (and the five-song EP she recorded of the main songs).
Reba McEntire as Annie Oakley in Annie Get Your Gun
Not to belabor the point, but Annie Oakley in Annie Get Your Gun is yet another role I would really like to have seen Patti LuPone play. Even while enjoying Graciela Daniele's 1999 revival starring Bernadette Peters, I couldn't help wishing it were LuPone's more rugged spirit (and powerful voice) I was seeing in the part. It was then, for me, a shock out of left field later on when I found myself delighted by country music star Reba McEntire as Annie in that production. I didn't know McEntire's work and didn't expect to be a fan of her singing, so it was a wonderful surprise when her performance won me over, hook, line and sinker. McEntire brought a compelling, open, innocent, vulnerable quality to the stage, like she didn't know what all this Broadway stuff was about, but she was excited to find out! It worked perfectly for the character of Annie and was an excellent contrast to the character's prowess at shooting (Oakley's forte), something about which we as a Broadway audience could presumably learn a thing or two from McEntire. The match of performer and material couldn't have been more copasetic, and at the heart of the evening was a star who loves to perform live for an audience inhabiting the stage in a Broadway musical in the classic, generous way that made Broadway musicals great and made a star a star.
(Ben Rimalower is the author and original star star of the critically acclaimed Patti Issues. Read Playbill.com's coverage of the solo show here. Visit him at benrimalower.com and follow @benrimalower on Twitter.)