I was 16 years old when I experienced my first Gypsy in London with Angela Lansbury. Her portrayal of Rose remains indelibly etched in my mind and in my heart. As the quintessential stage mother she was, in turn, charming, delightfully funny, ferocious and ultimately heartbreaking. Her "Rose's Turn" was breathtaking, the greatest musical performance I've ever seen.
Ian McKellen - No Man's Land
He always rivets me with his inimitable eccentricity, but as the shabby, alcoholic Spooner, he was a triumph of physical and verbal brilliance, a fresh and definitive interpretation of Pinter's text.
Maggie Smith - The Way of the World
I had the great good fortune to be a junior member of the Chichester Festival Company when the great Dame Maggie played Millamant in Congreve's The Way of the World. I watched her every night; a master class in Restoration Comedy. She celebrates language like no other, and what she can do with a vowel is like a symphony. The wooing scene between Millamant and Miraball is unforgettable, and her delivery of the line "If I endure you a little longer, I may, by degree, dwindle into a wife"...a truly joyous memory.
Elaine Stritch - At Liberty
Always an indomitable force of nature, her one-woman biographical show represented every color of her rainbow. Thrilling and profoundly moving, her stamina, her candor and courage and her rapier wit made this a true celebration of theatre. I remain inspired by her.
No one can play complicated, dark and cynical characters and make you care about them more than Alan.
As a caustic, bitter, acid-tongued literary icon teaching a group of young novelists in a writers' seminar, he was a superb balancing act of intimidating authority and vulnerability.
Tyne Daly - Master Class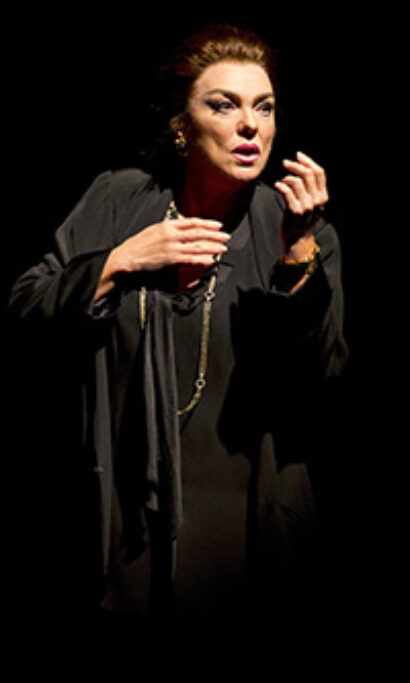 This was extraordinary. So much more than an impersonation, Tyne captured the passion, the grandeur, the diva and the loneliness of Callas with a superb economy.
Laurence Olivier - Long Day's Journey Into Night
As a drama student, I was overwhelmed by his multi-layered portrayal of former matinee idol, James Tyrone. He captured Tyrone's charismatic theatricality and his pain at dealing with his wife's addiction. A big and brave performance.
Barry Humphries - A Night with Dame Edna
It takes a lot to make me laugh out loud, but Barry Humphries' enduringly brilliant creation of Dame Edna Everage had me howling. His interplay with audience members, his monologues describing her husband's health issues, her gay son and the malevolence lurking behind her smile....comic genius!
Christine Ebersole - Grey Gardens
An amazing feat. As the two Edie's she ran the gamut, and her rendition of "Another Winter In A Summer Town" is one of the most beautiful and moving interpretations I can remember.
Laurie Metcalf - The Other Place
She bowled me over with her galvanizing performance of a woman grappling with mental illness. Mesmerizing and truly unforgettable.