(Clicking on a name bolded in blue will take readers to that actor or show's entry in the Playbill Vault.)
Elizabeth Wilson as Aaronetta in Morning's at Seven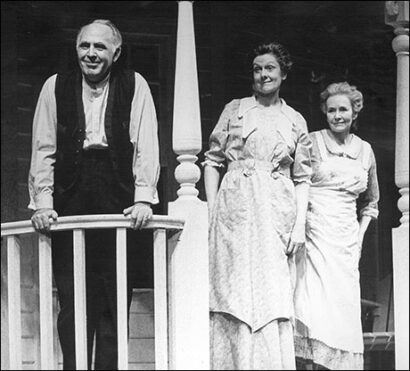 "She brought the greatest depth and humanity to the role. She broke my heart even as I was laughing at her ridiculous grandiosity. I learned through her performance that some of the truest comedy can be channeled through loneliness and sorrow."
Kathy Bates and Anne Pitoniak in 'Night, Mother
"I had never felt gut-punched in a theater before I saw that play. When the curtain came down, I literally could not leave my seat. Eventually an usher politely told me it was time to leave, and I realized I was the last person sitting in the house. I shall never forget those two women in those roles."
John Wood in Amadeus
"I had not had the opportunity to see the play until late in its run. The great John Wood was playing the role of Salieri. It was a performance crafted with dynamic style and grace. He possessed a theatricality that was both old school and very contemporary. So exciting to watch, and a true lesson in presence through voice and diction."
Brent Carver as Leo Frank in Parade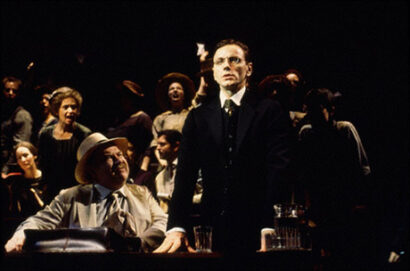 "I find Brent to be an actor whose tremendous sensitivity and incredible facility to bare emotional rawness almost frightening to watch.... I mean that in a good way. I love having the privilege of sitting in close proximity to performances as vulnerable as Brent is able to deliver. And WHAT a singer."
Viola Davis in everything I have seen her do.
"Off-Broadway, Intimate Apparel, on Broadway Seven Guitars, Fences and now on the large screen. I think she has a giant talent and shares it so humbly. She is supremely generous to her colleagues on stage and off. In my book, she continues to give performances for the ages."
Simon McBurney and Theatre Complicites' production of The Chairs by Ionesco adapted by Martin Crimp
"Richard Briers and Geraldine McEwan as the Old Man and Old Woman were both terrifying and hysterical. I found the production's exploration of our mortality heart-wrenching."
The entire company of The Norman Conquests Trilogy that played Circle in the Square
"Ayckbourn done right. Hysterical, and then more hysterical, and then when you think you can't laugh any more..... they make you beg for mercy."
Alan Rickman and Lindsay Duncan in Les Liaisons Dangereuses
"Hot hot hot. Thrilling chemistry, funny, wicked and really upsetting."
Danny Burstein and Beth Leavel in The Drowsy Chaperone
"Watching this genius duo work their magic was like dying and going to musical theater heaven. Can't get enough of either of these greats!
Rosalind Elias as Heidi Schiller in Follies
"One of the greatest thrills of my career was being able to watch and hear Rosalind Elias and Leah Horowitz perform 'One More Kiss.' It was, for my money, the most exquisite moment in the production, because it so eloquently addresses the temporal nature of what we create in the theater, how urgently time pursues us and how important it is to continue to create while we can. Rosalind sounded so glorious. She was an inspiration to all of us in the production."