"Please notice that I'm not including any of the remarkable performances by actors in my own plays because it would sound like I'm playing favorites," Ludwig told Playbill.com. "However, I have to mention Philip Bosco, Victor Garber, Ron Holgate, Carol Burnett, Jane Connell, Lynn Redgrave, Alec Baldwin, Anne Heche, Tovah Feldshuh, Harry Groener, Kristen Bell, Tony Shalhoub, Jan Maxwell, Brent Barrett, and Joan Collins because they were all astonishing, and otherwise I couldn't sleep at night."
*
I thought I knew a lot about my favorite comedy, Twelfth Night, but Rylance opened the play up to a whole new interpretation. In addition to showing us what an all-male production must have been like in Shakespeare's day, he showed us how Olivia, as opposed to Viola, could be the comic center of this complex play. It was magical.
Holy cow, that woman can deliver a song. I can still hear her clarion voice filling the theater at Lincoln Center with "Blow, Gabriel Blow" and "You're the Top." It was like seeing a live definition of what great musical comedy is all about.
Angela Lansbury in Sweeney Todd
She is the best of the best, and I could name Angela for about ten other shows that moved me equally. She is one of the defining comic actresses of our century, and her Mrs. Lovett in Sweeney Todd sounded all the stops. She was hilarious, frightening, visceral and heartbreaking all in one performance. I recently saw her as Madame Arcati in Blithe Spirit, and she transported me to a place of joy yet again. And I never tire of watching her in one of my favorite movies, "The Court Jester."
Brian Stokes Mitchell in Kiss Me, Kate
Stokes brought sheer panache to the role. And, what precision! But what I remember most about this performance was his sense of joy: joy at simply being in the theater and singing Cole Porter. You could tell he was having the time of his life. And with Marin Mazzie as his Lilli! They were transporting. Equally wonderful in the role of Fred was my friend Brent Barrett, who opened the same production in London. He was great.
Has anyone ever embodied a famous performer as well as Rob embodied Charlie Chaplin? I don't remember any. I've always been a fan of Chaplin, and I was always sorry that I'd seen all there was to see of the man. But Rob changed all that. He made Chaplin flesh and blood – and he was inspiring, touching and hilarious. Rob is a star, and I'll never forget this amazing performance.
Derek Jacobi in Much Ado About Nothing
Jacobi was the most romantic Benedick I've ever seen. And, Sinéad Cusack was his glorious Beatrice. It was an RSC production that came over in rep with Jacobi also playing Cyrano. As for Much Ado, this funniest of all Shakespeare plays has received two other productions that I love: one that I've only seen on tape, with Sam Waterston in the Public Theater production; and one that I saw at the Globe in London with Charles Edwards and Eve Best. Together, they gave two of the best Shakespeare performances I've ever seen – and you can get it on DVD!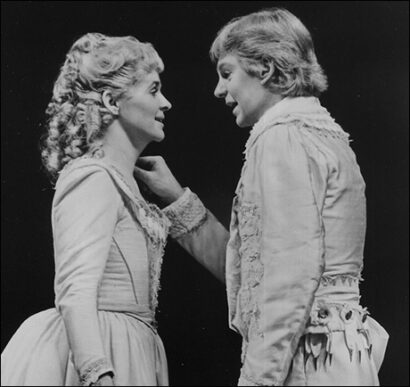 Bryce Pinkham in A Gentleman's Guide to Love and Murder
Jefferson Mays was terrific as he always is. I loved him in this glorious role. But for me, Bryce Pinkham stole the show. He was witty and handsome, and he can sing and dance like a master of the form. The tour-de-force scene at the two doors was deliciously great. It was one of those American musical comedy moments that defines the art form.
Hal Holbrook in Mark Twain Tonight
Hal has been stunning in every show and movie he ever touched, and never more so than in his signature evening of a night with Mark Twain. He is an old friend – he originated the leading role in one of my plays, Be My Baby, along with his wife Dixie Carter – and I remember visiting him during Mark Twain Tonight when he was in his second hour of makeup before the show. There was never a greater gentleman offstage, nor a more talented man onstage.
James Corden in One Man, Two Guvnors
I've been going to comedies all my life, and I thought I'd seen all there was to see. But three years ago, Corden gave one of the greatest comedy performances I've ever seen. It was also one of the best comedy productions I've ever seen, thanks to the director Nick Hytner and his whole wonderful cast. When the old waiter went down the stairs, I was literally crying with laughter.
Annaleigh Ashford in Kinky Boots
I hadn't seen Annaleigh on stage before the night I saw Jerry Mitchell's remarkable production of Kinky Boots, and from the minute she hit the stage, I knew I was watching a star. She has that crazy, slightly insane and timeless comic edge of Judy Holliday and Carole Lombard. The performance sent me home loopily happy.
*
Two Regional Productions – I know this column is about Broadway shows, but I have to break the rule twice.
Stephen Wadsworth as director of the Figaro Plays
He wasn't in front of the curtain, he was behind it as director, but Stephen Wadsworth blew me away with his productions of The Barber of Seville and The Marriage of Figaro at the McCarter Theatre two seasons ago. I've seen a lot of great classical theater in my time, but Stephen's productions of these Beaumarchais comedies were as touching, deep and hilarious as I've ever seen.
The Fiasco Theatre Company in Cymbeline
This remarkable group of talented actors created a whole world of delight Off-Broadway in one of the best Shakespearean romances ever. Doubling and tripling, they played everything from an evil stepmother to a doltish son to a romantic heroine who dresses as a guy, and they swept me away from the minute they stepped on stage.