Hilarity and silliness ensue at the 9:30 PM concert, which promises Broadway standards, 90s pop and today and tomorrow's hits.
He is joined by guest stars Taylor Louderman (Bring It On, Peter Pan Live!) and Daniel Quadrino (Newsies, Wicked, Peter Pan Live!). In anticipation of the concert, the cast picked songs in which the struggle is real as part of this week's Playbill Playlist.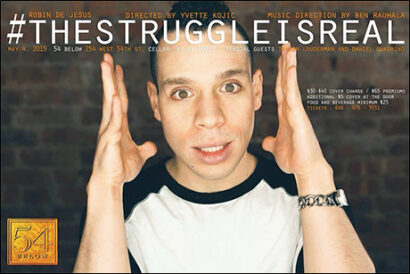 #TheStruggleIsReal, directed by Yvette Kojic, follows De Jesus' solo debut at 54 Below: Crush to Crushed, also helmed by Kojic.
"The last year in my 20s was a lot like Beauty and the Beast. Once the last rose petal fell I'd be 30… FOREVER!!!!" said De Jesus. "I had to pay off my credit card!! I had to make more money!!! And no more hook ups!!!! The struggles got real. The only way it can in a first world country. This show is just my way of laughing at myself, and the ridiculous things that I call 'problems.' I'm so happy to be back at 54 Below. The artists I've seen there have provided me with many inspirational nights."
Benjamin Rauhala provides music direction.
De Jesus, who currently stars as Boq in Broadway's Wicked, was nominated for Tony Awards for his performances in In the Heights and La Cage aux Folles. His other credits include Rent, Domesticated, Patti Issues, Mother Jones and the Children's Crusade and "Camp."
54 Below is located at 254 West 54th Street. There is a $30-65 cover charge plus a $25 food and beverage minimum. For more information and tickets, call (646) 476-3551 or visit 54Below.com.