There's new souls inhabiting Hadestown, and they're cracking open what it means to be the King and Queen of the Underground.
Tony nominee Phillip Boykin, fresh off his run in the revival of The Music Man, is now Hades, the King of the Underworld. Dance-pop star Betty Who is his Persephone, bringing new vocal colors and emotional undertones to the weary queen. While their onstage pairing in the 2019 Best Musical Tony winner may be fraught with emotional upheaval, offstage the pair have quickly developed an ebullient camaraderie.
"I could tell you were a silly goose the day that I met you!" Who laughs, her arm draped around Boykin, who smiles indulgently as Who (who identifies as queer, and uses both she/her and they/them pronouns) continues. "We're always cracking jokes. I feel really lucky that we have gone through this experience together." While Boykin is a Broadway veteran, Hadestown marks Who's stage debut. The Walter Kerr may be smaller than the concert halls she is accustomed to playing on tour, but to Who, "the stakes are really high" on Broadway. "Every eye is on you. To have him next to me on opening night took the pressure off; everybody was watching us, and I was really grateful for that."
While the text of the show remains intact, watchful eyes are witnessing a new kind of Hades and Persephone at Hadestown. Boykin and Who bringing remarkable new layers to their godly relationship. In addition to their artistic impulses, they bring a new cultural dynamic to explore within the piece: Boykin is the first principal Hades on Broadway to be Black, and Who is the first principal Persephone on Broadway to be white. The implications of this shift away from the original casting breakdown, which saw a white Hades possessive of a Persephone who was a woman of color, are complex.
Originally patterned off of assassinated Louisiana Governor Huey Long, Hades has transformed in the hands of Boykin into a man struggling to reconcile individual freedom with communal responsibility. Boykin explains that, according to Hadestown director Rachel Chavkin and associate director Keenan Tyler Oliphant, Hades calls his workers "his children because he cares for them, but it didn't click for me until the flower fell." Boykin is referring to an early performance when a prop flower he uses during the song "His Kiss, The Riot" fell off before the song, forcing him to perform with full focus on the lyrics. "'All my children came here poor, clamoring for bed and board. Now what do they clamor for? Freedom.' At that moment, it clicked. He really cares for these people. 'Who will lead them...'"
Historically, Persephone has been depicted in other adaptations as being trapped in the Underworld, but that dynamic is notably absent from the bond between Who and Boykin.
"They can be played quite cold, and sort of lifeless, because they are gods," Who explains, turning toward Boykin. "What I felt in your Hades, that then inspired me and my Persephone, was the humanity and warmth that you bring, even when you're having fun kicking the shit out of Orpheus. It has so much feeling in it. Instead of being excited to run away to spring, I really don't want to leave you either." Who sighs, her tone turning forlorn. "But this is how it is. And I've been doing this for years, and Hades' sadness and inability to accept that this is a part of the arrangement pulls on my heartstrings. It doesn't make me hate you, it makes me sad for you. And I want so much to make you happy, but I also have a responsibility to the humans that I care so much for."
Boykin nods, his eyes downcast as Who continues. "When I first saw the show, Orpheus and Eurydice reminded me of myself and my partner, and Hades and Persephone reminded me of my parents. They're the mom and dad who are fighting, but try to stay together for the kids, and it's not working. The scale of their misunderstanding is of such epic proportions that it will literally end the planet if they can't figure it out, but that core is a relationship we've all seen. And Orpheus and Eurydice are the kids who are trying to Parent Trap their mom and dad into loving each other again."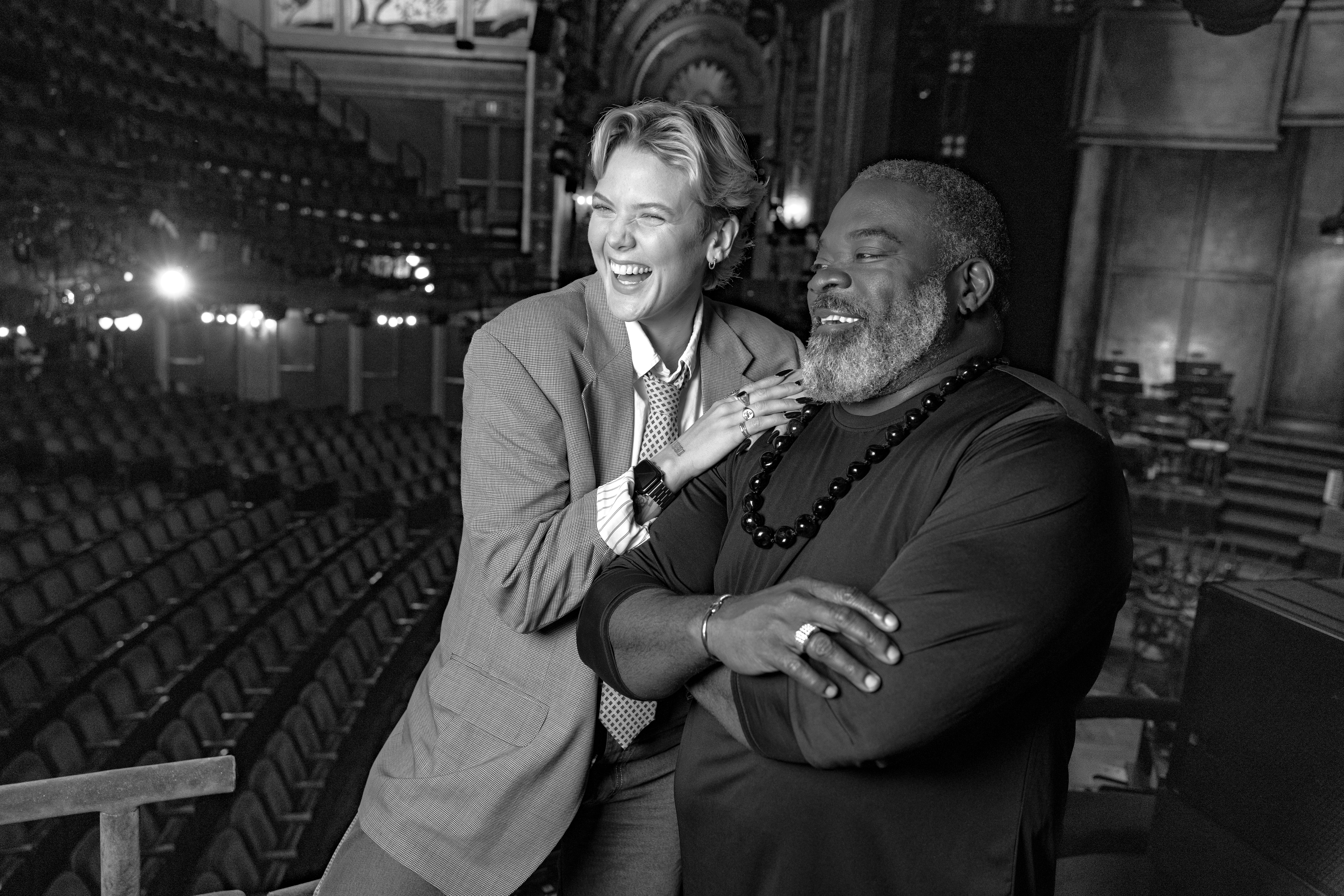 At the stage door, Boykin has had numerous women pull him aside to share the similarities between their own marriages, and the dynamic between Hades and Persephone. "I've been married for almost 25 years, and I can relate to Hades and Persephone, and their arguments," Boykin admits. "We've had some huge arguments, but they never cross the line where you completely forget that this person loves you."
Who nods fervently, adding: "We both know what it's like to continue to choose a partner. I think that's what relationships really are, is that continued choice. We see Hades and Persephone come to the pivotal moment where they either say, 'We're not going to make this work' or 'We are.' And they choose to try again. They aren't going to figure it out tonight, but they're going to try, and that is so beautiful to me."
As Who becomes emotional, Boykin looks up, his eyes alight. "Can I just say something?" Almost immediately, the tension drops from Who's posture as she looks over to him, meeting his gentle smile. "What a spectacular, unbelievable, tremendously successful, and gorgeous Broadway debut." She laughs as he puts his arm around her, the pair naturally settling into the regal portrait posture of kings and queens as she edges in the last words. "The feeling's mutual."

See more images from Playbill's photoshoot with Phillip Boykin and Betty Who below.