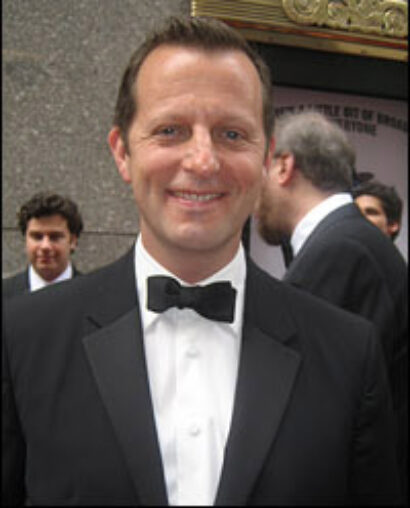 Ashford, the Tony Award-winning choreographer who kept Thoroughly Modern Millie tapping her toes, returned to Broadway this past season with Cry-Baby and nabbed his fourth Tony nomination.
"I feel blessed. This is three years in a row," he said at the 2008 Tony nominees press reception. Ashford was Tony-nominated for his work on The Wedding Singer (2006), Curtains (2007) and now Cry-Baby (2008), and won his Tony for the aforementioned Millie in 2002.
Having choreographed the showbiz valentine Curtains, Ashford was no stranger to signature moves that define a particular era in American dance history. "There's a great line at the beginning of [Cry-Baby] where someone says, 'You're a swivel-hipped drape,'" Ashford explained. That line informed much of Ashford's athletic choreography, which is performed by an ensemble running on an endless supply of energy and sex appeal.
With John Waters' twisted take on the 1950's, Ashford has created a dance vocabulary that clearly defines two segments of the musical's population: the straight-laced Squares and the greaser Drapes. Comparisons have been made between Ashford and Jerome Robbins for their similar skill in storytelling through dance. It is particularly evident in Ashford's "Chase" sequence in Cry-Baby where various members of the Baltimore population crisscross and collide.
"Anytime we got to a place where it felt like the Drapes and the Squares were morphing into one, we tried to do something that would shake it up physically — that would remind audiences that they are different," he says. Ashford also faced the challenge of seeing the 1950's not through his own eyes, but through the tinted, and deliciously gritty eyes of filmmaker Waters. When mapping out the physical world of Cry-Baby, Ashford says he asked himself, "If John Waters were a choreographer, what would he have done?"
The choreographer echoes the sentiments of his fellow collaborators that Cry-Baby – though created by many artists – feels as though all of its parts came from the mind of the legendary Waters. "That's what we kept challenging ourselves to do," Ashford says. "You take that idea [from] John Waters' head and then [using] those incredible dancers, you just go to town."