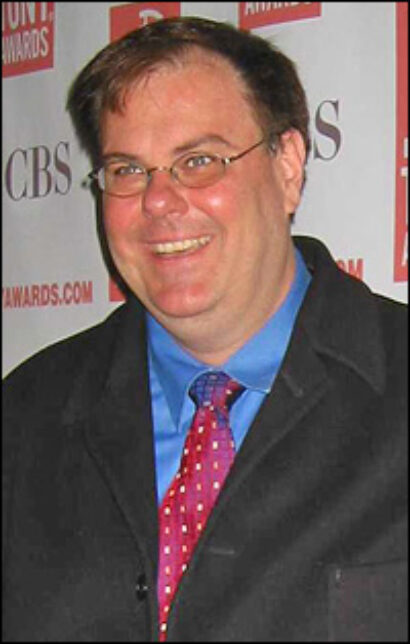 The showgirls of Follies – Stephen Sondheim and James Goldman's musical about four regretful lovers and a host of former Follies performers who reunite for one last look across the footlights – have dressed for yet one more spree in a $7.5 million production at the Kennedy Center in Washington, D.C. The lavish staging stars Bernadette Peters, Jan Maxwell, Danny Burstein and Ron Raines.
Hal Prince originally staged the dark piece, steeped in theatricality, which opened on Broadway April 4, 1971, as the most expensive musical Broadway had ever seen and earned its place as one of the iconic musicals of all time.
Much like its central characters, Follies has haunted fans for decades. Sondheim's score alone delivered a mix of pastiche and soul-mining character material, which was tailored to an unparalleled cast of performers, many of whom had actually been in the original Follies spectacles themselves.
But in addition to the Tony Award-winning material and indelible performances, fans of the original always recount the spectacle that was Follies. Boris Aronson's multi-layered set of a crumbling theatre, remarkable for its time, was inhabited by a cast dressed in some of the most lavish costumes Broadway had ever seen.
Designed by the late Florence Klotz, the Tony Award-winning costumes for Follies in some ways mirrored Sondheim's score. They reflected the present-day motives and situations of the respective characters at the reunion, but also burst into the over-the-top spectacle of a living, breathing Follies show that hadn't been seen since Ziegfeld reigned. It's only appropriate that a true Follies fan should step up to the plate to render designs for the Kennedy Center production of the famed musical. Tony Award winner Gregg Barnes, who has designed costumes for The Drowsy Chaperone, Flower Drum Song, Side Show and Legally Blonde, as well as the Paper Mill Playhouse and City Center Encores! productions of Follies, recently spoke with Playbill.com about his inspirations and designs for the new production.
Click here for Playbill.com's exclusive gallery of Barnes' designs for Follies.
You're designing Follies, which is one of the most iconic costume shows around, and the Florence Klotz initial costumes are just known and beloved. What was it like getting to tackle this incredible project?
Gregg Barnes: It's daunting. I think that people that saw that production or are aware of it through pictures, hold it very dear, and it's impossible, in some ways, to live up to. So, it's challenging for sure. I remember I was a freshman in high school in 1971 when the show was originally produced. I had a subscription to Theatre Crafts magazine, and I remember there was an article on the costumes—this was years before I had any indication or inclination that I might become a costume designer—and I remember poring over that article, and looking at those photographs, and the workmanship that was in those clothes. It was really, really inspiring. In fact, while working on this production, I found a few little things from the original production just out in the world. [Items] from Barbara Matera's shop, which now has recently closed, and then Woody Shelp, who did all the millinery, who's passed away. [I found] a little tiara, and I put that in the show so that Woody and Barbara's memory is still in Follies.
So there are some ghosts in the costumes too?
GB: Exactly. I made sure that there were some little treasures on the deck that were from the past.
photo by Joan Marcus
As a designer, was this a show that you always wanted to do? This has to be a feast for you.
GB: Oh, absolutely! Actually, it's the third time I've done it. I try not to mention that much, and here I am mentioning it in an interview, but I had done it at the Paper Mill Playhouse years ago, and then when Encores! did it, William Ivey Long and I co-designed. So, I am very familiar with the material, and I have to say, it has to be my favorite musical. Certainly one of my top three favorite musicals. When I saw the run-through in Washington, I was sitting there sobbing like a fool through the whole thing. I don't know, it touches a chord with me. There's something about these themes of "the road you didn't take," the fantasy of how you think your life, your relationships, your life might be, and then the reality of how they turn out, and the good, the bad. It's so joyous, but it's bittersweet. I think the play itself fires on so many incredible emotional levels.
And it gives theatre people a lot to sink our teeth into because it sort of belongs to us in some way. It's full of show-business history, and celebrates the art of what you do, and what everyone does, while telling this tragic and poignant story.
GB: Right. You know, a million years ago I was at NYU in school and a friend of mine called me and said, "I'm standing outside of Lincoln Center, and I don't know what's going on. There's a huge queue of people buying tickets at Alice Tully Hall—whatever it is, do you want to go?" And I said, "Sure, I'm in. Call me back and tell me what we're going to go see." It turned out to be the Follies concert that they did with Barbara Cook and Mandy Patinkin, and literally, now it's 30 years later. Still, when people ask me, "What was the pivotal, seminal moment in your theatre-going…?" That's the top of my list. It was an incredible evening.
Tell me about the research that has to go into this because you are essentially designing for two periods. You're bringing back the Follies and it's also set in the 70s. You really get to run the gamut of design through your work on this show. Where do you start?
GB: Well, you know, it's an interesting project in terms of exploring the characters of the guests at the party if you begin with the 1970s section because when they did it in 1971 with those ladies, it was true to its time. Ethel Shutta was from the Follies, you know, and ever since that time, there is a different dynamic to how it functions in that sort of nostalgic level. So, with every single character at the party in the modern section, in the 1970s section, I sat down with the actors.
I'll use Linda Lavin as an example. I said, "Linda let's just talk about you for about a half an hour or however long it takes, and then we'll talk about Hattie, and then we'll talk about where those things might mesh and be useful information for how you're going to present this character." So I tried to do that with every single cast member as much as I could given the logistics of people being out of town. It's 1971 undeniably, but I haven't put a capital "P" for period on top of that. I tried to keep it classic, and a lot of the details of the 70s would be more in the hair and how things are put together. In some ways it's about nostalgia, but I didn't want it to be commenting on that proper nostalgia for that time period. Also, the 70s era, because of films like "Bonnie and Clyde" and even that crazy "The Poseidon Adventure," has a very strong 1930s vibe, so I thought, "Well that's an interesting parallel when the Follies happened, they took place between 1918 and 1941." But the 30s is the main decade in that, the 20s and the 30s in that arc of time, so I thought, "Isn't it funny that even in 1971 they were looking back and these fads became so prominent again?" There were old, old shades, old ideas, so I tried to use that a little bit as well.
Are there certain original Follies images or things from your research that that really influenced your designs?
GB: You know, it's very funny, I was working on a project a couple of years ago; before I knew that I would be doing Follies again, and the producer of that project had the most incredible collection of programs from the Ziegfeld Follies. Just because I'm a freak for Follies, there I was pawing through all of these old magazines. There were so many incredible images, and I didn't realize until I saw those that actually Florence had, in her journey with the original production, really looked at what people did wear in the Follies and then did her take on it.
So I have done that same thing, especially with the ghosts, although Eric Schaeffer, who is directing this production, had a very specific vision that they not be too vibrant, that there is sort of a dark underpinning to the ghosts. My image is that they've been wandering in this beautiful old theatre for 50 years, and that just by the nature of these wanderings and the sort of waiting to see what happened to their lives, the clothes and the weight of the clothes, is sort of dragged down. So they don't look like Miss Havisham, but there's something about them. I think hopefully they'll operate on two levels: You'll think, "Wow, that's a fabulous Follies costume," but it will also have a sort of pathos to it, and the underpinning will be slightly dark.
Audiences always anticipate that overwhelming moment where we fall into the Follies sequence and "Loveland." You get to run wild as a designer, I bet. Klotz's originals had cherubs and instruments all over them. How do you see this segment?
GB: This is my bleeding ulcer: "Loveland." How not to disappoint, knowing that you are bound to disappoint some people. It's a rock and a hard place. What we did was, we are paying homage to the original production, but we're keeping it true to a sort of Baroque-showgirl kind of world. I studied. There is amazing YouTube footage of those rehearsals [of the original Broadway production of Follies], and you get to see those things in motion, and they are extraordinary. This is nothing like that, and I have never seen anything like that since. So what we tried to do is we lightened it up, the shapes are similar, and the themes are similar because it's in the lyric, but I am hoping that they have a slightly different air in them. Where as with the ghosts feeling like they've been dragged down and rooted to the floor, [the "Loveland" costumes] are almost as if they've just got the breath of life renewed and they are going to take off. So we are hoping that they are very billowy and sensual, and maybe to our 21st century eye, have a kind of glamour that is a different sort of glamour that they had in 1970, so hopefully that will satisfy all of my critics!
photo by Joan Marcus
Touching on what you said before about sitting with Linda Lavin and chatting with the actors about themselves and their characters, you are designing for people like Jan Maxwell and Bernadette Peters and Elaine Paige, some leading ladies with great bodies. That's got to be a thrill, too. How do you take your initial design instincts and then tailor that for the particular cast? There has to be a lot of collaboration.
GB: You know what I did? I sat down and drew out my impression. Obviously, I Googled everybody, and found out if I didn't know them, or even if I did, I tried to find out the kind of things they liked, the kind of things that sit on their body well, and I would take that information and think, "Okay, now I am dealing with Sally Durant Plummer." So, I kind of sketched out my ideas, and then I met with Bernadette. I know that in the original production Alexis [Smith, who played Phyllis] was in a red, amazing pant palazzo costume, and Sally [played by Dorothy Collins] was in a very bouffant, pale, frothy with dimensional flowers on it, sort of a party dress. We actually completely flipped those tables. Bernadette is going to be wearing a red dress, a very simple chiffon dress—and Jan is wearing a solidly bugle-beaded, very pale gold dress. A lot of those things came out of these discussions.
With Bernadette, she said this character has an agenda. She's come back to seduce. She's trying to rekindle this passion that she felt, this unrequited passion. It was requited, but it was fumbled. So it made sense to me that she would put on a red dress. The flavor seemed right. With Jan's character, she's been a politician's wife, she lives on the Upper East Side, she's got a lot of fabulous silver in her dining rooms they discuss in the play. So we did a dress that hopefully looks like Bergdorf Goodman 1970, but it's also a little showy. Actually, a lot of politicians' wives should be coming to the Kennedy Center [to see Follies] because of the neighborhood, and I said to Jan, "They should all be sitting there thinking, 'Damn, why can't I wear that dress? That's the dress I want to wear!'" So it's not quite as showbiz-y maybe, and it's very vulnerable looking, ironically, even though she's a lady who has her armor up in spades. So we'll see—it's always a risk reinventing something, but it's thrilling at the same time.
*
Follies continues at the Kennedy Center through June 19. Click here to read Playbill.com's opening night story.