After over 15 years, Avenue Q is ready to leave New York. The Tony-winning musical will play its final performance at Off-Broadway's New World Stages April 28, 2019.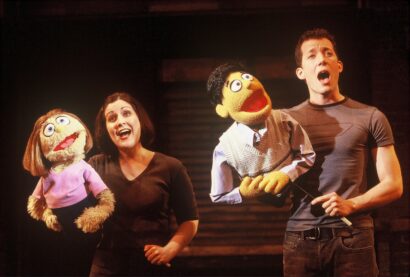 The New York-set, puppet-laden coming-of-age comedy played a limited engagement at Off-Broadway's Vineyard Theatre in 2003, transferring to the Golden Theatre on Broadway later that year. After winning three Tony Awards including Best Musical, the Jason Moore-directed show celebrated a nearly-six-year run before the cast of humans and puppets took their final bows.
At the last Broadway performance on September 13, 2009, however, producer Kevin McCollum announced the show would move to New World Stages the following month. The show has since played the underground midtown venue.
"We are incredibly proud of the fact that Avenue Q transformed the careers of so many people in our company throughout its run," McCollum and his fellow producers said in a statement. "The show gave audiences the opportunity to laugh, escape from the outside world for two hour,s and have tons of fun. Avenue Q proved to be timeless, and we learned that sometimes it takes a puppet to make us realize how remarkable, complicated, and messy it is to be human."
Featuring a Tony-winning score by Robert Lopez and Jeff Marx and a Tony-winning book by Jeff Whitty, Avenue Q follows Princeton, a recent college grad who arrives in New York with a B.A. in English and not much else. Living alongside a crew of neighbors including monsters, a Japanese immigrant, a closeted Republican, and Gary Coleman, he sets off to find his ever-elusive purpose, which doesn't get any easier in adulthood.
The current cast features Nicholas Kohn, Jason Jacoby, Matt Dengler, Gizel Jimenez, Lacretta, Jamie Glickman, Michael Liscio, Jr., Imari Hardon, Katie Boren, Rob Morrison, and Grace Choi.
The production features puppets conceived and designed by Rick Lyon, musical supervision by Stephen Oremus, choreography by Ken Roberson, sets by Anna Louizos, costumes by Mirena Rada, lighting design by Howell Binkley, and sound design by Acme Sound Partners. Brian Hertz serves as music director; casting is by Cindy Tolan and Adam Caldwell.