I was not really taken to the theatre as a child," says Robert O'Hara, who is directing the New York premiere of Kirsten Childs' musical Bella: An American Tall Tale at Playwrights Horizons. And yet the director and playwright grew up surrounded by theatre, just not in the traditional sense.
As a young child, O'Hara used to put on shows in the backyard of his grandparents' home with his cousins. His grandmother called him the "ringleader." He continued to write and perform throughout his adolescence, but the idea of pursuing a career in the theatre did not really occur to him until after college—where he'd gone to study pre-law.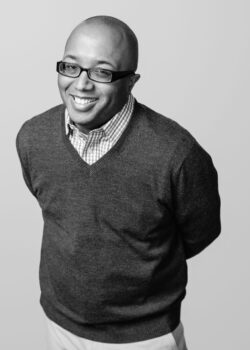 "If you don't see a bunch of people who look and sound like you doing something, then you really don't feel that it's a viable way to make a living," he explains. As it turns out, this feeling of being an outsider looking in is now his biggest asset as an artist.
"My worldview is different than most," says O'Hara. "Being African American, being gay, being both a writer and a director—I just see things differently. My motto is that I won't be limited by your imagination nor my own."
It's an ethos that's reflected in his work. O'Hara's Bootycandy, which he wrote and directed at Playwrights Horizons, and his play Barbecue at the Public Theater, were praised by critics for being both wildly entertaining and fiery appraisals of contemporary culture. As a director, he has been at the helm of the world premieres of Nikkole Salter and Danai Gurira's In the Continuum, Tarell Alvin McCraney's The Brother/Sister Plays (Part 2), and Colman Domingo's Wild with Happy.
Read More: ROBERT O'HARA, TONY WINNER REBECCA TAICHMAN AND MORE ARTISTS SHARE HOW THE NEA MADE THEIR IDEAS THEATRICAL REALITY
It seems fitting that he would next team up with writer and composer Childs, whose work is similarly adventurous. Set in the 1870s, the musical takes the audience on the trip of a lifetime through the wild west, complete with a train robbery and buffalo soldiers. Rowdy and riotous, Bella puts African Americans back into an historical narrative in which they are virtually only present as slaves. And the two team up again this summer for The Bubbly Black Girl in Her Chameleon Skin at New York City Center's Encores! Off-Center.
In Bella, Childs creates a new myth celebrating the power of the black female body and its beauty. "We're living in a land of Beyoncé and Nicki Minaj, where beautiful black bodies are praised in certain arenas. … but Kirsten didn't see that [in the theatre]," says O'Hara. "That's such a wonderful thing to do. When you don't see something, create it."
Which is what he's been doing his entire life.